From time to time a game appears that revolutionizes and makes itself the standard for a gaming genre. The monthly poll of SpaceSector.com was clear about this for space strategy games. With 33% of the votes (27 of 83), not surprisingly, the favorite space strategy game of all time is: Master of Orion 2. With Master of Orion original game taking the second place with 9 votes (the other options were: SMAC: 9 votes, GalCiv2 and Sins: 8, Imperium Galactica: 6, One of the X-COM series: 5, One of the Homeworld series:  3, One of the SE Series and StarTrek BOTF: 2, Other: 3 votes, Not into Space Strategy: 1 vote, StarWars Rebellion and SOTS got both 0 votes).
Released in 1996 by Microprose, Master of Orion 2 Battle at Antares is undoubtedly considered the reference for 4x space strategy games. But what made this game so popular that after 13 years of game design innovation, better computer resources and way better available graphics no space strategy game seems to be able to surpass MOO2 success? It is true that the game represents a generation of gamers in a time where these games were a rare commodity. Nostalgia surely helps explain a bit the vote intention, nevertheless I think its important to examine the game thoroughly to try to reveal its formula to success.
The Story is simple yet compelling
MOO2 back-story presents a race called Antarans that were imprisoned by the Orions race (here the connection is made to the original Master of Orion game) in a long war that devastated most of the galaxy. The Antarans found (somehow) a way to escape imprisonment and immediately started a terror campaign against all races in the galaxy. With time the Antaran attacks become more frequent and violent and the races will need to decide if they continue to fight each other or if they put an end to this threat.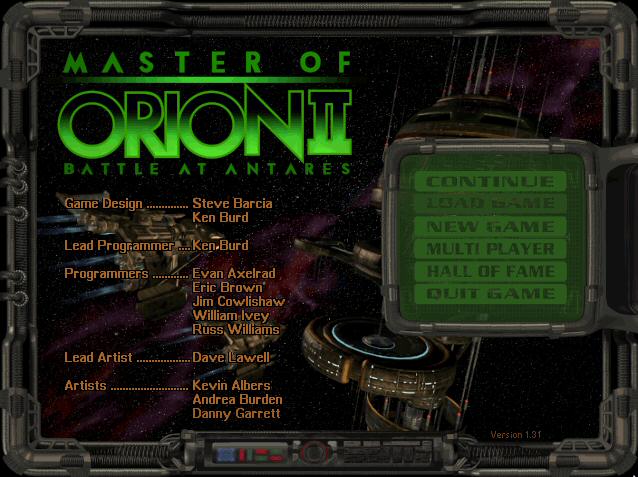 To stop their menace a race needs to find "a way" to get to the Antarans homeworld (Antares) and stop them once and for all. The race that is able to do this first wins. So it is literally Master of Orion: Battle at Antares.
The User Interface is clean and cohesive
All there is to the game fits in one screen. This is undeniably one of the game's great assets. In so many games, since MOO2, you get not so streamlined menus that connect to sub-menus in not so much intuitive ways. It's not hard to get confused or lost in some of today's game user interfaces. In MOO2 the player has full control of its empire from a single screen, the sub-menus have a total depth of N-2.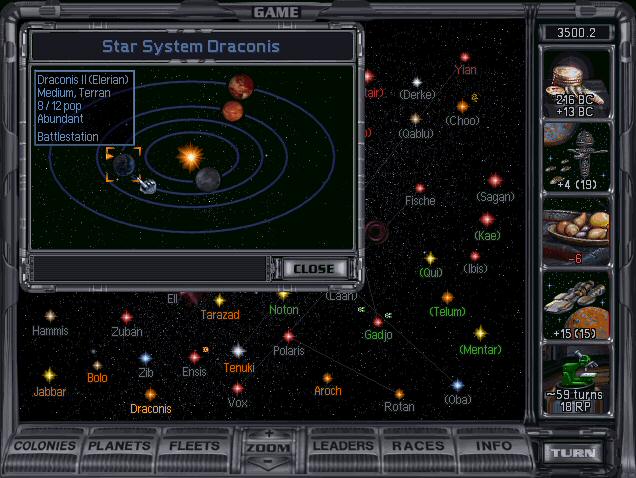 In opposition to today's great visual 3D effects, everything in MOO2 is 2D. Ok so the stars don't shine, you cannot rotate the galaxy nor zoom-in or zoom-out but MOO2 does offer enough star and planet interactivity to keep the player happy by providing a simple to manage star map and a closeup screen, after clicking on a star, that summarizes the planets present on a given system in a very slick way.
The Colony Management screen is user-friendly, concise and sufficiently informative
One of the greatest leaps of MOO2 from its original Master of Orion game predecessor was the introduction of the planet micromanagement screen. In the original Master of Orion game all the planet management was extremely simple, basically all the player could do was to change the ship building/production/research/waste sliders (in a direct function to planet population and quality) to manage a colony output (pretty much like in Sword of the Stars, a recent 4x game).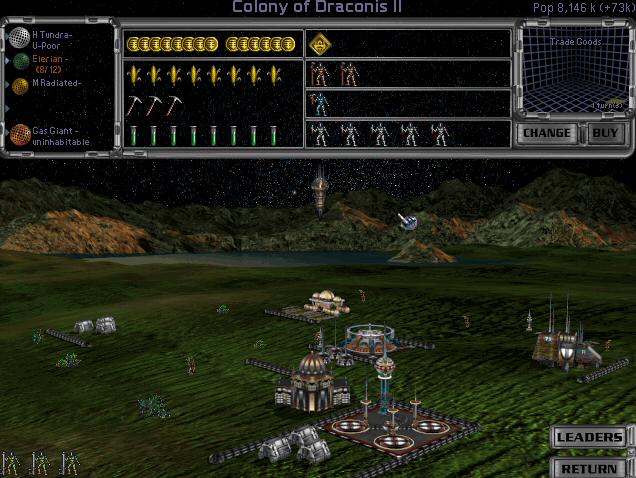 In MOO2 the player is allowed to build structures, and these have a direct effect on the colony (and overall empire) economy, production capability, research output, population bonuses, military buildings, planetary defenses, terraforming, etc.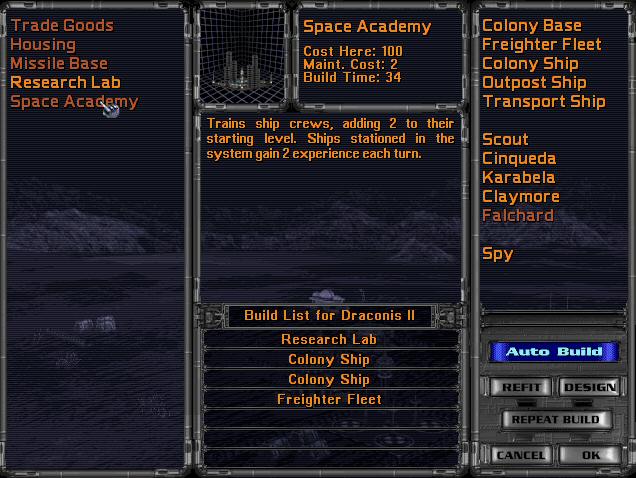 The introduction of this level of planet micromanagement brought a new flavour to the Orion gaming experience. The player has now a much richer experience and relationship with the planets as he can decide to specialize colonies to be research centers, industry plants or commerce/tax farms. With this level of micromanagement the player has the opportunity to see their planets slowly grow which is nice since this establishes an emotional bond between the player and the game as also provides the player with more refined control on what should be built.
The Economy system is simple and intuitive
As can be seen in the colony screen picture above the player can allocate the planet's population to one of three main fields of the game economy: food production, industry output and research. For every million colonists there is one unit that can be allocated to one of these three economy items. Without food the planet population will starve to death, so to maintain a planet above starvation level some of its inhabitants must be allocated to farming business. The rest of the population can be allocated to industry output which can be converted into spaceship and buildings production, or to research that will generate research points required to unlock new technologies. The economy sounds simple and is indeed. To note that all the industry and food produced in the planet is  entirely diverted to that planet itself in contrast with [edit] food, [/edit] research points and money produced by taxes and trade, these two three resources sum up to the overall empire stock. [edit] Note: Excess food is transported to starving planets by freighters. [/edit]
MOO2 has no overall production/research empire sliders (like in Galactic Civilizations games), so you must manage each planet production individually which provides the player a lot of control (although also a few headaches as well – further explained below).
Space Combat is streamlined and enables the player to have full control (if desired)

If the player chooses the "tactical combat" option during game setup the space combat experience is completely tactical, which means that the player has full control on all its spaceships moves in a turn based fashion. All ships are ordered to attack and/or move in a one by one basis and the player is also allowed to choose individual weapons of each ship alone, attacking multiple targets if required.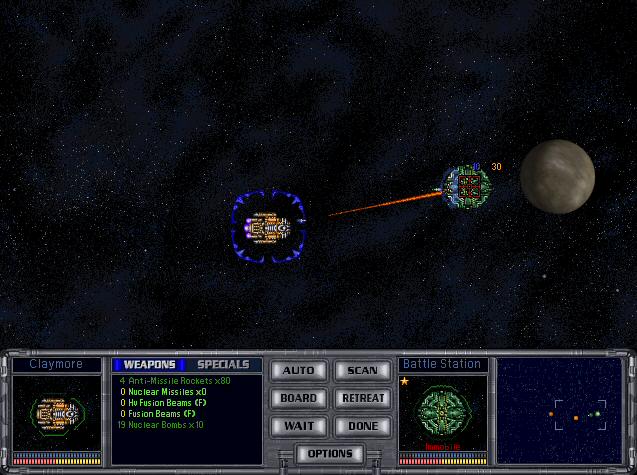 The information presented onscreen is detailed without being too overwhelming. The graphics are basic but quite pretty. The options provided are sufficient.
Ground combat is basic (as it should be) but still fun and scoped
In contrast with spaceship combat, planetary invasions are not tactical. The invasion outcome is auto resolved in a direct relation of ground troop number, technology rank and available equipment. The more troops you bring with better guns the better are the chances you will win the day.  I think this is a very good approach for this kind of games since the gaming experience is really about colony management, spaceship design, spaceship combat and research rather than ground assault.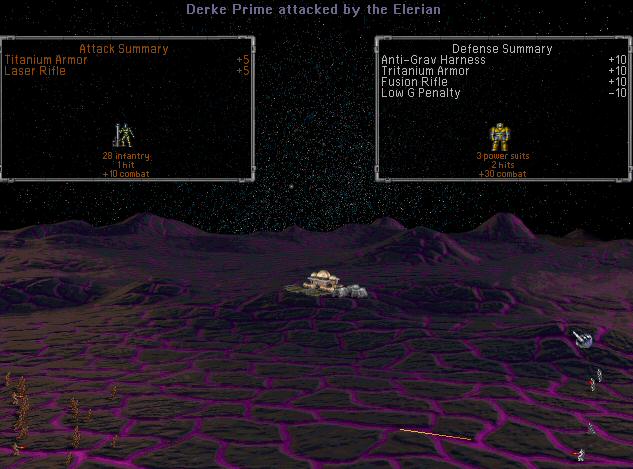 I find the MOO2 invasion mechanics quite simple but elegant giving the player a glimpse of its invasion outcome without turning it into a complex and off-scoped experience. After all it is just a planetary invasion, a minimum degree of atmosphere is required to give the player a sense of accomplishment but no more.
In-orbit space ships can bombard enemy colonies
One interesting aspect of planetary invasion in MOO2 is the option to bombard a planet. Many games in the past completely forgot about the usefulness of fleets in planetary invasion: therefore the bombard feature is a big plus for MOO2.  If the player did not forget to bring troop transports he is allowed to invade a planet but before he does that  all the planetary outer defenses, which includes any fleet defenses and starbases, must be defeated first. In a next stage the player is offered the possibility to invade the planet with his ground troops. If the player forgot or just does not have at hand troop transports he simply can order the bombardment of the planet (like a siege) to harass the planet colony for some turns or to destroy it completely, as the player decides.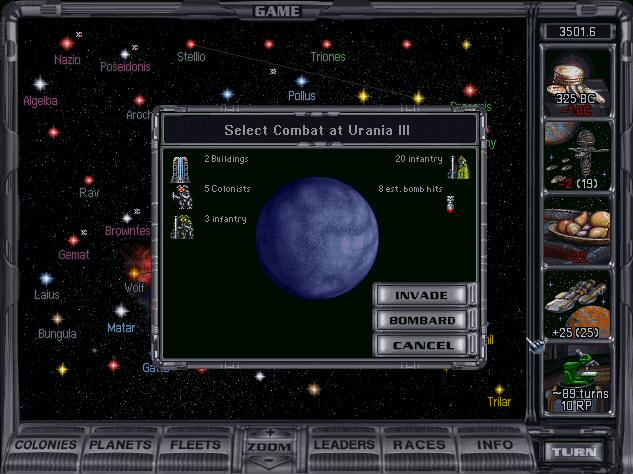 Nothing can be more frustrating than having a full fleet of dreadnoughts orbiting a planet and not being offered the possibility to use all that firepower to some good use and just have fleets around doing nothing just because you forgot to bring some troop transports. Not in MOO2.
The spaceship design screen is user-friendly, intuitive and flexible
The MOO2 spaceship design concept is very simple and flexible. The player can choose one of the 6 types of hulls offered (Frigate to Doom Star) and is able to fully specialize its fleet.  The bigger the ship the more it can carry, the more damage it can inflict and take on and the more it costs.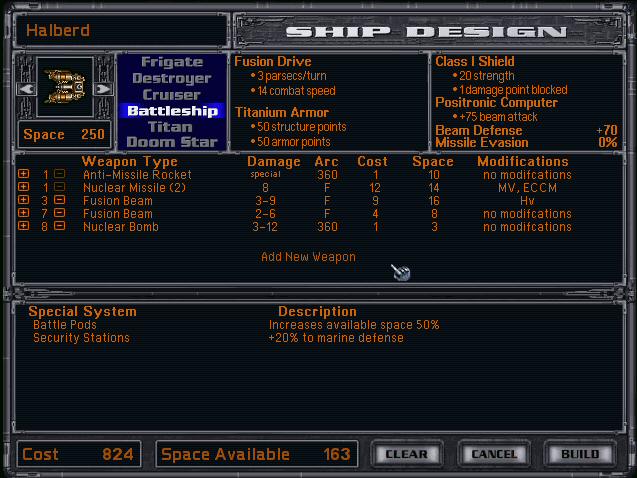 In contrast with other recent space strategy games, [edit] most of the spaceship's hulls don't need to be researched  (like in GalCiv2 where most need) [\end] nor need to be confined to special types of hulls/missions (like in Sword of the Stars). MOO2 provides full design flexibility which provides another level of micromanagement to the player.

Races are charismatic. Customization really makes a difference and enables game re-playability

MOO2 provides 13 core races and the ability to fully customize a race. Many traits can be tweaked to the player flavor. The number of special abilities are enough to provide sufficient game re-playability with substantial gaming experience variety.
For instance if a player decides to be "creative" (one of the most expensive special abilities), all the potential research technologies (normally 1 to 3) can be  learned at once (this is the special core ability of the Psilons race). This gives a significant advantage on technology capability to that race. However this trait is expensive (8 points as can be seen below).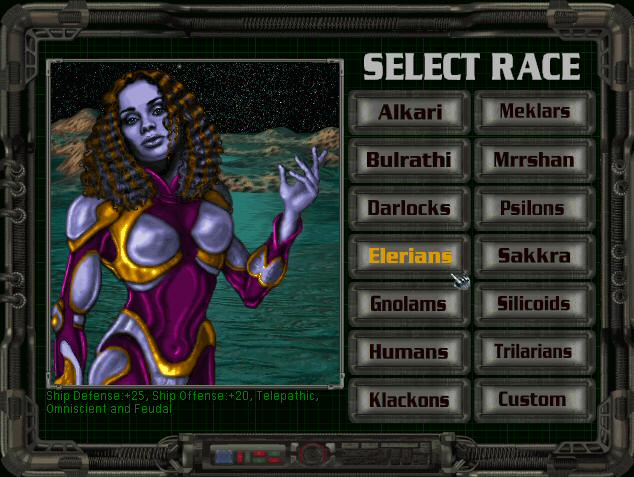 If the player decides for the "Tolerant" trait (the most expensive trait of them all: 10 points) the player is able to colonize all kinds of planets without the need to research the technology normally required to do that. does not suffer production losses due to pollution, and the planets can hold more people.  This is a huge advantage for a race for obvious reasons since when in the eXpansion phase this race may be unbeatable. The silicoids race has this trait built-in.
If however the player decides for the Lithovore (one of the most original traits, also the most expensive as Tolerant: 10 points) the player race does not need to "eat", basically does not need to allocate resources for food production and obviously can reallocate these normally necessary resources to industry or research.
Remark: The silicoid race is both Tolerant and Lithovore which makes them one of the most ferocious races in early stages, if not stopped early they can become overwhelming in numbers and unbeatable at later game stages.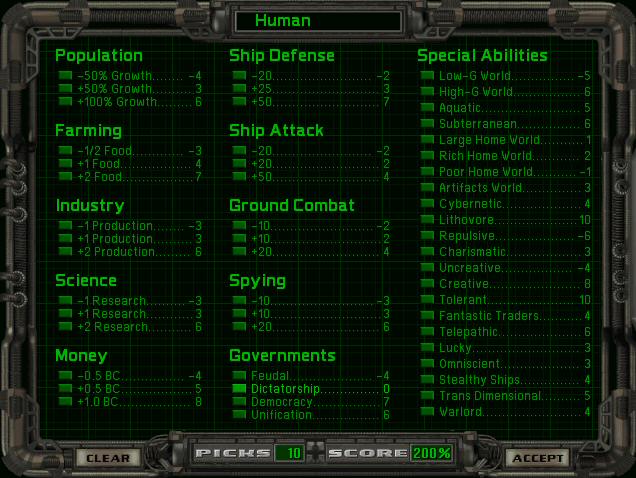 Of course that being Lithovore and Tolerant is very nice however the player needs to think twice before choosing these traits since  a lot of compromises need to be done due to these two traits high-cost. You will probably need to be repulsive, uncreative and/or low-G race for example just to be able to choose those 2 very interesting traits.
What makes the MOO2 race customization so brilliant is its option variety, imagination and balanced trait trade-off points scheme. It's fascinating because the player can actually experience quite different gaming experiences just by choosing one or two different special abilities which favors a lot for game re-playability.
Diplomacy options are effective and stick to the point

The MOO2 diplomacy options are straightforward but quite effective. When proposing a treaty to a race this can be one of Trade, Research, Peace, Non-Aggression and Alliance, how more straightforward can it be. The player can make demands, make offers, exchange techs, declare war or surrender.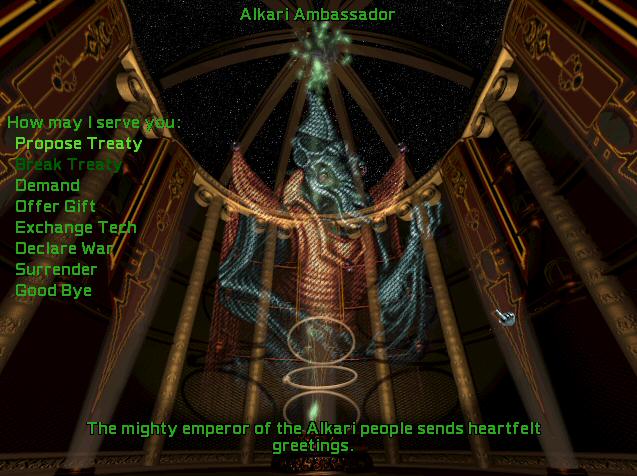 The strong point in MOO2 diplomacy options reside in the menu simplicity, the relevance of the options provided and the ease on using these options in a very concise way. Consider the diplomacy options of Sword of the Stars game for example, how more confusing can a diplomacy menu dialog be than that? It's ok to be able to provide a lot of diplomacy options to the player but it's not ok to provide a rather complex, non-intuitive and confusing user interface when delivering all those diplomacy options.
Research concept is solid with sufficient depth and variety
The MOO2 research concept is quite dissimilar from its predecessor. In MOO1 the technology tree was dynamic in the sense that the research could get random at times. After researching Shields IV the player could be able to research Shields VI but not V. In MOO2 the random effect was abandoned in favor of a concept built on top of the creative and uncreative race traits.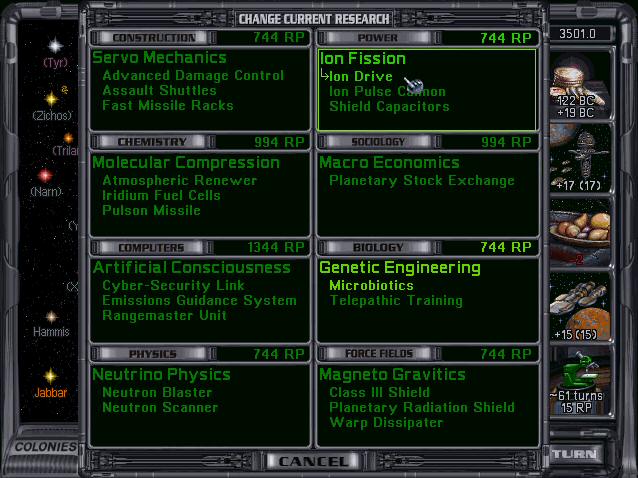 As I have already explained above, in the race customization topic, being creative allows the player to unlock all 2 to 3 technologies under a designated research field. Lets take Ion Fission Power above as an example. If the player neither has the creative trait nor is uncreative it is allowed to pick which technology is to be researched. In this example the player choice was to research Ion Drive. By making this decision the player will skip Ion Pulse Cannon and Shield Capacitors in favor of Ion Drive. If the player is in the other hand "uncreative" it will not be allowed to pick the tech from a set of 2 or 3 but a random technology will be unlocked for him. If the player is "creative" it will get all 2 to 3 technologies when researching a particular field.
As you see just by this trait choice alone (creative/uncreative), and the need to make a choice between potential technologies to research from (when the player is neither creative or uncreative), the player is already being given a lot of strategic options which is a great plus for the MOO2 research concept.
Spaceships have leaders, and so have planets
One very interesting concept of MOO2, that was recently mysteriously abandoned by all space strategy games I've played since then, is the Leaders concept. The Leaders are special people, Diplomats, Administrators, Experienced Captains, Helmsman, etc, that can be hired by the empire to enhance certain traits. For instance an experienced Helmsman can provide a significant defense bonus to a particular spaceship, a diplomat leader, as represented in the picture below, can provide a bonus to the diplomacy trait.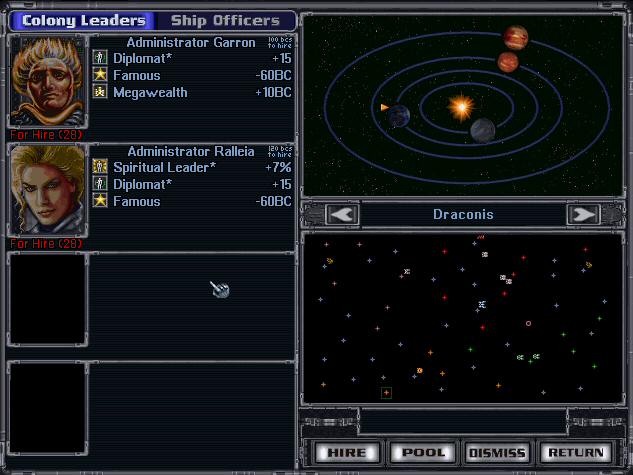 I don't present here all the classes of Leaders because they were a lot of them, but I give you some examples:
Environmentalist: Decreases the pollution level of all colonies
Farming Leader: Increases the food grown by farmers
Instructor: Increases the amount of experience per turn gained by all leaders and ships
Science Leader: Increases the research that scientists can produce in a system
Financial Leader: Increases each colony income by a percent
Assassin: Has a chance of assassinating an enemy spy
Commando: Increases the Ground Combat strength of all troops in the system
Famous: Increases the chance of leaders wanting to join and decreases their hiring cost
Trader: Increases the income earned from trade agreements
Engineer: Increases the restoration rate of the ship's shields and overall damage repair in
combat
Fighter Pilot: Increases the defense and beam weapon damage of all fighter craft used by the
leader's fleet.
Weaponry: Increases the Ship's Attack (of the ship assigned)
You may ask, as I do, why was the Leaders concept abandoned by recent games? I don't have a clue why, this was certainly one of the best and most interesting features of MOO2. This concept must be brought back.
As everything in life MOO2 does have its flaws
Sometimes space combat can become a very tedious process. If the player decides to get tactical he must assign all ships one by one (and there can be many of them) in a very tedious point-and-click endless process that can take many minutes in later game stages. The game does offer an auto-play feature, however even with that the process can still be quite tedious as big battles require a huge number of turns to finish. To overcome this flaw Microprose released a MOO2 patch (v1.3.1) that somehow softened this problem by introducing a super-quick auto mode, but even there it still could be monotonous to watch.
The level of micromanagement provided by MOO2 is pointed as being at the same time the best and worst of its features. The player can have full control of its colonies however due to the lack of effective governors that could automate the more tedious tasks the player spends most of its time, during late games, assigning buildings for construction in all its planets one by one  turning the gameplay experience in a complete nightmare.
Graphics are obsolete for contemporary standards, however they were (more than) fine at the time.
Conclusion
Master of Orion II is simple, intuitive, user-friendly and fun. These are the principal ingredients for it being one of the most successful games of all times. In recap Master of Orion II provides the following formula to success:
The Story is simple yet compelling
The User Interface is clean and cohesive
The Colony Management screen is user-friendly, concise and sufficiently informative
The Economy system is simple and intuitive
Space Combat is streamlined and enables the player to have full control (if desired)
Ground combat is basic (as it should be) but still fun and scoped
In-orbit space ships can bombard enemy colonies
The spaceship design screen is user-friendly, intuitive and flexible
Races are charismatic. Customization really makes a difference and enables game re-playability
Diplomacy options are effective and stick to the point
Research concept is solid with sufficient depth and variety
Spaceships have leaders, and so have planets

How to play in Windows XP/Vista, MacOS and Linux:
Download the DOSBox DOS operating system emulator. The installation is simple and the games run smoothly, exactly as they did more than 13 years ago.
The Good:
– The Story is simple yet compelling;
– The User Interface is clean, functional and very user-friendly;
– The Spaceship design screen is intuitive and flexible;
– Races Customization really makes a difference and enables game re-playability;
– Research concept is solid with sufficient depth and variety;
– Spaceships have leaders, and so have planets (nice RPG elements).
The Bad:
– Sometimes space combat can become a very tedious process;
– High micromanagement may turn gameplay in a complete nightmare, specially during late games.
Subscribe RSS
36 Comments
Related Articles:
Post category:
Game Reviews