Camel 101 announced two more Gemini Wars' ships. They are the Alliance Destroyer codenamed "Liberty" and the Alliance Battlecruiser codenamed "Vindicator".
Liberty Destroyer
The Alliance Destroyer "Liberty" is a powerful and fast Fleet Escort / Attack Warship. Although old in design is still very commonly used by the Alliance forces today.
"The Liberty did more than just conquer the battlefield; it conquered the public opinion too, as the symbol of what the Alliance engineering and military could achieve" (Gemini Wars devs).
Characteristics
Manufacturer: Omega Tech
Role: Fleet Escort / Attach Warship
Length: 327 meters
Crew: 194
Weapons: 2 Medium Laser Cannons
Engine: Astra-Omega C300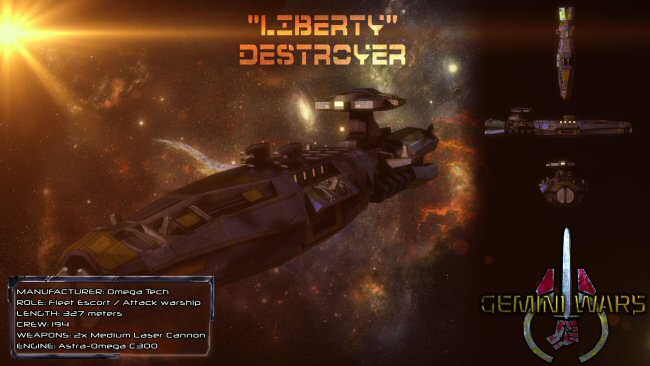 Vindicator Battlecruiser
The Alliance Battlecruiser "Vindicator" is one of the most powerful ships in the Alliance fleet.
"It features and impressive array of armament making it capable of holding on its own against larger ships, and a full marine company ready to act on both space raids and ground missions." (Gemini Wars devs)
Lore tells that a Vindicator vessel was responsible for capturing a very important Enemy Flag Battleship. "It's said that a Vindicator was responsible for the capture of the USFF Mars – a legendary and supposedly invincible USF Battleship. (…) Using the element of surprise, it was able to outmaneuver and insert its troops inside the enemy Battleship (…) which were able to destroy the Mars' engines and mains weapons, forcing it to surrender"
This Battlecruiser is a very versatile ship that is cheaper to build than a Battleship. "Although the Vindicator class is only 3 years old (…) it's currently one of the most requested ship by fleet commanders."
Characteristics
Manufacturer: Galsec Aerospace
Role: Fleet Support / Boarding Ops
Length: 684 meters
Crew: 510
Weapons: 2 Heavy Laser Cannons; 2 Medium Laser Cannons
Engine: Galsec Power 3T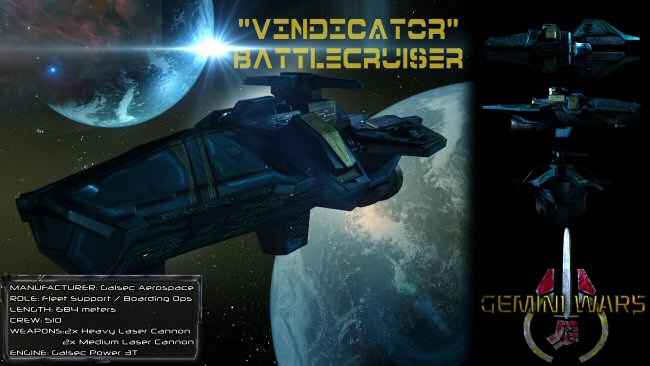 Gemini Wars is scheduled for release in Q4 2011.
Subscribe RSS
Related Articles:
Post category:
News & Announcements