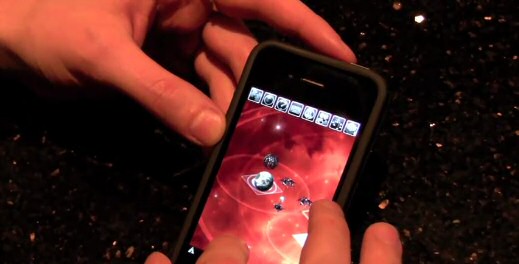 Empire of the Eclipse is a 4x online real-time strategy game currently under development for Apple's iOS family of devices (iPhone, iPod Touch and iPad).
Today, ZarkSoft Games has announced that the sign-up for Empire of the Eclipse's Beta Round 2 has begun. The beta test will go live on Sept 3 but the sign ups started today.
Love 4x space strategy games and have an iOS device? This is your chance to have a privileged first look at EotE and have the opportunity to give feedback to the devs.
Lee Dotson (President of ZarkSoft Games) announced that there has been "a ton of changes in this build" which you can read about below.
Empire of the Eclipse Beta 2 change list
– Battle reports are now sent to a players in game email after a battle has been completed.
– Planet resource / unit cost rebalance
– Build times have been adjusted
– Terra formers now work properly.
– An animation is not played over the planet during combat. (Full combat display is still pending.)
Combat has been completely revamped
– planet defenses work properly.
– stealth skills now affect combat.
– fleet combat now works properly
– Items that can't be built are now highlighted
– Chat indicator animated when messages are waiting
– Number of unread emails is now displayed
– There is a separate tab for the tech you have currently qued to research.
– You can now post screenshots to facebook / twitter by touching the screen with three or more fingers.
– Client side optimizations so detailed sector information is only sent when a player is specifically viewing a sector. (this should fix the lag problems Spart was having.)
– Lots of small graphical fixes.
– General texture memory optimizations.
– The Planet Killers planet busting ability now works.
– The technology Bio weapons now works properly.
– Solar Core Taps are now functioning and behave as ships instead of orbitals.
– Blackholes – now destroy ships when they enter their system if they do not posses hyper space physics.
– There is now a limit of 1 Shipyard per planet. The build time of shipyards has also been increased to 24 hours.
Read the remaining list of changes at ZarkSoft Games forum.
EotE has no firm scheduled released date yet. In Lee Dotson's words "We'll release the game when it's ready (…) but we're pretty confident that this next round of beta should bring us much closer to launch so we'll most likely being going live in a couple months". This means that we'll probably have EotE this Fall.
Come and discuss Empire of the Eclipse in the forums: https://www.spacesector.com/blog/forum/forumdisplay.php?fid=72
Subscribe RSS
2 Comments
Related Articles:
Post category:
News & Announcements