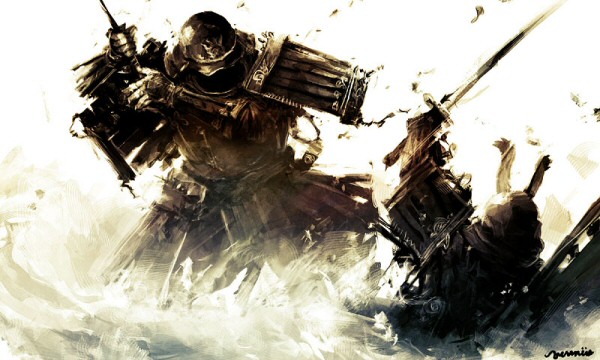 Strategy without tactics is the slowest route to victory. Tactics without strategy is the noise before defeat – Sun Tzu [1]
The Tactics and Strategy concepts are largely described in the literature explained by who knows best. Their difference is also described in great length over the Internet. One of the emblematic references for these concepts is Sun Tzu's "The Art of War", a book that explains you the basics (and the not so basics) of warfare, leadership, tactics and strategy.
This is one of my Sun Tzu's favorite quotes by the way:
Thus it is that in war the victorious strategist only seeks battle after the victory has been won, whereas he who is destined to defeat first fights and afterwards looks for victory. – Sun Tzu
Which basically tells that the best strategists (the best leaders, rulers) only fight when they're absolutely sure they'll win (when they have won before the battle has even began). This seems obvious, the devil is in the details however. It takes a great deal of intelligence, experience and intuition to be a great leader, because you'll need to possess all of these traits (among others) in order to know when it is and it is not the best time to fight.
So, why am I bringing this up? What do I have to add to this subject?
Not much really.
The objective of this post is not to teach you the difference between Strategy and Tactics, since I would not be the best teacher available, as I have my share of doubts too. This article aims on helping us know more about these concepts and understand their differences a little bit better, since after all they are at the heart of this blog's theme. Moreover these concepts are not only important in the gaming domain but also very useful to apply in other areas of our lives as well.
You have some references at the bottom of this article in case you want to learn more about this subject.
What is Tactics?
One must change one's tactics every ten years if one wishes to maintain one's superiority. – Napoleon Bonaparte
In this article I'll focus on military tactics, which is how the tactics concept is usually presented in games.
Military tactics is the science and art of organizing a military force [3], prepare it, equip it and lead it with the aim of defeating an enemy in battle.
Factors that the tactician should take into account when deciding how to fight are usually: the terrain and the location where the battle is to be fought; possible obstacles found there; the weather conditions; the numbers involved (men, weapons and machines). All this information is extremely important to have in order to determine the best formation to use and to consider if the use of ambushing, flanking or reconnaissance are necessary. But probably the best weapon that the tactician wants to have in its possession is information about the enemy. The more of it he has the better the outcome ought to be.
The Generals, Commanders and Admirals are usually the tacticians, of an army, navy or fleet.
What is Strategy?
All men can see these tactics whereby I conquer, but what none can see is the strategy out of which victory is evolved. – Sun Tzu
Strategy is the art of "careful, skillful thinking and planning in order to achieve victory" [4]. I would replace "victory" by "a goal" to make it more broad and general without loss of meaning.
In military terms strategy is distinct from tactics where tactics is concerned with the actual engagement and events of a battle while strategy is concerned with how different engagements (battles) are linked and how that affects the global picture of a campaign or any other endeavor's progress towards achieving a high-level goal.
How a battle is fought is a matter of tactics. Whether it should be fought at all is a matter of strategy – Wikipedia
If the Admirals, Captains and Generals are the tacticians then the Governors, Rulers and Emperors, are the strategists with the role of managing a city, a nation or a spacefaring civilization.
Strategy Video Games
Now, with respect to strategy games, the subject of this article in particular, things are a little bit different. That's here where things normally start to get fuzzier (at least to me it had that effect).
In strategy games all strategy elements apply (naturally), however strategy games normally comprise other kinds of disciplines as well, that are not strictly related with strategy. For example strategy games normally present other challenges to the player other than the strategical, like tactical, logistical and economical challenges. That's why usually (and I tend to agree with this classification [2]) strategy games come in different flavors and include tactical games as sub-genres. There are other types of strategy games but I'll keep the list to what I consider to be the main five for the sake of simplification.
Strategy games' main sub-genres:
4X (eXplore, eXpand, eXploit, eXterminate)
Real-time strategy (RTS)
Real-time tactics (RTT)
Turn-based strategy (TBS)
Turn-based tactics (TBT)
The description of each of these sub-genres is out of the scope of this essay, but if you're interested to know a bit more on 4X games for example I invite you to read What are 4X Games: a Definition and links to Games.
Examples of 4X games are the Civilization series, Master of Orion series and the Galactic Civilizations series among many other titles. Examples of RTS games are the Homeworld series, Command & Conquer series or the StarCraft series. Examples of RTT games are Star Hammer Tactics, World in Conflict and Warhammer: Dark Omen. Finally, examples of TBT games are the X-COM series or Jagged Alliance series.
Conclusion
Tactics and Strategy are different concepts and imply different things. While the former deals with the details of engagement such as the best way to undertake a battle (or another type of task at hand) the latter deals with longer-term and higher-level objectives that require a great deal of thinking and planning in order to achieve a goal. In games usually that means achieving victory.
It's not only a question of scale but also a question of actions involved. While the strategist deals more with thinking ahead, planning and scheming the tactician deals with situation analyses and execution with what is provided to him. Both include decision as a central aspect however. With a bad decision the tactician may lose a battle, with a bad decision the strategist may lose the entire war.
In gaming, strategy video games normally comprise more than strategy elements only. Tactical games are a sub-genre of strategy games. It is natural to be so in my opinion because in many strategy games the intention is not only to allow the player to plan the road to victory but also to allow him to experience the action and the execution of the events that are part of that plan. In war games this is particularly true. The player is invited to not only think which is the best way to achieve victory in the long run but also to experience the hack-and-slash of war.
So, when we are talking about strategy games we are talking about both strategic and tactical games. And in many cases strategy games contain aspects of both concepts in their gameplay.
References
[1]: The Art of War, Sun Tzu, Shambahla Publications, 1988
[2]: Video Games Genres – Wikipedia
[3]: Military Tactics – Wikipedia
[4]: Strategy – Wikipedia
Subscribe RSS
13 Comments
Related Articles:
Post category:
Ideas & Concepts