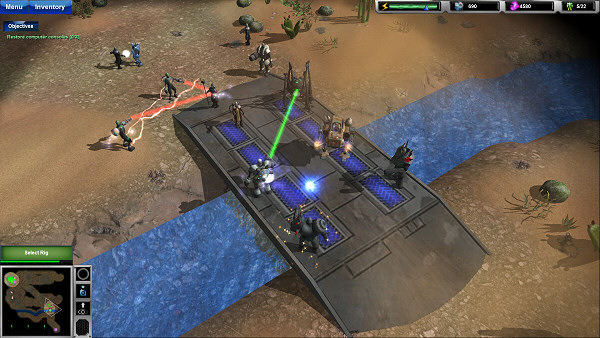 I've just received word from Cryptstone Games that Star Prospector was released today, and is now available for purchase on Impulse/GameStop. Star Prospector is part of the Space Sector's sci-fi/space games to look for in 2012 list, and it is also the first of those to get released.
Star Prospector offers a gameplay mix of strategy (real-time) and RPG elements and I was intrigued not only by that but probably most of all due to its curious gameplay features. At first glance Star Prospector does not seem to be like your typical RTS game, and it seems to have something to offer for everyone. See this clip taken from the 2012's sci-fi games list about Star Prospector, that I think describes well my thoughts on the game.
"Star Prospector features a mix between RPG and real-time strategy elements and your mission, in the role of a prospector, is to mine, salvage and build bases on remote planets in search for resources, technology and adventure. In the good tradition of RPG games you also get loot drops from your foes and skill points that will allow you to get access to new units, buildings and items. Although certainly not like StarCraft 2 in terms of graphics, Star Prospector seems to be a decent title, that intertwines some 4X elements and RPG elements. I'm curious to see what Cryptsone Games has assembled for us." ~Adam Solo (Space Sector)
Star Prospector is available on Impulse/GameStop for the Windows PC starting today, for a launching price of $19.99 USD.
Subscribe RSS
16 Comments
Related Articles:
Post category:
News & Announcements