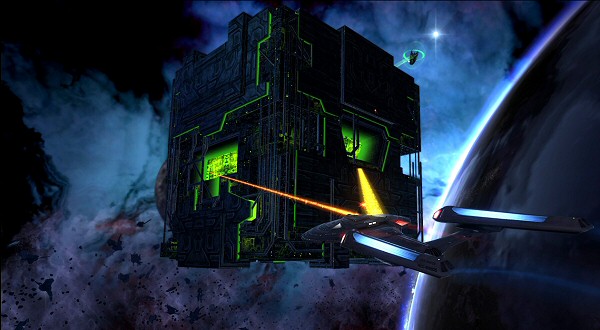 Star Trek Online is a sci-fi MMORPG set in the Star Trek Universe, in the same fashion as World of Warcraft is Warcraft's MMO or Star Wars: The Old Republic is Star Wars' MMO.
I didn't play Star Trek Online yet but word is that it had a very rough release. Back then people stated that the game was very incomplete (at the time of release), featuring very repetitive gameplay and not offering enough content (lack of stuff to do). The game has received only average reviews and word again was that Star Trek fans, desperately wanting to have a MMO experience of the same caliber as other MMOs of that type, had a huge disappointment.
Almost 2 full years after release Cryptic Studios, under CBS Studios (that holds the Star Trek franchise trademark), seem to have decided to try to bring new life to its MMO by "re-releasing" Star Trek Online, now following a free-to-play business model. You can find the game's features matrix here. There you can find what to expect if you decide to try and play the game for free (Silver Player credential) or fully featured (as a Gold Member).
STO Features (as in STO's wiki)
Act as the captain of your own ship.
Control the ship's engineering, tactical and science systems by keyboard/mouse or using an on-screen console.
"Beam down" and move around as a player character in various settings with access to weapons and specific support and combat skills relating to their own character's class.
Two combat systems that get intertwined throughout the game: away-team missions feature fast-paced "run-and-gun" combat, while space combat stresses the long-term tactical aspect of combat between capital ships.
Star Trek storyline and emphasize ship positioning to efficiently utilize shields during space combat, as well as the player's away team's positioning in consideration of flanking damage and finding various weaknesses to exploit during ground combat.
I'm not much of a MMO guy myself so I think I'll pass on this one too (as any other MMO for that respect in any case), but maybe you will find STO's experience an enjoyable one, specially if you like to play online games and you're a big fan of Star Trek.
Subscribe RSS
23 Comments
Related Articles:
Post category:
Free online games
,
News & Announcements