Sword of the Stars II was one of 2011's most anticipated games for the PC, and its release was also one of the biggest disappointments. The original Sword of the Stars game (plus its three expansions) has been a very successful title among strategy gamers, and probably to non-strategy gamers also due to the game's simple mechanics and streamlined gameplay, which made a 4X space game accessible to a larger audience. All the anticipation and expectation behind SotS's sequel, combined with a very unstable and unfinished game culminated in probably one of the most dramatic and disappointing game releases of the past few years.
Sword of the Stars II: Lords of Winter was released in October, 28 2011. After the first few minutes playing the game players started reporting, incredulous with what they were experiencing (or not experiencing), that the game was very unstable and incomplete. The (un)official word by release day was that (by mistake) the game had been released in beta state. That "bogus version" would eventually be replaced by the final product. However that build wasn't final either (very far from it actually).
Two weeks after release I wrote a (somewhat lengthy) SotS2′ first impressions. I saw no point in publishing a review at that time because it was more than clear to everybody by then that the game was released unfinished. In public announcements, both the publisher and the developer have apologized for the game's state at release time and committed to complete it.
Three months after release (more than the producers had announced they needed to put the game in a playable state), I'm writing Sword of the Stars II's review. I read all the game's latest documentation available (manual and beginners' guide) and I played 3 games, for around 250 turns total. One game I played with the Sol Force faction, another with the Morrigi Confederation and finally one with the Liir-Zuul Alliance (the one I liked playing the most, by the way).
Exploring the Sword of the Stars 2's Universe
I admit that I was never a big fan of the original SotS' star map and its 3D navigation. Although it looks nice on the surface I find it quite hard to find a view that I like, so, I'm re-adjusting it constantly. Anyway, eventually you will get used to the starmap's navigation mechanics. You can zoom in and out and rotate in every direction, but I miss the ability to intuitively grasp distances between star systems. And the UI doesn't help you with this either since it doesn't give you quick distance information, like parsecs, turns, whatever unit really, so that you know how far a star actually is.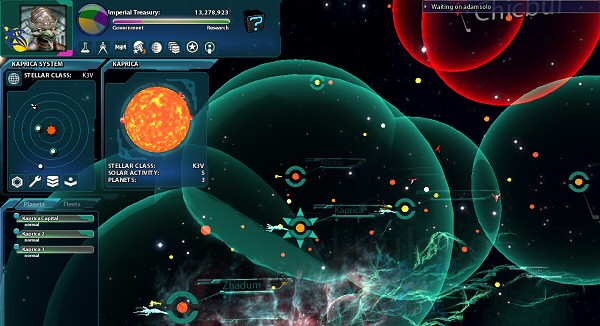 On the other hand, SotS2 offers a very interesting way to move your ships around the stars. To send your ships to other star systems you must first create a fleet. To do that you must pick an admiral from the admiral pool (each one with its positive and negative traits). Then you need to select one or more ships to include in your fleet. Your fleet must always include at least one command ship, a special type of ship that is required to coordinate the other ships. After that you can start conducting missions.
Actually, almost everything you do in SotS2 is achieved through the missions concept. You assign a mission, the designated fleet moves to some place, does what it needs to do and then returns to base. Take into account that the mission ETA (the time it takes for the fleet to do what you order it to do) includes the time for the fleet to arrive at its destination, perform the required mission (survey, colonization, construction, patrol, strike, invade, etc) and then head back to base.
To explore star systems you assign a survey mission. Any type of fleet, with any type of ship is allowed to do this type of mission. To build structures you assign a construction mission. In this case you need to have at least one constructor-type ship to be able to conduct such a mission. Then you can issue colonization orders. For that you need to have at least one colonization transport in your fleet. These missions (survey, construction, colonization) are your basic non-military type of missions but then you have a series of military-act missions you can do, which include patrolling, striking or invading star systems. You can also perform an interdiction mission which will not directly attack a system but will attack anyone coming in or out of it.
I love SotS2's mission mechanic. I like it because in my opinion it removes the barren feeling normally associated with the traditional way to create and move ships around in other games of this type. Moreover, and since you can't have hosts of fleets, your ships and your decisions really do matter, and that, in my opinion, is a big plus for SotS2.
Expanding your empire across the galaxy
Another Sword of the Stars 2's great feature is the stations concept. Stations are modular structures that you can evolve over time by purchasing additional modules that increase their efficiency. Some modules will lift empire limits, others will unlock new possibilities. Stations evolve through four stages, with the culminating stage being a very special, expensive and unique structure for each type. There are four basic types of stations: Civilian, Diplomatic, Naval and Science stations. Besides these four basic types of stations there are two additional specific ones, one for the Hivers faction (the Gate stations) and another for the Suul'ka Horde (Tribute stations). Then there is a lesser station type (to some degree) used for mining purposes.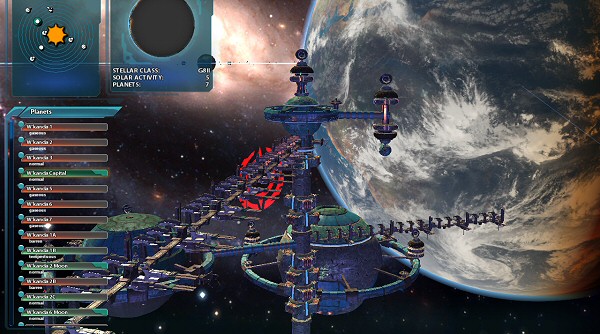 You can use stations to expand your empire's military and research levels but also to boost trade and diplomatic relations with other empires. Although it's fun to build and develop your stations there's still also some mystery about them since you don't know, exactly, how much of an impact a particular station is having on your research, for instance. Research modules should increase the research bonus ok, but then you can't see an accumulated bonus modifier. There's some polishing work to do here, as I found the stations concept, more the information about them, a bit obscure.
Developing your empire… but… with so many doubts?…
The economical part of the game is probably the most confusing one of all the game's weakest elements. I mean, what exactly is a planet's "Economical rating" anyway (moreover it's always the same value for all colonies)?! And the manual doesn't help you either. What about the biosphere concept? How exactly does it work (again the manual fails you and there are no tool tips available to guide you). This is the sort of thing that makes you frustrated and wanting to stop playing the game because if we have so many doubts about the game how are we supposed to understand the full scope of our decisions?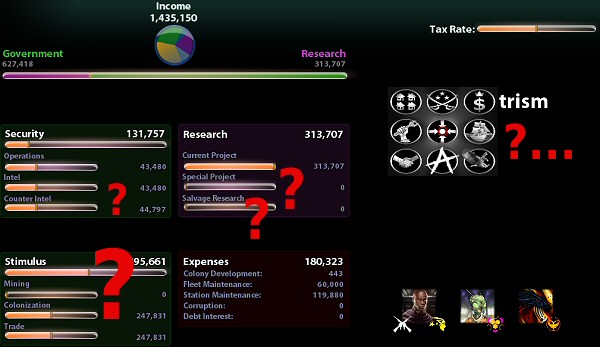 For example, in the empire manager screen (above), where you make all your economical strategic decisions, there's a slider called "Stimulus". No tool tips are provided on how it works and again the manual (and the in-game encyclopedia) fail to help you again. So, it was only after I consulted the game's forums that I could understand what the intention behind the stimulus slider was (I went to the game forums constantly to try to understand stuff I could not find anywhere else btw).
So, it seems that there's a private (or civil sector) of some sort in SotS2's mechanics. The idea is that if you help, the best word is stimulate really (like government spending), areas like mining, colonization and trade then the civil sector will act autonomously from you and will create their own trade ships, trade routes and mining bases, and even help the empire on the colonization efforts free of charge (no maintenance costs associated) at the cost of lack of control over those enterprises that is.
This civil sector seems to be a great feature but as so little information about the stimulus slider is available on how (or when) this can be used to help your economy you can't help not to feel quickly frustrated again. For instance, there are a series of techs that you need to discover first before the stimulus slider can actually work. But nothing is said anywhere about what needs to be done, and the sliders are just there open for you to play with them. However you don't have a clue on what you're doing (or obtaining). There's no feedback from the game (no feedback at all) so you actually don't know if your investment in stimulus is producing any effect. This is a very severe game shortcoming.
SotS2′ tech tree is probably one of its stronger points however. There are many tech trees (or branches) to invest in, with plenty of techs to research. In some cases, before researching a new tech you must first undertake a feasibility study. This tech pre-assessment will tell you how likely a tech is to breakthrough. This is very interesting because this uncertainty on how many turns a tech will actually take to research (if it will breakthrough at all) adds another layer of uncertainty on top of the random tech tree. In summary, there's enough content and depth in the tech trees to keep you entertained by researching and experimenting new techs.
The worst, or better said, most incomplete aspect of SotS2 is the diplomacy system. And SotS2 would not be a 4X game without it would it? Well, in fact there's barely any information on the manual or in-game about how diplomacy actually works, yet and in a way this is quite consistent with what the game currently offers in this respect (or at least is perceived to offer), which is, very little.
The diplomacy functional skeleton is already there, you can see what races you have already contact with. You can negotiate treaties and request things from them however there is so little feedback on your diplomatic actions, and the bugs are so many that it's utmost evident that the diplomacy system still needs to be finished before we can even say anything further about it. In summary, the game's diplomacy system is not yet finished and is barely functional at this stage.
Spaceship design and construction
And now we reach one of my favorite parts of the game (that actually feels very complete): the ship design and invoicing system. If you want to prototype your own cruiser, dreadnought or leviathan class ship (or any other ship for that matter) SotS2 offers you a straightforward and satisfying way to do that. Like in the original SotS, ships are modular. There are three modules that need to be customized separately. There is an engine section, a ship-type class section and another module for other vessel special characteristics.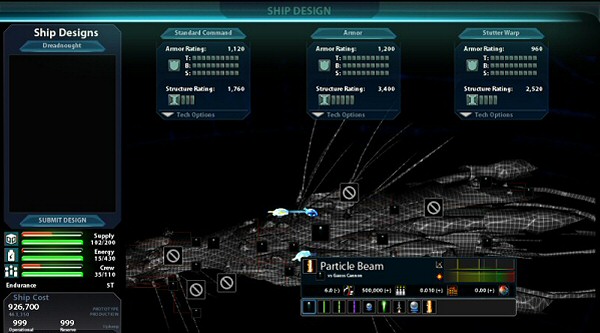 At first not all that you're required to do (or know) is evident, which is a SotS2 general problem. But after you experience around with the various options provided to you, you start to get the hang of it. There are many weapons, weapon types and mounts to choose from. You can even compare one weapon against another in a nice graph instead of having to memorize damage numbers, or having to cycle through the various weapon one by one. There are also extra modules, mostly that you unlock through research that you can include also. As already said ships are separated in three modules that increase the configurations variety, so, you can also play with that to further customize your ships. With respect to ship design SotS2 also includes a very nice ship testing feature. After choosing all your ships' parameters you have the chance to see it in action before entering in real combat. The game puts you in a simulation controlled environment with some targets for you to test your armament.
The invoice system, i.e. the way you instruct your ships to be built, is also nicely done and gives you (in this case) all the information and features you need to build your ships. Before building ships of your newest designs you must invoice a single prototype. Only when your prototype gets built you can start producing that design in mass. The only negative aspect worth mentioning in the invoicing system is that I didn't find a way to re-order invoices in the invoices queue after they are submitted. Although this may sound realistic I think the game should allow you to re-order your build queue anyway.
Space combat
Since SotS was always much more about space combat than strategy, we now reach one of the game's critical areas: space combat. First of all SotS2's space combat is very demanding in terms of performance, but if you actually have a good, or very recent 3D accelerator video card, you should be fine. But I leave the warning for people with moderate-to-good video cards from 3 years ago: you may struggle a bit to get a decent and smooth space combat rolling, if you do manage to tweak your card well enough in the end I mean.
Unlike the rest of the game that plays in turns combat unfolds in real-time, in a limited time span between 5 to 12 minute sessions(this limit is set by you at game setup). Overall graphics are very good. The planet models for instance are probably the best looking I've seen to date. The space stations and all spaceships are also very nice looking (some of them absolutely gorgeous), so, the graphical aspect of space combat is overall very good.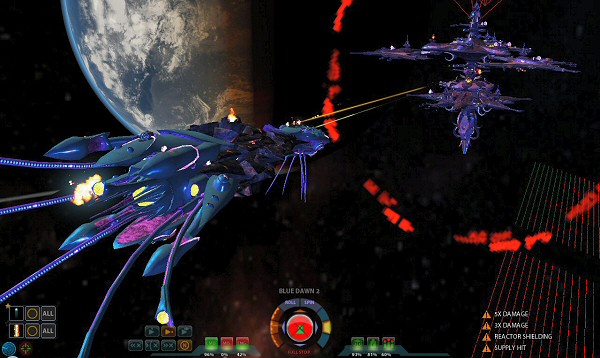 Now, in terms of gameplay, I found combat to be quite straightforward. You point, click, order attack with the left mouse button, select several ships and order movement with your right mouse button. Point, click, shoot, move, shoot again or standoff and retreat, all the basic combat options that this sort of game usually offers. I quite enjoyed the combat overall. The voices are nice, a bit repetitive but actually quite good, especially the Liir ones. I had only a few annoyances to report, but those are not strictly related with the combat itself but more with the preceding and the succeeding UI panel, that I found to be a bit rough and even wrong, as it contained some mistakes. For instance the battle report screen (at the end of battle) shows you a wrong number of destroyed ships.
Some further scattered thoughts
The game offers multiplayer options (LAN and Internet) but during the time I played for this review I only saw one open game there, which was protected, so I can't tell you anything further than this regarding multiplayer.
The ETA system for turns is still unfinished and frankly quite disappointing. Sometimes fleets take less time to arrive at their destination. Sometimes a fleet uses less time to build a station, for example. Other times these issues are far more evident. Sometimes you get negative ETAs (yes, "-2" turns for example) or you get "5937593" turns, or overlapped text. I found this ETA instability very disturbing.
Sometimes you can't colonize a world and you don't know why. Other times you can't relocate a fleet somewhere and you also don't have enough information either in-game or in the manual to understand why. Could it be that you can't have many fleets stationed in one system? But we don't actually know that there is a maximum number, so there's that lack of information and feedback problem again.
Sounds are basic, and music is minimal (although there is one for each faction), but they are enough to set the tone well. Voices are ok in general, mediocre at places (with annoying accents or simply unremarkable) but excellent in others (like when playing with the Liir for example).
Game screen switching, i.e. entering and leaving screens can lag severely. In large maps you can get up to 8-10 seconds to return back to the starmap (from the research screen for example). In smaller maps this is largely mitigated, and you end up getting "only" 1-3 seconds lag.
The fleet manager is cool, you can assign formations to your fleets (even in different layers: up, middle, down) although I'm not sure if this is actually working in combat as it should since in my battles my ships were all set in a straight line.
You can actually see stations under construction.
I didn't like the fact that you can't play with less than 3 systems at game start (for any map size).
The colonization system is interesting. After you colonize a new world you may decide to keep giving support to that recently established colony, especially if it was built in a less favorable environment. When you're giving support to those colonies you accelerate their development, the downside however is that your colonization fleet is unavailable to establish new colonies elsewhere.
Very interesting shield technologies. The are several types of shields offered for research (against beam or projectile weapons for example) and you actually need to mount them in ships using special modules in order to use them.
The different factions, lore and background information is very good.
Bottom line
It's clear to me that the game's problem is not one of design but one of implementation. Both the art and the overall game's design looks, and feels great. But you can't help not to end up feeling frustrated sooner or later because of all the lack of information, crashes (for some people), bugs, lack of feedback or just incomplete or missing features.
After playing the latest version of Sword of the Stars 2 (the version the game was at, at the time that this review got published) I have strengthen my believe that this game has really great potential, and I mean BIG. Many issues have been addressed since release and the most important one being stability. The game is actually very stable now. At least for me it is. At release, and a couple of weeks after, I couldn't even play for more than 4 straight turns (actually trying to do something) without crashing the game, and now, 3 months after that, I didn't have a single crash after playing for this review.
At the time I wrote my Sword of the Stars 2′ first impressions I don't think the game was playable at all, judging from my experience "playing" and by what everyone else in the game forums was saying. Now, judging from the type of activity I witnessed in the game forums (a lot more: "What's that?, "How do I do this?" and less "I get a CTD here.") the game is finally quite playable now. It's not yet finished and lacks a lot of polishing work though. There are still bugs also to iron out. Examples of these are: wrong or negative ETAs, overlapped text at places, sliders that should not be active at game start, extreme lack of information and unpolished and buggy UI.
Now, about the golden questions you may be asking at this time: "Is the game already playable?", "Is it ready?", "Do you recommend the game?". I will reply with this.
For the ones of you with a tight budgets that need to select carefully where to spend your money to maximize your game experience I can't recommend this game for you at this moment. It's too incomplete to be satisfying enough for you, and to be able to offer a solid game experience. At least for the $40-$50 price.
For you 4X veterans out there, that are still undecided whether to jump into SotS2 or not, I would say it's already worth it for you to go ahead and buy SotS2. I think you can squeeze as much of the current game's state to be worth the $40 or $50 bucks it costs. However don't come back to me saying you had an unsatisfying experience because that's probably what you'll get. There's the risk of not getting more than what you get now, yes, but there's also a good chance you will.
If you're new to this genre (space strategy) I don't think it's a good idea to enter in the SotS2 universe just now. There are other titles available that are definitely far better products, that will be more worthy of your money, and that will give you a better impression about the genre than Sword of the Stars 2: Lords of Winter will.
Guess I'll need to re-review this one in a 3 to 6 months period, which is becoming a strange need these days.
The Good:
– Graphics are great overall
– Very interesting, and refreshing way to move spaceships around (missions concept)
– Cool stations concept lets you build and upgrade massive space stations in a fun way
– Elegant research system, with random elements and good tech tree depth
– Designing and building spaceships is fun
– Alien factions offer a distinctive way to play, and their lore is also interesting
The Bad:
– Lack of information and overall UI feedback shortcomings are very frustrating
– The diplomacy system is in skeleton phase still (barely functional)
– The ETA system (turns for some event to happen) is broken. Unacceptable for a TBS
– Screen switching lag is unbearable in large games (yet it is acceptable in smaller ones)
– Trade and mining implementation is obscure and unsatisfying at this stage
– Overall buggy, unfinished and unpolished product
Subscribe RSS
22 Comments
Related Articles:
Post category:
Game Reviews