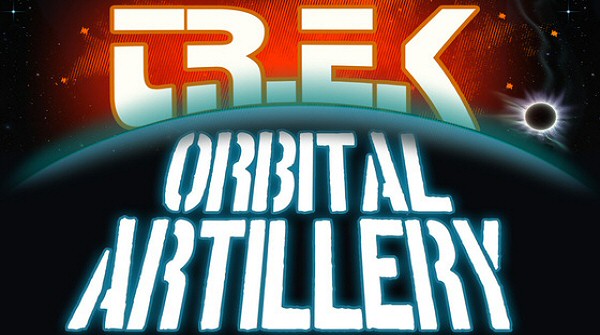 I always do what I can to help spread the word about Sci-Fi games and Sci-Fi game developers the best I can. And when a Sci-Fi enthusiast buddy needs help, and asks for it, here I am to help him out the best way I can.
Today I got in contact with Fazri Zubair, the founder of a small development studio in LA called PyroElectric Games that focus on mobile platform gaming. Fazri is developing a sci-fi artillery-style game for the iPad and iPhone called T.R.E.K. Orbital Artillery (TOA). Fazri is asking for support to help finish his game. He said that the name T.R.E.K. stands for nothing at this moment. Part of the fun, he says, will be to come up with a suitable meaning for that name in the near future.
TOA features planets destruction. Yes, that's the main purpose of the game. Planetary extermination! You setup your fire power and then need to adapt to the various orbital elements around you, like asteroids, comments, stars, wormholes anomalies, black holes, supernovas. There seems also to be a generous arsenal of weapons available to choose from, with additional stuff available through in-app purchase, which leads me to believe that probably TOA will be free to play.
TOA will initially be created for the iPad, iPhone and iPod Touch. The dev stated that a Mac version will follow shortly after launch. If he gets the funding he plans to have an Android version ready within a few months.
Fazri asked for support to:
– Hire an artist to complete the art assets for the game and design a UI.
– Add sound FX and music to the game.
– Add multiplayer support & cross-platform compatibility (Android).
– Additional graphic improvements & more weapons.
Crowd funding sites like Kickstarter or Games Plant seem to be a great place for the indie devs to look for support these days. These sites seem to charge a fee only when projects funding succeed. StarDrive was the perfect example of a well presented project with solid goals, having already a strong game base developed to show that the dev meant business. I'm sure the funding was well deserved.
You can have a look at T.R.E.K. Orbital Artillery pledge at Kickstarter here. As always in this sort of thing there will be perks involved for the backers.
Good luck Fazri!
Subscribe RSS
Related Articles:
Post category:
News & Announcements