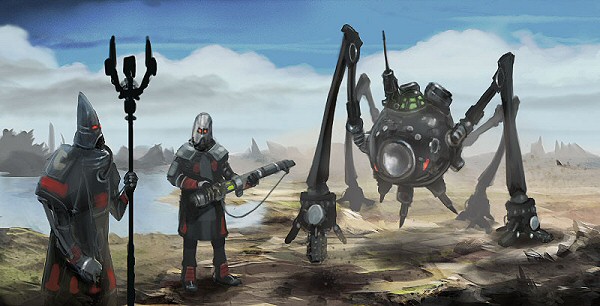 Star Prospector, a sci-fi RTS / RPG game for the PC, was recently released for Gamestop's Impulse platform only. Cryptstone Games announced today that Star Prospector is now also available on GamersGate. Currently the game is sold by both services for the same price: $9.95.
Cryptstone Games has also announced today that they're working on a DLC to be released for free somewhere at the end of March. The content will include new "challenge modes" that will offer different types of gameplay as well as other new features. I contacted Cryptstone to know more about this free DLC story. This is what they have advanced to Space Sector:
«We are currently prototyping several new types of gameplay but we don't know exactly what is going into the DLC. Some of the modes we are experimenting with are tower defense and survival style gameplay modes/maps. Also we hope to add some new models into the regular game like a new Rig model, some new enemies, and other features. We will put out a preview video as soon as we have nailed down the prototypes. ~Cryptstone Games»
Earlier this month Cryptstone Games has released a SP patch that along with some bug fixes (and other changes) it added an option to increase the game speed. This was something that some people were complaining about, that the game felt too slow at places. There's also a toggleable auto-scan option now. You can see the patch full release notes here. There's also a 9 min video footage assembled by Cryptstone showing-off the patch's new features. For more information on the game checkout the Star Prospector's first impressions article.
Subscribe RSS
2 Comments
Related Articles:
Post category:
News & Announcements