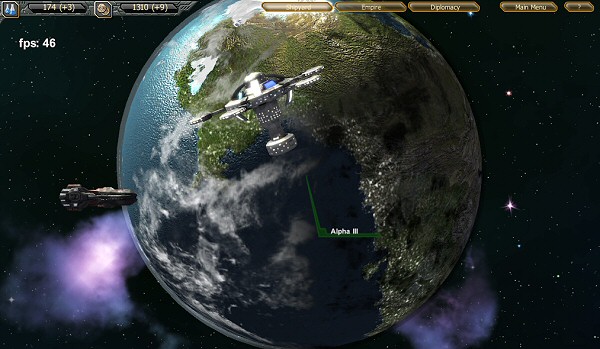 StarDrive is part of the Space Sector's sci-fi/space games you can't miss in 2012 list, and it is definitely a very promising space game to look for this year.
For the ones of you that are not yet familiarized with this title, StarDrive was announced to the world in December of last year through the kickstarter crowdfunding platform. The pledge was a success and Daniel DiCicco (StarDrive's single-man show developer) received support from 647 backers to finish his game (+135% more than he asked for).
StarDrive is a real-time 4X space strategy game with a bit more action to it than usual in 4X games. It will provide more action because on top of the traditional 4X features StarDrive will let you control your flagship in an arcade shooter kind of way. The game is currently in alpha stage and is available at Desura, where you can pre-purchase it and have access to the current alpha builds all the way through closed beta (to happen somewhere in spring time), followed by final release, which is targeted for this summer.
I played around with the current alpha for a bit. The game is not really playable yet, since a lot is still missing but here is a small preview of what you can expect later this summer. Enjoy!
The 4X Universe has become prettier
The first thing you notice when you launch the game is the music, which is excellent. I don't know where you got that music from Dan but let me tell you that it's just phenomenal! The next beautiful thing you notice is the planet's and stars rendering quality, and the ships models that look great also.
But before launching a game you must setup a few things first, which includes the need to customize your race. In this customization process not only you need to choose a name and a flag for your empire and race, but you also need to choose between a set of negative and positive traits (your race's specific abilities). Those will be your strong and weak points that will make your faction unique. Thank god, Dan! Finally someone included this key feature in a 4X game again. It was about time.
The starmap is 2D but you can tell (and experience) that the objects are projected in an isometric 3D kind of way. This is particularly interesting because you can take advantage of a more realistic presentation but without having the hassle of real 3D map navigation, which can be a cumbersome experience sometimes (like in Star Ruler or Sword of the Stars for example).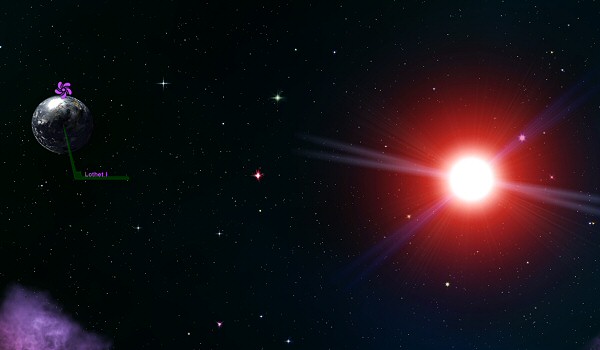 So, if you approach one of your ships from one side and zoom-in you experience a sense of depth. Well done. Not only it's very easy to navigate through the various star systems, but the objects (planets, stars, asteroids, ships) also look wonderful. The stars rendering when you zoom-in an zoom-out are absolutely fantastic. StarDrives offers the best stellar representations I've seen in 4X games to date, for sure.
Now, the game unfolds in real-time which may be seen as a downer by many. After all, most 4X gamers are TBS lovers, so, this may be seen as an obstacle. In fact it doesn't have to be a problem at all if the pacing is the right one. For example, Distant Worlds unfolds 100% in real-time but it offers a pause mode, and multiple time span speed options, which resolves the real-time pacing issue completely and offers the best of both worlds (at least for me it did the trick). So, Dan, if you read this preview (that I'll make sure you do :) ), please have a careful look at this timing and pacing issue. I strongly recommend that you implement a timing control mechanism, if you're not planning that already that is.
The diplomacy screen is not functional yet, however you can get a small taste of what's to come when you interact with other factions when you meet them. The contact with the races is cool and feels good. I don't know, it has something to do with the game's tone, combined with the music and the sound. Everything in StarDrive seems to transmit a feeling of lightness, which I'm loving.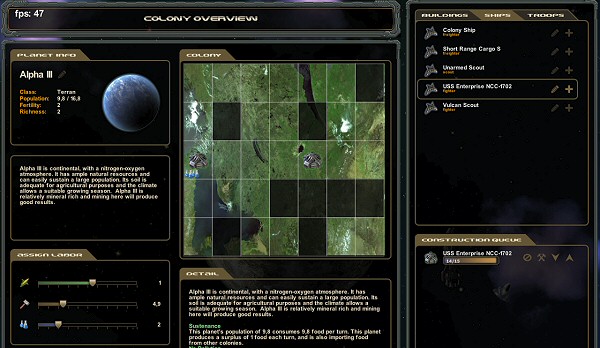 Another important aspect worth noting already at this time is the quality, the lightness and the accessibleness of the UI. All StarDrive screens are very sharp, simple and easy to use. I didn't have a single doubt using them. They are simple but as everybody knows it's not that simple (it's very hard in fact) to come up with such quality and elegance. All is looking good in this front also. I just have a remark/suggestion to make in the planet screen. The sliders. They need locks. Pretty obvious suggestion ok, but never hurts to stress that.
I found the research system to be quite simple yet compelling. Basically you accumulate research points and then use those points to unlock techs. It's not your traditional research, wait a bit and breakthrough tech system (which is a more realistic way to approach it in my view), but I guess this simplified mechanic of accumulating points and spending them to unlock techs could work out ok in the end. We will see.
Ship design is probably one of the game's flagship features. I played with it for a while and got absolutely fascinated by its simple yet fun mechanics. You can allocate your components freely (power, defense, weapons, etc). You actually decide in which part of the ship you put them (in the rear, the middle or in the front). And on top of that you need to design your ship in a way in which all your components must get connected with the ship's power network (you even have power conduits to connect components to power sources!).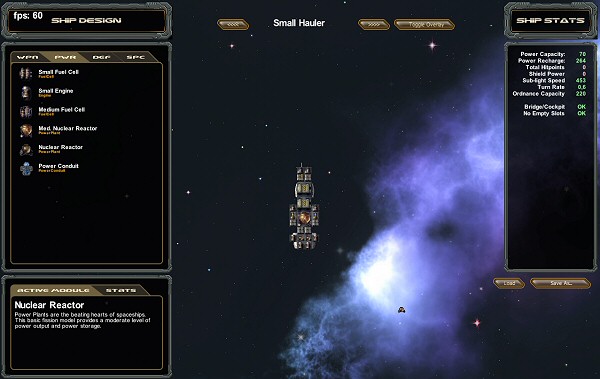 Ship design in StarDrive indeed feels like … design. It's like having a mini game inside the game. It looks very promising. Just one remark. Be careful with the references to "vulcan cannon", "vulcan scout" or even "United Federation" for the human race. You don't want CBS (that owns the Star Trek franchise) after you because of that ;)
Conclusion
Looking good Daniel! Keep up the good work, I think you're in the right track to develop a very enjoyable game. Many things are still missing of course, but the music is great, the art is phenomenal and the tone awesome. Everything looks great.
Playing your game's alpha build was a pleasure and it brought me the good old Master of Orion feel days. In a way the game does capture some very good elements of the Master of Orion series. I'll be watching StarDrive's progress closely. Everything seems to be headed in the right direction.
You can pre-purchase StarDrive in desura for $19.99 USD. You have a few more screenshots here.
Subscribe RSS
27 Comments
Related Articles:
Post category:
Game Previews