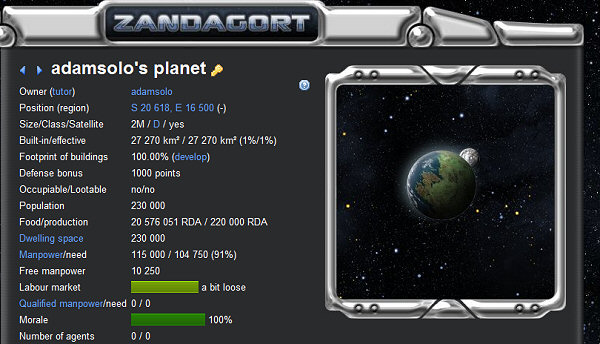 I had Zandagort on my radar for quite some time now. My initial goal was to go for a review, but after a while I realized that I couldn't apply my usual review pattern here, which is to play a game extensively for a straight period of time, so not to lose focus. I will eventually review Zandagort but for now here are my first impressions.
Zandagort is a free online sci-fi strategy game that you play in your browser."One more browser MMO ?!" – you may say. Well, I think this one may be a bit different than usual. Normally browser-based games tend to be almost identical, offering a free to play with micro-transactions model (or premium subscriptions) that grant some in-game bonuses. So, while games are free the system isn't fair because people more willing to spend money will have enormous advantage over the rest of the competition, which is a show stopper for many players. Occasionally I try new browser sci-fi strategy games to try to spot something out of the ordinary. I think Zandagort may be one of those cases.
The name and lore behind Zandagort is linked with a leader of an Andromeda Galaxy alien species (named Zandagort) that decides to visit our galaxy. The game describes this leader as mean, evil and with a strong desire to destroy the human race. How typical. The idea behind the game is that human players need to unite against this common foe. Apparently, and according to the game's lore, in Zandagort's server #1 the game ended with the complete destruction of the Milky Way. This same lore states that a standard server instance takes about 5 months to complete (which I find hard to believe due to the game's complexity, but ok).
In Zandagort you don't complete a series of fast missions, begin building quickly and start annoying everyone around, crushing and pillaging at will, as usual in this sort of game. No. In Zandagort things take a long, long time to happen. And this is the primary reason I couldn't finish my review in due time. In fact I'm still learning how to play the game at half way through the tutorial after many play sessions.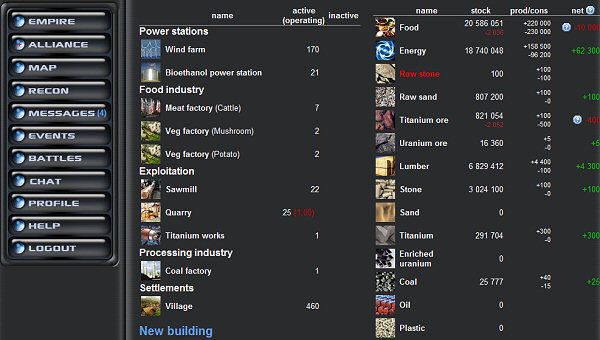 The game is very deep and complex, to an extent that I sometimes feel that they may have gone too far. But, that's one of the reasons that makes it different in the first place, so… When I started my game I wanted to build something fast like housing for my planet's citizens, maybe a bunch of power stations or perhaps some factories to boost industry fast? No, it can't be done. Things take hours to build. You issue a couple of build orders and you're done for the day. At least that was my play pattern.
The game offers deep economical management. And man, do I mean deep! (5 different types of food industries alone?) You need to not only take care of natural resources and population but also take care of food, energy, animals, forests and a bunch of different industries of all shapes and sizes to foster production in your planets. Afterwards (not there yet) you should be able to research new technologies, forge alliances, establish trade, spy and wage war. Usually there's no single player mode in this type of games, and Zandagort is no exception. All the diplomacy, trade, espionage you do in-game you do against other humans (as usual in MMOs).
The User Interface is very slick. The information, some times a big bunch of it, is well organized and playing feels fluid without any major doubts or annoyances. The chat system (both alliance and general one) is functional and well integrated. There's also a cool starmap. The learning curve however, not unexpectedly, is a bit steep. But that's not a problem per se. I'm finding the tutorial quite easy and fun to follow, and I'm having no big problem understanding the game's mechanics, however the game does take some time to learn how to play.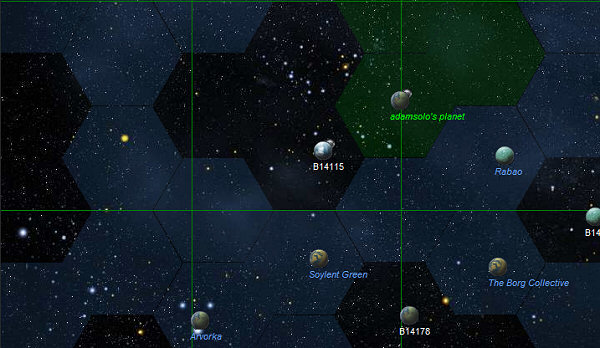 Aesthetically the game is poor. Graphics are minimal,with a few good models, although tiny. There's no music and no sounds whatsoever (as usual in browser games). But that's probably not the reason people play these games anyway.
I think the game is out of the ordinary and probably deserves at least a quick checkout because it's free and apparently there are no in-game advantages for people with bigger wallets. The game does provide a few advantages to people who donate but that seems to be limited to a better map and a list of buildings that construct automatically (it didn't seem like a big deal). Other than that there's no faster building, or the usual "cheating" (boost production, resources or other advantages) that shuns many people from this kind of games.
The dev team behind the game is Hungarian, as for most of the community playing the game is, but I could spot a bunch of people from other nationalities playing there and at least one English based alliance that I could join.
I had fun playing at times, closely following the user-friendly tutorial, slowly developing my planet, but I'm not sure if I'm too attracted to the game's depth and the time it takes to do things. Currently the game isn't clicking for me, it's not doing a good job in keeping me engaged. But, maybe you'll have a different opinion if you have the time and desire to check your empire once or twice a day with this sort of complex mechanic and slow-paced experience. At least you'll have a feeling that you're not falling behind due to an unfair game boosting micro-transactions system.
Subscribe RSS
12 Comments
Related Articles:
Post category:
Game First Impressions
,
Game Previews