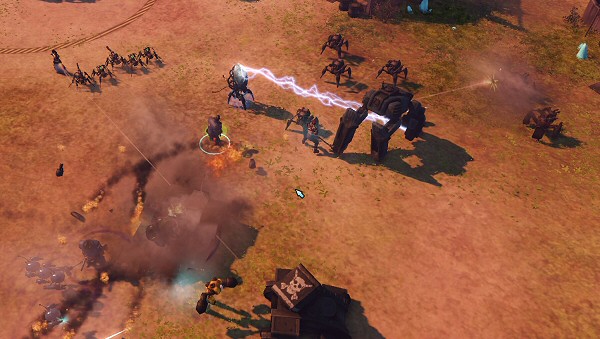 Paradox Interactive announced Red Frontier, a new sci-fi RTS game under development by Swedish Zeal Game Studio. Red Frontier unfolds on a sci-fi setting where humanity has settled most corners of  the Milky Way galaxy and "huge corporations fight over valuable resources using mercenary commanders and their combat droid armies".
Paradox presented the game as a "multiplayer real time strategy game, wrapped in the easy-to-pick-up and easy-to-play structure of a first person shooter" in thier website and as a "multiplayer online real-time strategy arena game for PC" in their forums. Paradox adds that there will not be single player gameplay, only online multiplayer where you'll be able to come-and-go as you like "you'll be able to join an ongoing game and get into the fray ASAP. Also, if you feel like it, you can leave it when ever you want without a penalty". The game seems to contain some RPG elements also, judging by sentences like "there will be a progression system that allows the players to purchase special items and droids with in-game currency gained from playing matches." and "each character will feature a number of abilities unique for their role".
Red Frontier seems like an interesting mix of your traditional RTS with some RPG elements, all in a sci-fi setting. In a way I find many similarities with Star Prospector, where the latter is single-player only and Red Frontier is multiplayer only :) Red Frontier will be available for the PC and Mac, however there's no firm release date set yet. Paradox announced a 2012 release. Perhaps it's better this way.
Subscribe RSS
Related Articles:
Post category:
Game Previews
,
News & Announcements