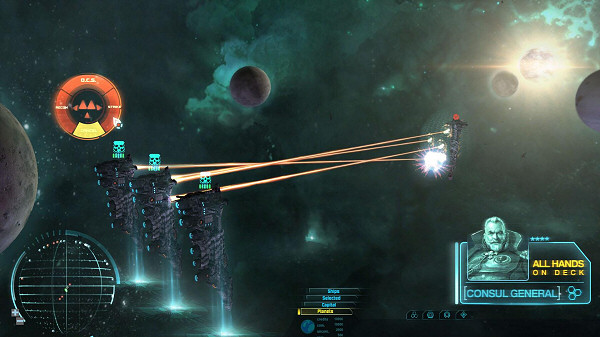 Novus Aeterno is a new seamlessly persistent sci-fi MMORTS game for the PC that has been in development for four years now by Taitale Studios, a start-up indie video games development studio.
The game' focus is on PvP, however it seems to offer also PvE content, that gets unlocked via events that the player can join at any time to help unfold the game's storyline.
Taitale talks about having three challenging concepts for their seamlessly (means no loading between different game areas) persistent space RTS game. First, they talk about the possibility for an RTS game to have no end (as typical in MMOs). Secondly (although not really new), they talk about the possibility of having thousands of players running their own empires in the same world with the possibility for cooperation or for plotting against each other. Third, they talk about the possibility for players to use unit models created by other players.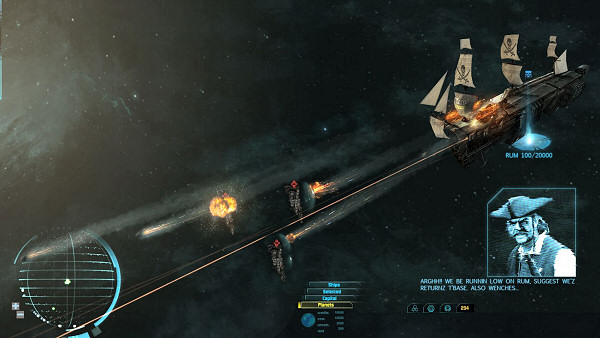 Thousands of players, all cooperating and plotting with user-generated content in a seamlessly persistent no-end sci-fi Universe. Looks like a good and fun challenge to me!
Capital ships, challenges and empire building
Novus Aeterno seems to be much about space combat but on-top of that it also seems to offer many empire building features, such as planet colonization, structures building, resources control, research and production. So, there seems to be definitely a lot of strategy and planning in the game. You will also be able to conquer planets, for which you will need ground infantry to be deployed on the planet's surface in order to secure it.
So, in a sense, Novus Aeterno seems to have it all to be considered an innovative 4X game, a slightly different one because it is a no-end MMO with human adversaries instead of AI controlled alien races. But there's a twist, as you'll see below.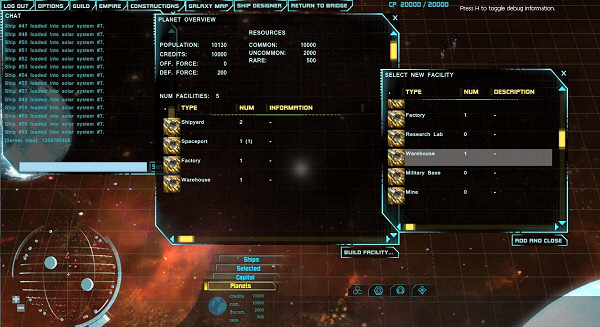 There also seems to be trade and diplomacy options, at least in the sense of human-human diplomacy only, I think. You can form alliances and expand your empire, but the part that intrigued me the most was when Taitale says: "(you will) find valuable resources and artefacts or a remnant faction that may prove to be hostile or a possible Ally". So, the game seems to feature also some kind of NPC AI alien races mechanism. Very interesting.
In addition to space combat and empire building the player will also be allowed to enter into challenges, which will be like duels with other players or alliances (1v1, 2v2, 5v5, etc). These challenges will take place on a separate map (no seamless environment here) and their outcome will not have an impact on the player's empire. Sounds like your typical MMO raid instances to me.
Another aspect that also captured my eye was the game's capital ships concept, and how these ships are used in-game. Novus Aeterno features a set of capital ships but you will only be able to deploy one of these at a time. Capital ships need to be unlocked through in-game resources, or via points purchased with money (micro-transactions perhaps?), and will have a special role in the battles. Apparently they will be quite formidable and very useful with unique abilities. I'm sold!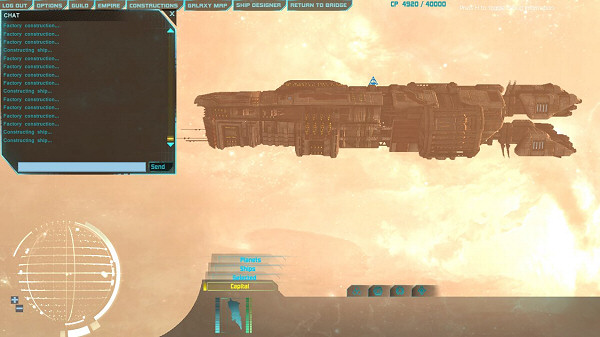 One aspect I love on space strategy games is the ability to build and control massive-scale spaceships with meaningful roles that really make the difference on how these games are played. That's one of the reasons I like games like Sins of a Solar Empire so much by the way, with its charismatic, meaningful and cool capital ships.
Novus Aeterno wants you!
Taitale has reached the closed-beta stage (congratulations to the team!) and is now asking the community to help test their game.
They have been recently offering beta-keys, but now the only way to enter the beta seems to be through a program they've launched called "The Infiltrator Program". They have a link to that in their front page, however here is the link for you. Basically you just need to send them an email saying you're interested to join the test / beta team. Apparently your ideas will be taken into consideration in the game development process also.
So, here is a good opportunity for you to experience their game first hand and have fun helping the Taitale guys on their testing needs, and on the game's final touches. Remember that they are a startup indie studio, which surely could use all the help you can spare.
Bottom line
Novus Aeterno is a very nice surprise. It looks very promising and seems to contain all the elements necessary to please sci-fi strategy gamers that like to play online games with friends in a seamlessly persistent Universe. Perhaps it could be also a very good opportunity for people new to massively multiplayer online games to have a go on these types of games.
The game is in closed-beta which means that it should not take too long to open to the public, although it can take a few months sometimes for a MMO to go from closed-beta to open-beta to a final product. I found no information on the game's business model. If it's going to be free-to-play, if there will be regular paid subscriptions or micro-transactions. I'll keep my two eyes on this one. I'll let you know as soon as there are new developments.
Screenshots
Subscribe RSS
11 Comments
Related Articles:
Post category:
Game Previews
,
News & Announcements