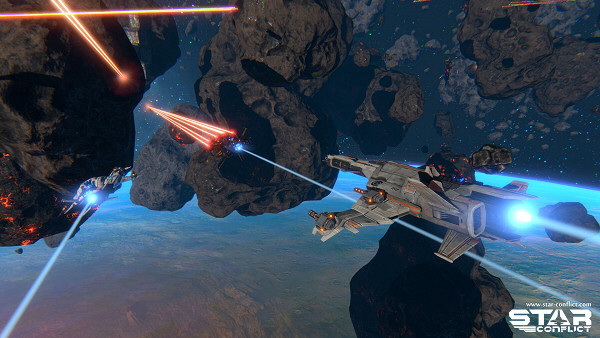 Star Conflict, a new space action MMO game that puts you at the helm of a space ship, has just entered closed-beta and is now accepting registrations on their website (\edit Jul 28 2012 – now closed). Star Conflict is a F2P (free to play) PvP-based MMO (no PvE). It's not a browser-based game, it has a dedicated client application.
It's a space combat game, but from what I could tell it's not really a space simulation game but rather an action game. It features Newton's laws of motion but the devs seem to have put more emphasis on how easy it is to play instead of on simulation details "We want it to be interesting to a wide audience" ~Star Gem, Inc. Apparently joysticks will not be supported but only keyboard+mouse and gamepads. Star Conflict seems to include also some RPG elements through abilities development and specialized skills through various types of fighters, which are divided into 3 categories – light, medium and heavy.
You have the beta launch trailer below, which is very nice by the way. If you're more into action than careful strategic thinking than Star Conflict could be your thing.
Subscribe RSS
6 Comments
Related Articles:
Post category:
News & Announcements