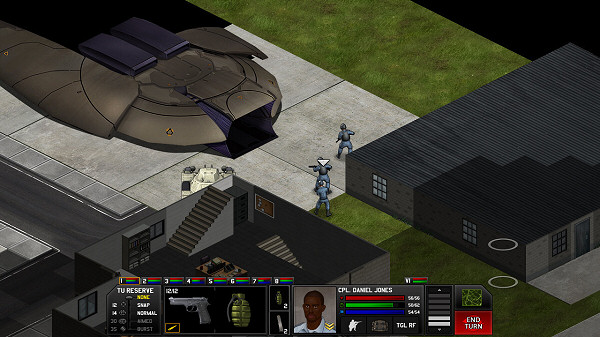 Xenonauts is a sci-fi strategy game that is heavily inspired by the X-COM classic UFO: Enemy Unknown, which is the X-COM series' first title. Xenonauts is being developed by Goldhawk Interactive, an indie video games studio that bets on a low-cost development model to bypass publishers, and to fund their game's development entirely through community channels. Goldhawk defines their first game, Xenonauts, as:
"A spiritual successor to the X-Com series of strategy games, Xenonauts aims to be the first project to carry the timeless mechanics into the modern age!" ~Goldhawk Interactive
Xenonauts is currently in Alpha state and is accepting pre-orders at Desura. Pre-ordering the game will allow you to play the latest alpha builds and the final game when it gets released.
Xenonauts brings back the old X-COM days
That's right! After playing the early alpha build for a couple of hours I can already advance that Xenonauts succeeds in capturing the original X-COM game's atmosphere and gameplay. It achieves this with appropriate music and sounds, intuitive controls, simple yet fun gameplay mechanics, and all that with nice and crisp new graphics.
I admit that I was a bit skeptical at first, after all the task of capturing the original X-COMs feeling was not an easy one, and being able to improve it further, even harder. Well, all I can say at this stage is that I'm totally convinced that Xenonauts will be a true UFO: Enemy Unknown spiritual successor. One that will certainly entertain the X-COM fans.
How did they did it?
There are many game components that need to be made right to make a successful X-COM, but above all else two must be made exceptionally well. The strategic world map and, of course, the tactical ground combat. Then, the music must be well chosen, the suspense setting well captured, the research part well made, the base-building well thought. All of this has been done very well in Xenonauts in my opinion, which is saying a lot from an X-COM veteran.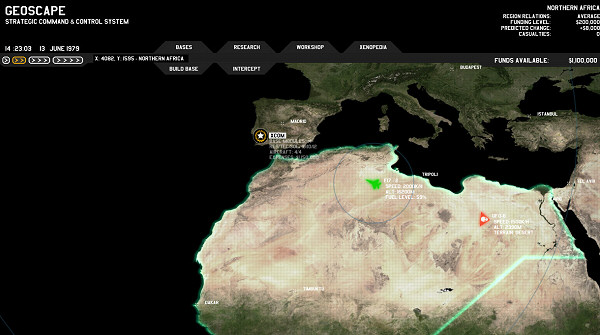 But, the game is still in alpha and very unfinished. For instance, at this stage (alpha 9.1) there are apparently only two maps available to play, and I was not lucky enough to see them both. I made about 10 ground missions and all of them were in the same map, an industrial area. There should be a farm area but I didn't experienced it. In addition to the industrial and farm maps the devs plan also to have arctic (tundra), desert, town, alien base and xenonauts base maps.
An important aspect to reinforce are the intuitive controls. The game is very easy to pick-up on, at least for an X-COM veteran like me it feels very intuitive. Things work as they should and feel right. Things like having different aims being easily selectable via a simple mouse click or the soldiers' movement being marked with a single click and double click moving your character. Moving your tanks and soldiers around also feels familiar. The user interface is also very well done, at least I think it is because I didn't notice it (can't make a better compliment to a UI than this).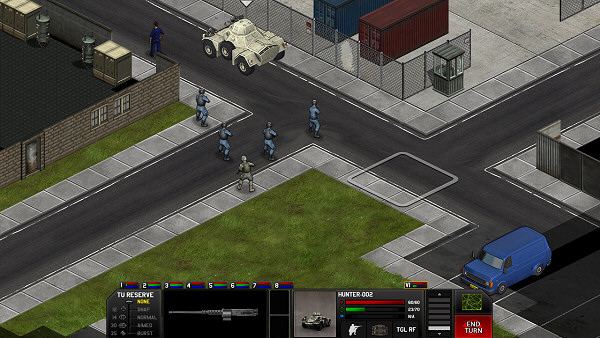 I already talked about the good music, but the sounds are a no less important factor to reinforce the suspense and the horror setting, and they are no less good either. The alien sounds do sound very alien, and above all else scary. Tension is always present, and the curiosity to discover where the aliens are a constant. All this in one map? Ok, I think I was a bit hungrier for more X-COM that I thought :)
But, seriously, you can witness those things were very well thought and done. And you can also feel that things can still be further improved, like the Interceptor's screen, or the bases' graphics, but, I give a lot of merit to these guys for being able to pull it off. One inch around the mark and we would jump on you. Good job!
Bottom Line
Now, I just wanted for the game to be finished in order to play more. Playing the same map isn't doable for more than a couple of hours. Yes, you can already undertake some research projects and can construct more bases but I got a couple of crashes that also hurt my progress, since I didn't save and apparently an auto-save feature is not available.
But, the important thing is that this already feels like an X-COM game, even the explosion effects are very similar, the telepathic aliens, the fear, the interceptor missions, the avalanche missiles, the mystery, the drama, all there. Now with very nice graphics, that in my opinion can even be made much better with new layers of rendering.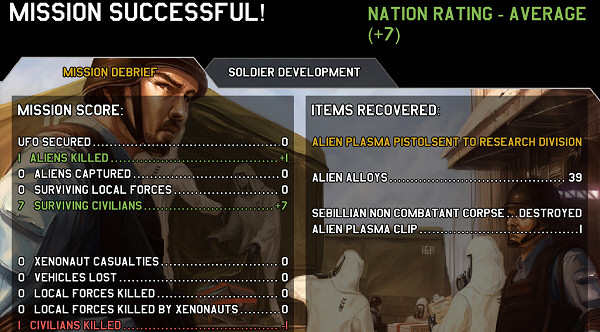 Xenonauts is still in Alpha, many things still need to be done but X-COM fans can already rest assured, you will not be disappointed. We will have at least one X-COM game to play this year that's for sure.
You can pre-order Xenonauts at the game's official website. If you want to refresh your X-COM memories there's an XCOM: Complete Pack available at GamersGate.
To know more about Xenonauts and XCOM: Enemy Unknown (the new X-COM being made by Firaxis), I invite you to read the article: XCOM: Enemy Unknown vs Xenonauts – The Debate Starts. See ya at Terror Site!
More screenshots
Subscribe RSS
12 Comments
Related Articles:
Post category:
Game Previews
,
Games Under Development