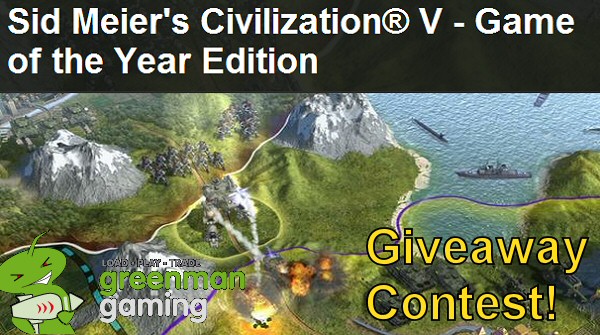 UPDATE (30th May): There is one more game code available now (2 total to go for on the 1st of June 2012). aReclusiveMind has donated his prize back because he changed his mind about it. His words: "I've decided I'd rather see someone who will truly be able to immerse themselves in the Civilization V world enjoy the game then let it sit selfishly on my Steam library list" ~aReclusiveMind. I applaud his gesture and generosity.
I thought about ending today with the announcement of a giveaway contest, for a chance to grab a copy of the fine 4X game Sid Meier's Civilization 5: Game of the Year Edition (which includes the updated base version of the game and over $40 in bonus and digital content). It's not really a sci-fi or space game I know but it is a fine 4X strategy game (that should get much better next month by the way). I know that this a highly appreciated game, or at least the game series is, among the reader base of this blog.
Civilization 5: Gods & Kings (Civ 5's 1st expansion) is around the corner (ETA: June 19, 2012). So, Green Man Gaming, the fine sponsor of this little competition, will be offering two Civ5: GOTY game codes, part of their 2nd anniversary initiative. These are voucher codes to be used in Green Man Gaming's website, which will get you a 100% free copy of the game, which in turn will give you a Steam key.
I thought this would be a good opportunity for folks that don't own the original Civ 5 base game to get a chance to prepare for Gods & Kings. Or, if you already have it, to give to a friend, so that he/she may prepare ground for the new expansion. It's almost 100% certain that the Gods & Kings expansion will require you to have the base Civ 5 game. At least it always has been that way with Civ.
How to enter in the contest
To enter in the contest you just need to leave a comment below saying: "I'm in!", or something else that leads me to believe you want to run for the prize. Don't forget to use your real email address when submitting the comment because that's the email I'll use to let you know if you're the winner :)
But, I thought about doing something a little bit different this time. Instead of requesting you to follow the blog or the sponsor's social media I'll be hosting a small trivia.
The first person to comment in this post the right answers to the two questions below wins 1 copy of Civ5's GOTY, the remaining copy will be attributed randomly with the help of random.org, through all the other participants.
The questions are (psst… go for the wikipedia ;) ):
What major mechanic (or feature) will return in Civ 5: Gods & Kings after being left out from the series in Civ 5 base? Hint: It's a mechanic that requires a lot of faith ;)
Name two new playable civilizations, and its respective leaders, that will be included in Civ 5: Gods & Kings.
The remaining winner will be picked in 2 weeks time, that is, on June 1st.
And remember that, if you don't win, and since this is a sponsored giveaway after all, you can always go straight to Green Man Gaming and just buy the game there.
Have fun!
Subscribe RSS
102 Comments
Related Articles:
Post category:
Contests