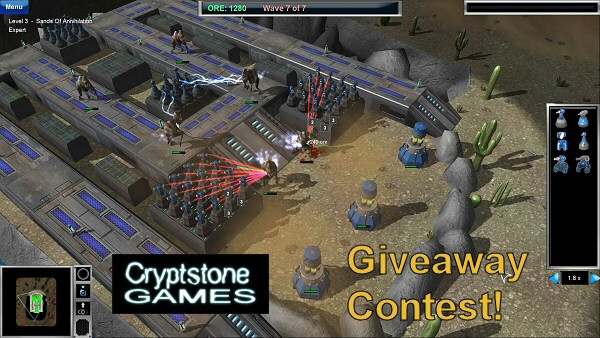 The good folks of Cryptstone Studios have sent us 5 keys of their game Star Prospector to distribute over the Space Sector readers and fans. The keys are for the full install of Star Prospector to be activated on Desura. To make this giveaway a little bit more fun I decided to open another trivia contest.
Star Prospector is a sci-fi real-time strategy game with role-playing game elements. In a recent update a new tower-defense mode was added to the game. You can know more about Star Prospector by checking out our first impressions article and the game's website.
How to enter in the contest
(The five trivia winners were found! Look below – where it says NEW – for a new chance to win) To enter in the contest you just need to leave a comment below answering the following questions (one entry per person, per e-mail address and IP):
The questions are:
When was the indie company behind Star Prospector – Cryptstone Games – founded? [2005 /  2008  / 2012]
When was Star Prospector first released in (Gamestop/Impulse)? [Jan 24 2012 / Feb 24 2012 / Mar 24 2012]
Does the game features multiplayer? [Yes / No]
Is there a demo available? [Yes / No]
How many levels does the new tower-defender mode offers in the full game? [2 / 4 / 8 / 16]
The first five to leave a comment with the right answers win a copy of Star Prospector.
NEW (5 more keys sent on May 23, 2012!): Cryptstone was very happy with the contest and has just sent word that they are going to supply 5 more keys of Star Prospector!!! For a total of 10 keys. 5 keys were given to the first 5 people that answered the trivia correctly. That part of the contest is over. Congrats to the first set of winners. Now, the 5 new keys will be distributed through the remaining people that leave a comment below till the 30th May 2012. Any kind of comment will do, as long as it indicates your intention to participate.
These remaining 5 winners will be picked with the help of random.org Note: Don't forget to use your real email address when submitting the comment because that's the email I'll use to let you know if you're the winner :)
And remember that, if you don't win, you can always buy Star Prospector at GamersGate, Impulse, Desura or from the Cyptstone's website.
Good luck everybody, and have fun!
Subscribe RSS
75 Comments
Related Articles:
Post category:
Contests