The results of the Star Prospector giveaway contest were: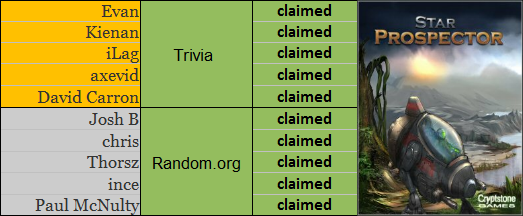 Congratulations! You will be contacted soon so that you can get your Desura code. The random winners were picked with the help of random.org. If you didn't win, don't worry, there will be plenty more contests to hope for in the future. Stay tuned!
Hope everybody had fun with this contest. Thanks to all that participated! A big thank you to Cryptstone Games for sponsoring the giveaway.
We don't have a review of Star Prospector (yet) unfortunately, but here are some first impressions for you, about the game when it was first released (Jan 24, 2012).
The contest details and all the people who participated can be found in this post.
Subscribe RSS
12 Comments
Related Articles:
Post category:
Contests