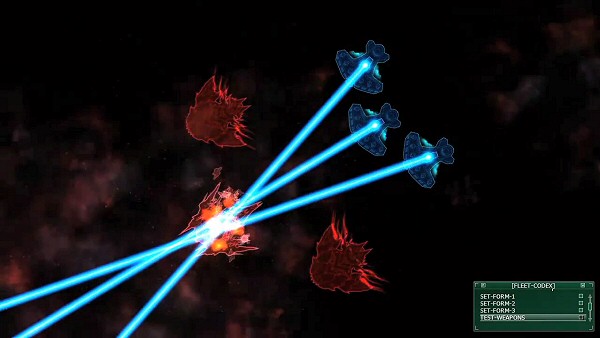 Couple of months ago I wrote about Vigrior: Maneuver Warfare, a science fiction real-time tactics game proposed by Mercenary Games, that debuted on kickstarter asking for $12,000 to deliver for Windows, Linux and Mac. Mercenary Games's appeal was successful, with $17,427 raised (145%). The game got renamed to FleetCOM: Operation Vigrior and is now on Desura on alpha-funding with a free demo. Last word is that FleetCOMM: Operation Vigrior will enter in public beta on August 15, 2012.
So, after succeeding on kickstarter, Mercenary Games now turns to Indiegogo asking for additional funds to deliver for the iOS. My understanding is that this new croundfunding campaign aims exclusively on getting the iOS port done, so, apparently no new features will be provided on top of what they proposed before.
A word to the developers out there. Look at how these guys move. With a good game base already established for sure, they went on to Kickstarter in order to secure what looked like operational funds. Money to pay the development crew, in their words "to survive" with "some of us still go(ing) to school". Basically to finish the game.
Well, being it charity, merit, faith or whatever these guys succeeded on kickstarter but they didn't stop and managed to get their game through alpha-funding on Desura. And, now they turned their batteries to Indiegogo in order to stretch the visibility window (this post is an example of that) to try to reach more people and secure extra funds to port their game to a new platform. This is an example of some available possibilities that a dev can explore in order to get the word out and try to secure some funding. This doesn't mean it will be easy of course.
A bit of a disclaimer now. As always, everyone of us need to decide by ourselves consciously what games we should back or not. By default I don't endorse any kickstarter/indiegogo project you'll see featured in SpaceSector.com. In other words what you see here is material that I think is of interest to the community, but mainly for information sake, to get the word out and provide visibility to the devs and their game projects. So, unless explicitly stated Space Sector doesn't endorse the projects presented or suggests that you back them in any way.
Subscribe RSS
16 Comments
Related Articles:
Post category:
Kickstart
,
News & Announcements