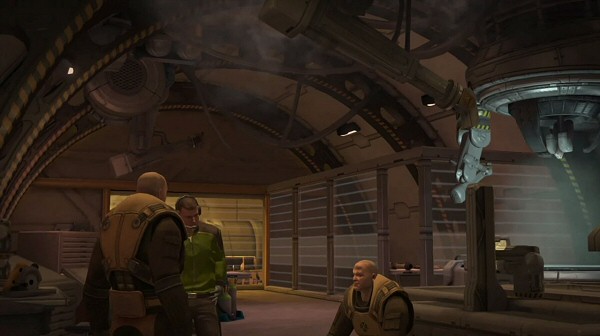 Wow, these guys did it again. I mean, I'm totally blown away (again) with this new XCOM: Enemy Unknown deep dive video. These are starting to become really addictive to watch. The first XCOM: EU "deep dive" video is also an excellent one. It makes an overview on the game, introducing the setting, the story and the overall gameplay. Now, this second video, focuses on presenting the XCOM's base, or, the "Ant Farm" as the devs like to call it.
By watching the video you get to start to understand better why they "forgot" about allowing the player to build more bases across the globe, as the original X-COM games did. I think one of the reasons is  because they invested so much in the base, the XCOM organization's home, that any other base you would create after would just pale in comparison. And perhaps they thought additionally that if you would be allowed to build another of such magnificent bases, that would hurt the emotional bond you eventually establish with the "main base".
I have to admit that although having more bases across the globe made all the sense back on the original X-COM games, now that I look back I didn't really care much about the second, third or fourth bases I built. So, going with a single magnificent base was one way to go, and I totally get that now.
X-COM lovers will totally love this video. Series' new-comers will at the very least wonder "What a hell is so special about XCOM anyway?". Well, for you folks I invite you to read XCOM: Enemy Unknown vs Xenonauts – The Debate Starts, especially the part "What made the X-COM series fantastic in the first place?", to get a taste of the X-COM cult. Xenonauts is also shaping nicely by the way, so this is not really a game about Firaxis vs Goldhawk, but really and totally about recreating what made the original X-COM games such landmarks of science fiction gaming. Till now I think both games look well underway on achieving that.
2K Games confirmed today that XCOM: Enemy Unknown will be available in North America on October 9th 2012 (and Oct 12th internationally). There will be a special package called the "Elite Soldiers Pack" available to people who pre-order featuring some aesthetic upgrades that you can apply to your armor. Then there will be a special package called "The Special Edition" that will be available exclusively for the PC for $59.99 and that will contain several goodies like "an art book, fold-out poster of the XCOM headquarters, XCOM insignia patch, and even some digital stuff like the soundtrack, special art, and more". Read all about it here.
Subscribe RSS
15 Comments
Related Articles:
Post category:
News & Announcements
,
Videos