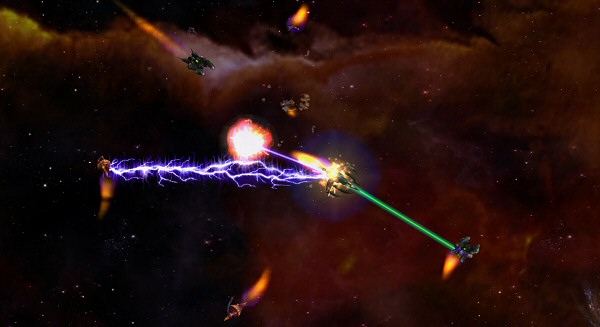 If you've ever wanted to play the role of an elite mercenary operative in a dynamic, evolving galaxy, a game for you may have just arrived.
Today, Drox Operative has entered its beta pre-purchase stage. Drox Operative is the 4th title released by Soldak Entertainment, and their first title that has left the fantasy realms and entered deep space. During this limited time, beta pre-purchase stage, the game can be purchased for 25% off, bringing the price down to $14.99 from $19.99.
The game can be purchased directly from their website, and does not require Steam or any third-party service to play. It is also worth mentioning that Soldak is offering a 30 day money back guarantee on your purchase.
Drox Operative is not a traditional 4x or space combat RTS game. Drox Operative plays in real-time and offers an interesting blend of mechanics taken from both ARPGs and 4x space games. As the major races of the galaxy compete in the 4x race, each attempting to become the master of the stars, your job is to step in and assist at least one of them in their quest. Or, perhaps you'd rather stab them in the back and help someone else instead.
The choice is yours, as you are not the governor or leader of any of these empires, but you are instead a member of the prestigious Drox Operative, a guild of elite operative mercenaries. As you complete missions, you will level up your ship and crew, earn rewards, obtain new hulls and outfit them with new equipment, create friends and enemies, and hopefully lead one side to victory in the end. You must be careful though, as making too many enemies can lead to having no friends, and one lone starship can not take the galaxy alone.
Also, in Drox Operative, it is very important to pay attention to the galaxy around you. Issues in distant star systems will progress with or without you, and you may end up wondering what to do when what seemed like a small threat has quickly grown out of hand.
We will have a full preview of the beta once we've had a bit of time to dive in and experience what it has to offer. If you have any specific questions you'd like to have answered, please leave a comment and we will do our best to respond.
Keith Turner, also known as aReclusiveMind here on SpaceSector, has been an avid gamer ever since he first laid his hands on a Commodore 128 in the mid 1980s. He enjoys multiple computer game genres, but his primary interests are in deep strategy games, 4x games, rpgs, and action rpgs. He enjoys writing and hopes to contribute with additional reviews, previews, and informative AARs to the community. See all Keith's posts here.
Subscribe RSS
8 Comments
Related Articles:
Post category:
News & Announcements