And the winners of the Sid Meier's Civilization V: Game of the Year Edition contest are: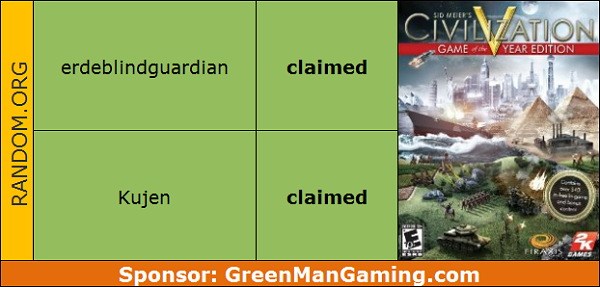 Congratulations! I will send you your game code right away.
The random winners were picked with the help of random.org. Didn't win? Well, maybe next time. Just keep checking for more contests to open up. And, be fast because sometimes there will be a trivia part in the contests.
Thanks to all that participated. Hope everybody had a bit of fun.  A big thanks to Green Man Gaming for supplying the goods. This contest was part of their 2nd birthday commemorations. And remember that, if you din't win, and since this is a sponsored giveaway after all, you can always go straight to Green Man Gaming and just buy the game there. One needs to be ready for the Gods & Kings expansion ;)
The contest details and all the people who participated can be found in this post.
Remark: aReclusiveMind (the trivia winner) has decided to donated his prize back to the pool because he changed his mind about it. His words: "I've decided I'd rather see someone who will truly be able to immerse themselves in the Civilization V world enjoy the game then let it sit selfishly on my Steam library list" ~aReclusiveMind. You're the man!
Subscribe RSS
9 Comments
Related Articles:
Post category:
Contests