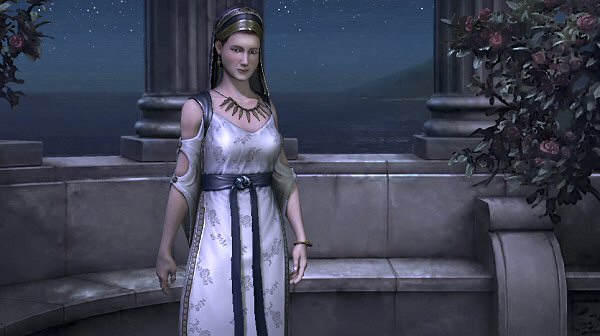 The Steam page for Sid Meier's Civilization 5: Gods & Kings is now offering a playing demo for this Civ5's first expansion.
I couldn't find the details on this demo other than this is standalone demo, meaning that it doesn't require you to have the Civ5 base game to play, and that the demo should be available for both PC and Mac (via vg247). I couldn't install the demo myself to verify this, probably because I own the game.
Nevertheless a demo is always a good thing, and a good opportunity for you to experience first hand if Gods & Kings enhances and/or fixes Civ5 for you or not. Or if this would be something you would like to play if you're new to the civilization games series of course.
What's new in Gods & Kings? These are the major new features:
9 New Civilizations: Carthage, Byzantium, the Huns, Austria, the Netherlands, the Maya, Sweden, Ethiopia and the Celts (there's also Spain and Mongolia that have been introduced earlier via DLCs).
Religion: Great prophets, missionaries and inquisitors which help spread your faith.
Espionage: Establish embassies and use spies for surveillance, steal technologies or interfere with city-state alliances.
City-States: Two new city-state types have been added (Mercantile and Religious). Vatican City and Jerusalem are holy cities that play key roles in the religious struggle.
Reworked combat system: More emphasis on a balanced army composition. Lines should stand longer to allow for smarter tactical decisions.
Naval Combat: The navy is now split into two different ship types, melee and ranged. This means that coastal cities are now vulnerable to surprise naval attacks.
9 New Wonders: New wonders include the Hubble Space Telescope, Neuschwanstein, the Great Mosque of Djenne, the Great Firewall and the Terracotta Army.
Three new Scenarios: Medieval (from the crusades to the Renaissance): Fall of Rome (play as either Eastern Rome, Western Rome or as the Barbarians); Empires of the Smoky Skies (build flying airships and huge tractor-like tanks in this Victorian science-fiction scenario).
I leave you now with some first impressions on Gods & Kings after playing for about 4 days. A review will follow perhaps a couple of weeks from now.
Sid Meier's Civilization 5: Gods & Kings First Impressions
Civ5: Gods & Kings major new additions are no doubt the Religion and Espionage systems and the new Civs. But, there are many other things worth taking notice, which all added up help make Civ5 a much better game than it was upon release.
Diplomacy is definitely better
For instance, Diplomacy. Boy, it's night and day for me since the last time I played Civ5 (and it was quite a while ago). I believe that the "denouncing" and "declaring friendship" mechanics were already present in Civ5 through patches, but at that time people were still saying very bad things about those changes, saying that basically the diplomacy system was still broken. I wasn't ready yet at that time to try it first hand.
Basically what I can tell you now is that after playing a couple of games I think diplomacy behaves much better than when Civ5 was first released. It is much less chaotic and I didn't notice the old strange patterns of mass declarations of war or everybody requesting the same things from you a few turns apart (e.g. waves of requests for open borders one civ after the other). Horrible.
I can't tell you for sure if diplomacy was already much better after the patches, before Gods & Kings I mean. But, I can tell you that in G&K, diplomacy does feels much better, and I mean, in a huge way. There's still a lot of unpredictability yes, like Civs declaring war after being friends for a while (backstabbing) or Civs starting a war without a perfectly good reason (if there's such a thing), etc. But now, all the Civ's behavior seems much more natural and realistic than before.
I'm currently playing with Theodora of the Byzantine with Genghis Khan as my closest neighbour, who attacked me early in the game (of course), who can trust Khan, right? But, eventually a friendship with Gandhi (always a great fellow) allowed us to combine forces and get to grips with the Mongol King. And, Gandhi was very friendly during the campaign, and now acknowledges that we fought a common foe and that we had a long friendship, etc. We never broke our friendship since then. And yes, you can now see a bunch of modifiers that tell you a good deal of what a Civ thinks about you (I don't know it this was already in Civ5 base through patches though).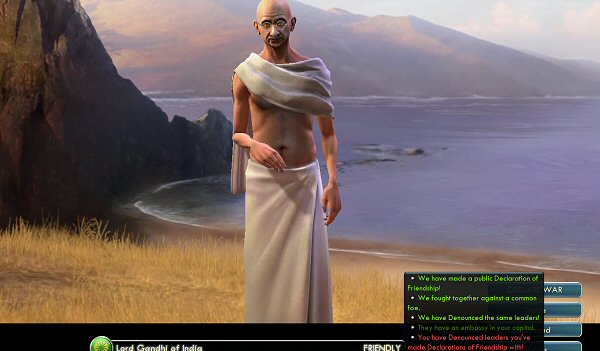 Religion is fun
Ok, short story: Religion is back. Long story: Religion was already present in Civ4, was taken out in Civ5 vanilla and was put back in again in G&K, although now slightly enhanced.
Why is it enhanced and fun? Because now you can use it in more ways than before (in Civ4), where religion was basically only useful for making good and great friends and equally good and great enemies. In Civ4 that was pretty much it for religion. The different religions were all the same, only different in the name and the era you could found them.
That's why many folks back then proclaimed that religion was flawed, and that it should be improved or taken out completely because it lacked depth. Well, there you go, Civ5 took it out and the result was just horrible. Now, it's back again, good. I can't imagine a civilization themed game without religion.
In G&K you can recruit Great Prophets when you accumulate enough "faith" (the game's religion resource). You can spread your religion with them, enhance your faith through beliefs (more on that in a second) or build holy shrines that produce more faith in certain terrain tiles. So, there's this fresh new religious sub-system called Beliefs. These allow for a player to choose, or better word to tailor his own religion. You can change the religion's name but you can also choose from a big set of distinct bonuses, which have quite a significant impact on the game. And there are two layers of beliefs: permanent effect bonuses and bonuses gained when a new city starts to follow your religion.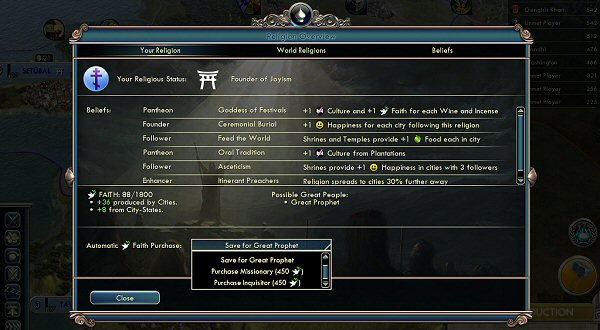 Apart from Great Prophets you can also recruit missionaries to spread the good word or inquisitors (new) that help revoke a religion a city already has. And according to your beliefs, which you can enhance later on with more Great Prophets, some buildings will also give you extra bonuses like gold, food or more faith. So, there's plenty of stuff to choose here alright, and that's what strategy is all about at the end of the day. So, thumbs up for G&K religion so far.
Battles feel more balanced now, and are more engaging. But …
One of Civ5 vanilla's major problems were the occasional and somewhat irrational AI battle moves. Sometimes single catapults or archers were sent upfront, many times alone on suicide missions. The battle system was undoubtedly broken.
Another thing that bugged me about combat, that I wasn't much aware at the time, but am now after G&K, is the fact that troops were too weak, or, if you want, attacks were too strong, specially when attacking in open country. This was especially dire when you played epic speed games, where army units take quite a while to build and you could easily get frustrated by losing troops much faster than you could build them. But, well, it's war, and it's Civ, nobody said it was going to be easy and we "accepted" it.
I think both these issues have been addressed to an extent, however I didn't play enough yet to have a definite take on things. The AI does seem to behave more cleverly. You don't, or rarely see suicide missions. However I tend to think that the AI attacks better than it defends. It plans its attacks well and brings good numbers, but while defending the AI tends to stroll around with its troops or send them occasionally to their certain death. So, combat seems far from being perfect still.
I also noticed another odd behavior that I particularly disliked, an exploit perhaps, in one of my games. I built a citadel near Khan's capital (by consuming a Great General) but I didn't man it, and the AI constantly "trapped" itself there. Taking an empty enemy fortress can be a clever move but doing so when there are a couple of enemy trebuchets at firing range, a crossbowman and some other support forces (including a city at firing range) was clearly a dumb move.
So, Genghis Khan was sending his armies to their death one by one (you can see below an alone crossbowman that the AI sent to their doom) while I was calmly using this "exploit" to exterminate his armies and gain experience in the process. I must have repeated this behavior for like 4 or 5 times. AI bug? Exploit? Realism? Hum… Khan should know that my armies where there waiting for him, so it's dumb alright. Looks like Firaxis has plenty more work to do on AI  ahead still.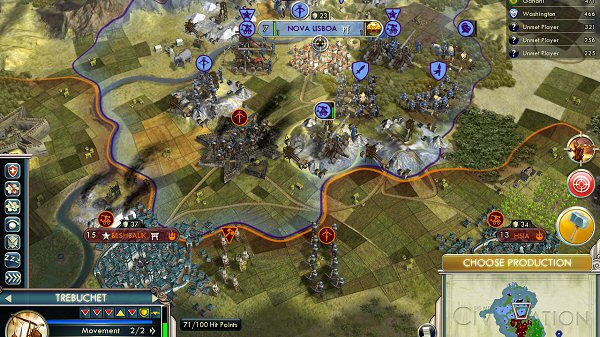 But, combat feels better now, overall more balanced, and more fun. For instance, troops are now harder to kill. Each army has now 100 HP instead of 10 HP as of before (if I'm not mistaken). But that's not the point, the point is that it takes longer to kill troops. So, prepare yourself for tougher and longer battles, which in my opinion has brought much more fun to the game. So, you will no longer lose your crossbowman that easily to a knight, for example. If your crossbowman is in a hill, or a forest, it could take the knight up to 3 attacks to kill your unit (or more …), so there's more room for tactical thinking now.
Bottom line
There are many other things worth taking notice in G&K that improve Civ5 in some way. Things like happiness not being so much of a problem now (or so frustrating as before) because religion helps a bit. This is especially important at higher difficulty levels where the AI gets a huge happiness advantage.
Then there's the new streamlined espionage system that lets you use spies to steal techs and gather intelligence to see what the enemy is plotting. The spy can also influence a City-State or even plant a coup there to overthrow a previous alliance. Another good thing about City-States in G&K is that you can't buy them off so easily now. Gold still works but you're forced to fulfill quests in order to get in good spirits with City-States, and to become allies with them it's even more critical to fulfill those quests. And there are plenty of new quests.
I've been reading mixed reviews on Gods & Kings, ranging in scores from 4.0 to 9.2. I don't know enough yet to score this expansion but one thing's certain, I played through Civ3, Civ 4, and specially Civilization 4: Beyond the Sword to death (usually in Emperor difficulty), and I found Civ5 vanilla to be, well, quite boring. It was a good game yes, but not up to its predecessors. You have my Civ5 review here by the way.
My biggest grips with Civ5 vanilla were the highly erratic and schizophrenic diplomacy, boredom and global happiness issues. I was never able to play more than, let's say, a couple of hours straight without feeling bored. Now, I can't wait to resume my Civ5 G&K game. Looks like the "just one more turn" effect is back. And that my friends, as we all know, means that Civ5 with G&K is finally a worthy Civilization game.
But, I'm still in the Renaissance era, so, I may change my mind about this. You will have to wait for the review to know more about that ;)
Subscribe RSS
8 Comments
Related Articles:
Post category:
Game First Impressions
,
Game Previews
,
News & Announcements