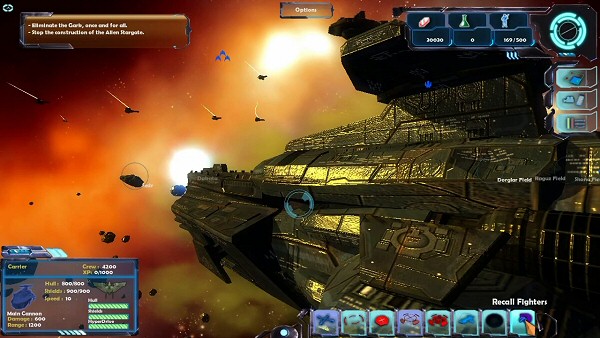 Gemini Wars, the space strategy game by Camel 101 and Iceberg Interactive, was officially released today for the PC and Mac. GW is now available in some retail stores and digital download portals (more on that below) with a launching price of 29.99€ /$39.99 / £24.99.
Couple of weeks ago we had access to a preview copy of Gemini Wars. Have a look at our Gemini Wars preview to get a taste on what to expect. In a nutshell Gemini Wars offers a 16-mission story-driven single-player campaign with about 30 hours of gameplay. The game plays similar to games like Sins of a Solar Empire and Homeworld.
There is no sandbox mode, and there are no multiplayer or skirmish mode options available either, at least not at time of release. Multiplayer and skirmish mode features are, however, expected to come soon after release through a free DLC.
Where to buy
A boxed version of the game should now be available in retail stores in some European countries (I don't have information which, but probably in the UK and Germany). This package includes a Gemini Wars comic book. If you're not in Europe have a look at Iceberg Interactive's shop (publisher) – they seem to ship worldwide.
"A boxed version of the game is available now in retail stores in various European English speaking territories. The boxed version includes a Gemini Wars comic book, giving players an exclusive look into the Gemini Wars universe (…) A German localized version will become available in July 2012″ ~Iceberg Interactive
\Edit (8 Jun 2012): There are also the amazon.co.uk and amazon.de options (German version available only in Jun 22, 2012). By the way, the retail package contains both the PC and Mac versions. This was confirmed to me by the devs by email.
If you prefer digital (or have no other choice) you can get GW from the following sources:
And, this is all about Gemini Wars' release. You have a preview and an interview with Camel 101 for further information. Expect a review soon. And, now, here is Gemini Wars' launch trailer.
Gemini Wars Launch Trailer
Subscribe RSS
26 Comments
Related Articles:
Post category:
News & Announcements