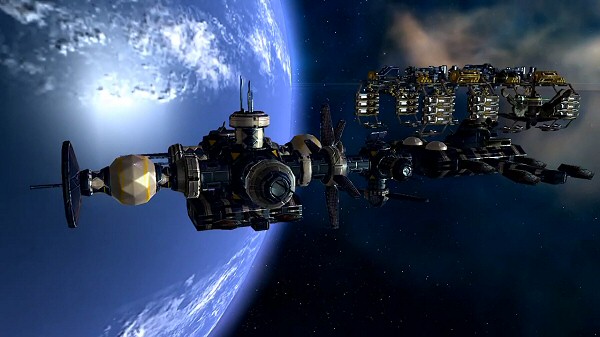 And today, just a few minutes from a strong competitor's launch, Kalypso Media has launched a new Legends of Pegasus trailer. This one presents the game background story, supposedly the lore behind the single player campaign.
After acquiring space travel technology humans venture to the stars and form a new stellar nation. With time this splinter faction was successful. Perhaps envy of their cousin's success (or maybe due to uprising) Earth humans launch an invasion on their kin. But, there's a twist. Earth has just allied with a recently found alien race that promised peace and friendly cooperation. Right.
It's a bit of a cliche story, but the trailer is successful in building tension and sympathy towards the human "rebels". Well done Kalypso and Novacore. This was indeed an ingenious timing for the trailer. Now, let's hope your game is as good as we hope it will be. Legends of Pegasus release date is set for this summer. In the meantime checkout some screenshots here. We also have an interview with the devs here.
Subscribe RSS
16 Comments
Related Articles:
Post category:
News & Announcements
,
Videos