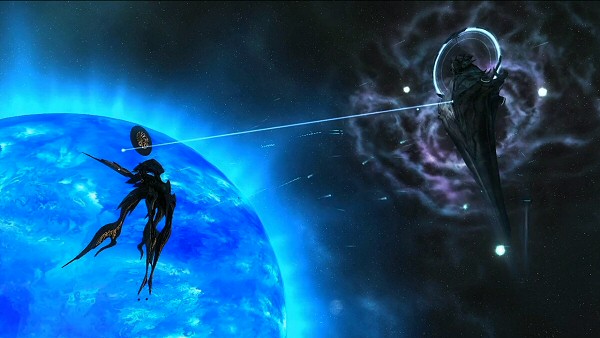 Sins of a Solar Empire: Rebellion, the new real-time space 4X game by Stardock and Ironclad Games, was officially released today for the PC. Rebellion is Sins' third expansion, after Entrancement and Diplomacy. SoaSE:R is now available for digital download with a launching price of $39.95/29.99€/£24.99.
A Collector's Edition is also planned by Stardock. The details of this boxed version can be found here. Stardock remarks that if you already pre-purchased the game you can get the collector's for a reduced upgrade price later on.
SoaSE:R is a standalone expansion, which means that you don't need to own any previous Sins bundle (Trinity, Diplomacy or other version) to play this new expansion. Stardock also announced that all the previous Sins features are included in this new expansion.
People who already owned Trinity (or any other previous Sins version) benefited from a $10 discount during the pre-purchase period. And, to my knowledge, that seems to be still up (Stardock doesn't mention how long). I think they should offer this price reduction to owners of previous Sins versions without a limited period. After all the price difference from Trinity to Rebellion is quite steep, and loyal gamers should have the right to have their time to decide.
In short (the details will come in my review in a few days) Sins Rebellion brings:
Three new "splinter" factions from the main and traditional TEC, Advent and Vasari races, called Rebels.
A new very big and powerful ship called Titan. One for each faction. Therefore 6 in total.
Three new capital ships, one for each race (the factions of the same race share the same new capital ship).
Six new corvette ships (new ship class). One for each faction.
Around half a dozen new techs for each faction.
Improved graphics (e.g. shadows)
New victory conditions: research, occupation, flagship and capital victory
There's still no campaign mode in Sins.
Where to buy
A boxed version (Collector's Edition) of the game was announced, but there is no date for that yet.
You can buy digital from these sources:
Note: You need to install Steam wherever you buy the game. I'm very positive that even the boxed version will require that.
If you're new to Sins you can always have a look at our SoaSE Trinity review. Rebellion is the expansion over that bundle, so, you'll have a pretty good idea of what you'll get with this new expansion by checking that review and the new features listed above. And now the launch trailer.
Subscribe RSS
13 Comments
Related Articles:
Post category:
News & Announcements