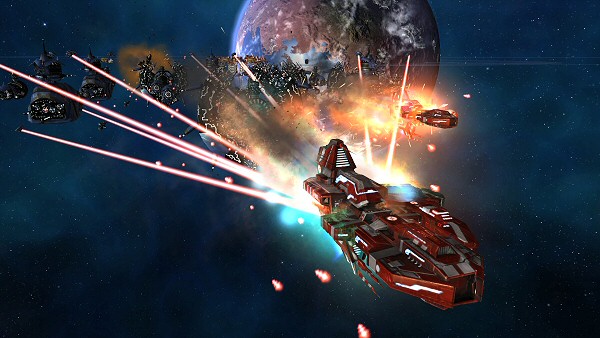 Almost one year after the Legends of Pegasus' announcement, Kalypso Media and Novacore Studios have opened their space TBS/4X game for pre-orders on Steam, today. The game will "unlock" on August 10th 2012 and in the meantime you can pre-purchase it with a 15% discount.
Legends of Pegasus is a turn-based space 4X game with real-time tactical battles, the classic mechanics mix of lately in space 4X games. But, LoP brings something new to the table: in addition to the classic sand-box mode LoP features a single player campaign, something seldom seen in the 4X game arena.
The game offers three playable races, each one with its own set of flaws and strengths. But, one thing worth noting is that players will be allowed to fully customize a race. This is surely a big plus for these types of games.
As a preview build has not yet been made available (and everything leads to believe there will not be one), you can know more about Legends of Pegasus in our interview with Novacore Studios. In this interview you'll know more about how research works, what's the ship design system like, know more details about the campaign, the races and more.
Don't miss also our collection of screenshots that we've been collecting over the months of LoP's development. By the way, the list has just been updated today with 15 new shots. They are quite nice! There are also some trailers available, including one of the latest, that probably contains the most gameplay elements, and that you can see right below.
We can't complain on the lack of space 4X games to play this summer that's for sure! :)
Subscribe RSS
17 Comments
Related Articles:
Post category:
News & Announcements