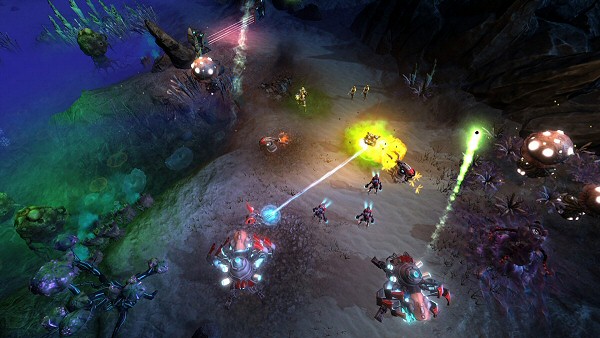 There's a new sci-fi real-time strategy game on the horizon, its name is Tryst. Tryst is being developed by BlueGiant Interactive, an independent game studio of PC strategy games based in India. Tryst is an RTS game set in the distant future where humans are at war with a mechanical alien race.
From what I could tell there will be a single player campaign but the primary focus of Tryst seems to be multiplayer. The game will support up to 8 players that apparently may hop out from the game at any time without hurting the other player's experiences. The AI will take over when they leave. The mechanics include the core RTS features like base building and resource management.
The game has just entered closed beta and is currently accepting registrations at the game's official website.
In a dev diary the devs define Tryst as being "fast paced, offer a lot of choice and have enough to offer a broad spectrum of play-styles a variety of meaningful choices". Sounds good to me. In their second dev diary they say that they "want the maps to feel alive" and want the player to think of Tryst as "more than an RTS where you max out your army and wail into your opponent". And that's what puts many people off from some of these games, yes. The click fest and the "size of your army" being it all there is or that matters is not really strategy, it's just frenetic mindless action. Let's hope they pull it off.
The trailer is fun to watch and the game looks enjoyable. At least folks that like fast-paced RTS games, like Starcraft2, should probably want to checkout Tryst. You have more screenshots in the official site.
Subscribe RSS
5 Comments
Related Articles:
Post category:
News & Announcements