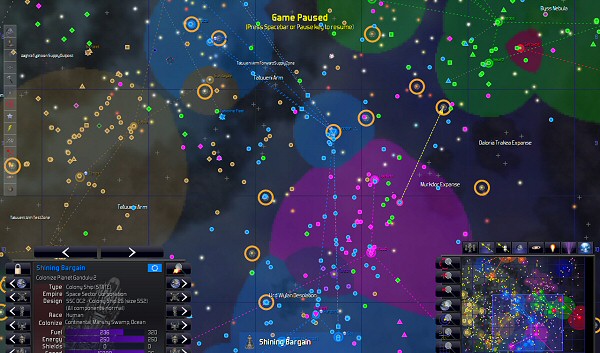 Big news for the space 4X game Distant Worlds. Matrix Games and Code Force have just announced that they have released a major update for Distant Worlds: Legends (v1.7.0.16) with lots of improvements and fixes which boost performance and several other aspects of gameplay. You just need to use the in-game updater to automatically install the new update.
Among others, the update improves ship design, fleet handling and private sector's ship management. Matrix states: "The update improves player and AI ship design, including improvements to the design screen itself. Players will now be able to save optimized design templates for any faction and also have the ability to set detailed design policies for their empires. Fleet handling for both player and AI factions has also been improved, as well as ship management for the private sector." You have the full list of changes here.
In addition to the update they have also announced that they placed all Distant Worlds titles on sale for two weeks, starting today till September 4th, 2012 at 33% off. That means that the full experience, that would previously cost you around $80/€75 (digital edition) will now cost you now around $60/€55 (base game costs excluding taxes if applicable).
This is a great opportunity. I consider Distant Worlds: Legends to be the best space 4X game experience available since Master of Orion 2 and Galactic Civilizations 2. It's not lightly that I scored the game 9.4/10 (with the Legends expansion I mean. I don't recommend you buy the game without at least the Return of the Shakturi expansion).
Considering Code Force and Matrix Game's willingness to continue supporting and expanding the game (don't forget there's a new expansion announced although its release date is still uncertain), I think this is a great opportunity, and a must buy if you ask me. Get Distant Worlds: Legends at Matrix Game's store.
Distant Worlds: Return of the Shakturi (the previous expansion) is also a good choice if you don't want to go all the way but I definitely recommend that you buy up to Legends. The last expansion does justifies the price for what it offers. Note that Distant Worlds: Legends requires that you buy the Distant Worlds base and Distant Worlds: Return of the Shakturi expansion.
Remark: The 33% discount seems to apply only to the download edition of the game and not the boxed versions. Those range from 22% to 26% discounts from what I can see.
Subscribe RSS
39 Comments
Related Articles:
Post category:
Game Patches
,
News & Announcements