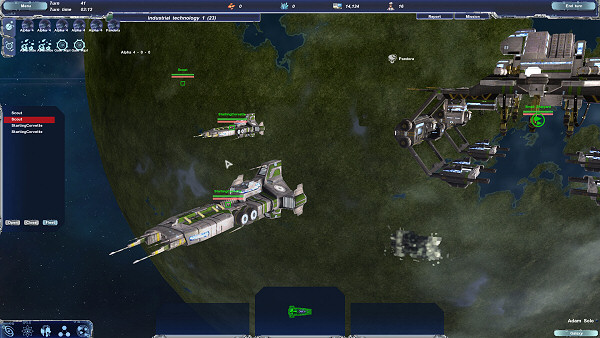 Legends of Pegasus was developed by Novacore Studios and published by Kalypso Media. It's a turn-based space 4X game with real-time battles and it was released digitally in August 10, 2012 through the Steam platform.
Launch failure
After seeing so many interesting screenshots, reading two interesting interviews and watching plenty of videos showing off space battles and great alien races lore, I, like presumably many other space 4X game fans, had high hopes for this title. We even had two interesting interviews here on the site with Novacore's CEO. A +40h single-player campaign was also promised, something very rarely seen in 4X games. All the marketing campaign lead us to believe that there was a good chance that we were going to play a great and innovative game. Well, unfortunately that was not the case. At least for now, one week after release, it isn't.
Similar to what happened back in October 2011 with Sword of the Stars 2's launch failure, where the developers and producers of that game quickly acknowledged that there were serious problems with the release, Kalypso Media has also publicly admitted in their forums that their release was "very rocky and totally not what we wanted it to be. The flood of problems has really surprised us." ~Kalypso Media Forums ("Kalypsochris" nickname).
Today Kalypso Media announced that they are providing a "free loyalty bonus package for customers affected by technical issues with Legends of Pegasus. We sincerely apologize for the problems and disappointment experienced during the launch of this title and to show our commitment to both the game and our community we will be providing free Steam keys for our titles "Patrician IV" and "Dungeons"." ~Kalypso Media Forums ("Timo" nickname).
Kalypso Media ended by saying that "we will continue to work on future updates to [Legends of Pegasus] using the incredibly helpful and constructive feedback provided by the great community on these forums.". ~Kalypso Media Forums ("Timo" nickname).
Things didn't start well for Legends of Pegasus that's for sure, and now there's a host of extremely unhappy gamers to handle after making a serious investment in pre-ordering and buying the game (this is not a cheap game).
There would be a lot to talk about these bad releases subject but the remaining words in this article will only be about Legends of Pegasus itself.
So, how bad is it?
Not so bad as other bad releases I've seen, but close. The game is barely playable at the moment. Not so much by lack of content, the campaign's first episode is somewhat interesting to follow and does a good job explaining you the basics, which is particularly important for gamers who are not familiarized with space 4X games. All leads to believe that the following episodes of the Human campaign and the other 8 episodes for the two other races can be interesting as well, but the problem is not with the campaign's content itself.
The major problem with the game right now is stability. The game crashes a lot, both in campaign mode and on skirmish/sandbox mode. So, I guess only true hardcore gamers will manage to pass through the first campaign episode. Not because they may find that amusing or fun but in my case because I needed to finish something to write my review. It took time, probably more time spent reloading after crashes than actually playing, but I made it.
On the positive side of things there are plenty of aspects in this game worth praising. For instance the graphics are nice, nothing too spectacular but good overall. The campaign cut-scenes are a bit static and cartoony but are enjoyable on their own style. Music is cool, but after a while it can get too monotonous as there's not much variety. There are also some nice sounds and voice effects as well.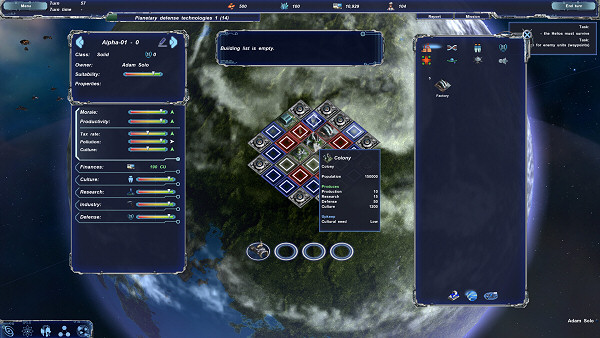 Colony management is quite satisfying, although it lacks feedback (more on that later). The Empire screen is also good by giving you a good grasp on things, and you can even access your colonies individually from there.
Ship design is great. You can customize preset ships to your likings, with more or less weapons, defenses, other special components that you can unlock with research and even modules you can further attach to ships to include even more components.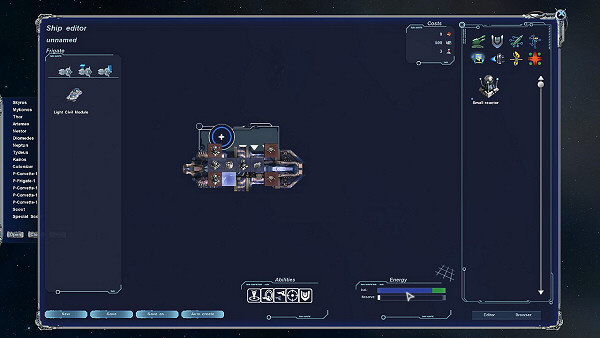 Speaking of research I didn't find it very appealing. It needs a lot of polishing work. Tech descriptions are barely present and you don't get enough feedback on which tech has just been discovered or what you did obtain with it. The tech tree arrangement is also quite poor so you end up hunting for what to research next, in a less than satisfactory way. But, there seems to be quite a lot of techs available and each race has its own techs too, although much of each race's techs seem to be just skins of each other.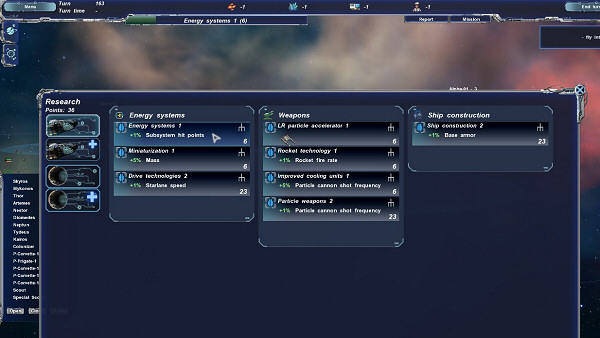 On the other hand I liked the game's system view. The planet models are decent and you have a good feeling about being in control of a stellar empire, a real one, so the base seems solid.
In theory LoP has a good design behind. The problem is that, although promising, the game falls short in many areas to a point where those shortcomings combined with the horrendous instability issues result in a very poor gaming experience.
The Campaign
If you choose to play in single player campaign mode you will start with an introductory cut-scene where you can see that a bunch of lone survivors end up on some random sector of the galaxy. You're being chased by the enemy and soon you see yourself battling some enemy ships on a real-time fashion. You can select individual ships, target enemy ships, also individually, select multiple ships, move around quickly, rotate the camera. All the basic RTS moves. There's nothing special about the combat mechanics and neither did it have to be.
I have to say that overall combat is enjoyable. Graphics are ok, explosions are nice, sounds are good, but sometimes ships don't obey your orders. Sometimes you order a ship to attack but it will do nothing. You need to move it closer to the enemy ship for it to start the attack.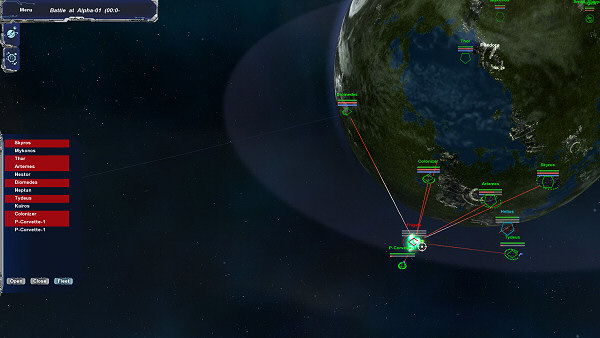 After the initial battle sequence, which unfolds in real-time, you transition to turn-based mode and you're given instructions to colonize a planet. You do that, and so on with all the other missions, always following your campaign script. Everything runs smoothly but sooner or later (more sooner) you end up with a crash. And it's not only me saying, many more people are reporting multiple and constant crashes on LoP's official forums.
One thing that some people will notice immediately is that the missions' window can't be seen totally, so you end up guessing what the rest of the sentences written there are, your objectives I mean. This happened to me on my 1280×1024 resolution monitor and I read that other players were reporting the same. I had to switch to my laptop to be able to resume playing in a different resolution.
I eventually ended the first episode, after many crashes in several places. Most of the time the crashes happened at the end of battles, but they also happened when I was interacting with the fleet manager screen, when I was renaming planets, when selecting ships, …. Well, looks like crashes can happen in many and unpredictable places. This is a very poor condition in which to play a game. But I tried hard and eventually finished through the human campaign's first episode.
Looking back to the campaign's episode it was quite alright content-wise, considering only the short time spans I was actually playing. It was very easy to accomplish tasks though, but it was just the first part, the introductory/tutorial part, so granted the next episodes are probably more challenging.
What was not easy at all was playing the game through constant crashes and bogus save/load games. After loading my games, to resume my campaign, I found that I was losing my fleet setup, all fleet arrangements just vanished. All I had been left with was the full and flat list of ships. What? And I couldn't build anything after loading either, only on the next turn. I lost some techs I swear I had already and my "renames" also disappeared (the custom names I had given to my planets). This is terrible. I mean, how can a player keep faith in a game when even the basic save/load function doesn't work properly? The devs have released three patches since release, and some addressed save game issues to same extent, but even after those I'm still getting this odd save/load behavior.
Skirmish/sandbox mode
So, after (painfully) going through the Human campaign's first episode I started a sandbox game to see if things were better. But it started bad there too. At first I couldn't believe it but you can only choose one AI player to fight against. All other slots were closed to the computer and could only be occupied by other human players I guess. Don't ask me why, I guess there's some problem with more than one AI playing at the same time. More people are saying the same thing. I tried multiplayer but I found no one there to try a game. I opened one myself but no one joined, so, that was it for multiplayer.
There's race customization in LoP, and it looks quite cool actually. As expected in this kind of feature you have a set of points available to distribute through several aspects of the game where you want your race to be specialized at: research, trade, industry, etc. You can also decide to specialize in some kind of  bundle traits also available, like bonus packages. So, things were starting to shape up.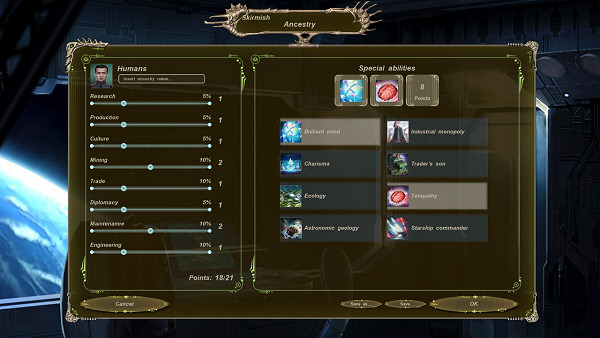 I started developing my empire and had my economy going. Built some more living space, a research laboratory, a shopping mall to boost morale. The colony screen is really easy to use and after a while you start to get the hang of things. However, the screen lacks tooltips to help you figure out what all the information is for or how it's calculated.
Then I decided to send a scout to nearby systems, to start some real exploration, although quite frankly there's not much to do concerning exploration besides jumping between star systems and catalog planets (e.g. no derelicts, space monster, anomalies or ancient ruins to explore).
The galaxy window though is quite nice. You see, there's a system view that is completely distinct, or detached, from the galaxy screen. In the system screen you see, as expected, a star and nearby planets orbiting the star, and eventually asteroid fields. Everything is well rendered and you have a good feeling of being in space. The galaxy screen opens a separate view showing you the galaxy and the different star systems connected by star lanes. All star systems are connected by stargates although we have no information of who built those stargates.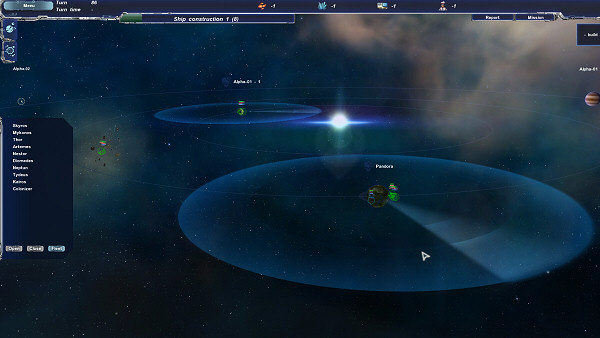 Although both the system and galaxy views are nice as separate views they fail in providing a smooth experience to the player, because they provide different levels of information, not enough in my opinion, and you need to be constantly switching from one to the other to be able to navigate your ships from system to system and then interact with the planets in a particular system and get back again to the galaxy screen. Overall I didn't like how these screens are intertwined. I would much rather have an integrated view. Something like full zoom-out shows you the big picture – the galaxy view – and full zoom in shows you a system or a planet, as usual in these types of games.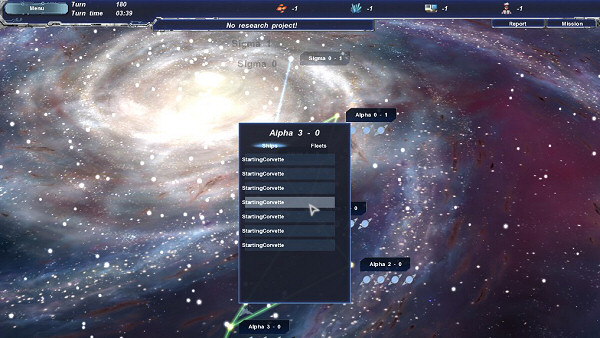 So, the separation between system and galaxy screens is obtrusive to the player's experience and is a bit clunky too. For instance, when selecting a particular system you get a list with all the ships stationed there (as you can see above). The problem is that this list renders on-top of nearby star systems and then you can't select those systems to send your fleets there. You have to rotate the screen to be able to do that.
And while I'm on the fleets subject let me tell you that the fleet manager of LoP is probably the worst I've played till this day, perhaps in equal footing with SotS2's fleet manager when it got out. It's very confusing. I spent many minutes trying to figure out how it worked. Finally I understood that I needed to create a fleet and then a group inside that fleet to be able to allocate ships. And the fleet manager screen is very clunky too, it's hard to move ships around but eventually you will be able to. The problem is that the game crashes a lot on this screen so I was even afraid to use it further. And since loading games was cleaning my fleet arrangements what was the point anyway? I lost complete interest in using the fleet manager function from that point forward.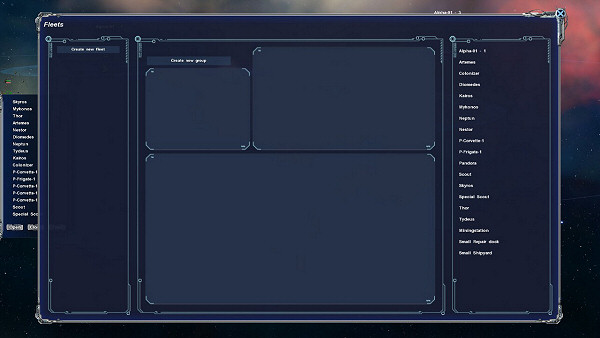 But getting back to sandbox mode. After playing for about 160 turns my economy was already up and running and I had a good bunch of corvette ships available. So, I decided it was time to make my AI neighbors a visit. The diplomacy screen is very uninspired by the way. You can only offer a cease-fire, propose an alliance and declare war. And, after proposing an alliance I didn't even get a response from my AI friend. Ever! "Quite odd", I thought.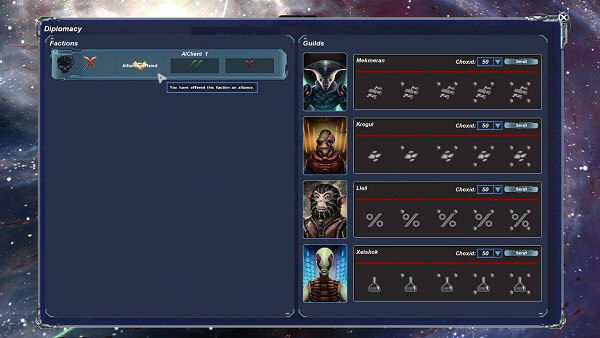 When I arrived at my opponent's world I destroyed its two scouts (strange, they had only two scouts also when I first played them a visit). I destroyed the scouts, their mining station (that I'm still to figure out what its purpose in the game is) and then … nothing happened. No response, no counter offensive, no nothing. In fact there were no more enemy worlds around that system. This was with a medium difficulty AI so I expected a bit more than this. In fact what it seemed like was that the AI wasn't even working at all. They had not visited my system (and we were right next to each other). In fact people are complaining about the same thing in the game's forums. So, by the looks of it, the AI, and sandbox mode in general are not yet fully operational.
Bottom line
I'm extremely disappointed with this game. After so much coverage over the past year, all the anticipation build-up that we would be playing a fine space 4X game, all that ended with a game that I would call more a (barely) playable prototype.
Legends of Pegasus shows great potential, it really does. It shows that the devs had a concept and they were making solid strides towards accomplishing that concept but somehow we ended up with an unfinished game full of bugs, crashes and lots of disappointed and angry people. No alpha or public beta testing campaigns were announced, but clearly the game wasn't tested properly.
It's true that Kalypso Media has admitted that the release was bad, and they were fast in saying so. They apologized for the release's state and are now offering a compensation for LoP's false start. But the players didn't want those compensations, they wanted a finished game. It's also true that LoP's development studio – Novacore Studios – is apparently young and possibly developing their first commercial game, and perhaps a dream game of their own but how many of these "false start" releases can the genre endure before people start to lose faith? I mean, it was not even one year ago since we had another of these major "false starts".
Legends of Pegasus shows good potential but judging from other game's "false starts", and my own experience in software development, I think it has a long road ahead until it may turn into an enjoyable game. It has many problems at the moment, mostly bugs but also major incompleteness. So, unless you want to buy it for seeing it for yourself, or for any other reason you may find valid, I recommend that you look elsewhere to spend your hard earned money. Just look around in the site for a few minutes and you'll find plenty of good and even great space 4X games to have a good time with. I plan to revisit and re-review this game when/if it gets finished.
Space Sector score:

3.5/10

bad
The Good:
– Campaign mode. Three campaigns, one for each faction
– Deep colony development and somewhat deep economy (although obscure still)
– Rich ship design system
The Bad:
– Very unstable. Lots of crashes and bugs
– Sandbox/skirmish mode not yet finished. Lacking AI
– UI needs further polishing. More tooltips and feedback required
– Lacking exploration phase
– Bland and trivial research system
– Diplomacy is just a panel with three options: War, Cease fire and Alliance
Subscribe RSS
70 Comments
Related Articles:
Post category:
Game Reviews