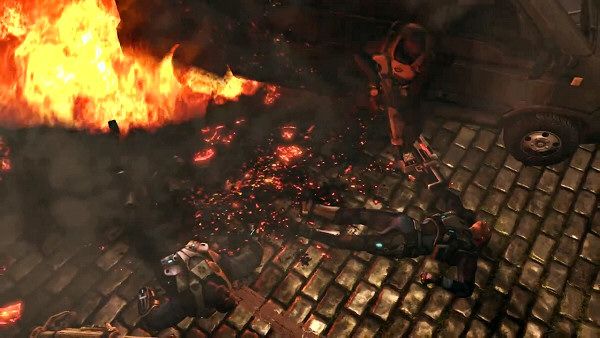 2K has published another one of those "are you still with us?" XCOM: Enemy Unknown trailers, and as usual it looks good. The trailer shows only action sequences, but from what I've seen from other trailers I think many of these sequences are actually embedded on the gameplay itself. The video gives us a close look on the aliens and on the amount of firepower, special moves and equipment involved.
It's interesting to realize that when the original X-COM was released (X-COM: UFO Defense aka UFO: Enemy Unknown) this video could only be part of the game intro at best, and even there quite unlikely. Now, 18 years from then, we have actual gameplay sequences, cutscenes no doubt but many of them embedded on the gameplay itself. PC gaming surely has come a long way in terms of graphics.
XCOM: Enemy Unknown is targeted for release on October 9th, 2012 for the PC, XBox 360, PS3.
\Edit (29/08/2012): 2K had a >1h live stream gameplay session with Jake Soloman (lead designer) and Casey O'Toole (lead programmer). Really worth it! Thanks to blog reader SQW for the tip.
Subscribe RSS
41 Comments
Related Articles:
Post category:
News & Announcements
,
Videos