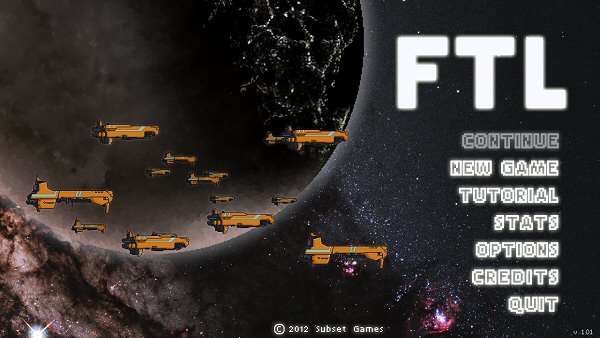 Beware: State of the industry rant
The Indie Game industry is a good thing my fellow Spacesector gamers, and I will tell you why. Before huge companies like EA went public, and thus the pressures of business take over artistic risk taking, we would get truly unique titles. All of the major genres today are the fruit of the early days of game development. Where legendary creators like Sid Meier cut their teeth.
This is what I believe led to many talented developers leaving these large companies (lack of job security as a game developer is well known) to make games large corporate public companies deem too risky. Even the famed founders of Bioware just left, which I saw as inevitable because EA owns Bioware now.
The indie game industry and now crowd funding sites like Kickstarter are re-igniting the creative side of PC gaming. So I am very optimistic that these indie developers will make truly great titles, and their evolution will contribute greatly to the PC game industry.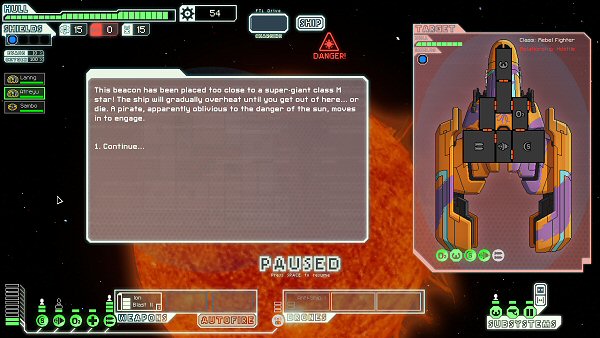 The Rogue Like Ship Simulator
FTL is basically a roguelike ship simulator where you manage a starship with crew, energy, weapons, and resources. Your crew gain experience and gain bonuses in the various systems. Your ship can be upgraded with scrap you find from encounters and combat.
The story in FTL is a simple one, you belong to a Federation that is being over ran by a large Rebel fleet. They have infiltrated other locations along your route, and you happen to be carrying vital data that can help the defense of the Federation. This basic story line is the framework within which encounters are structured, and it makes for a very fun game.
FTL eases you into an excellent tutorial for those who like the hand holding, however those players who like to dive in can simply forgo it. The tutorial will introduce you to the basics of crew control, ship systems and their energy usage. You will also learn how to upgrade your ship and install new equipment like weapons. You will then learn how to engage in combat, and how to target and use weapons.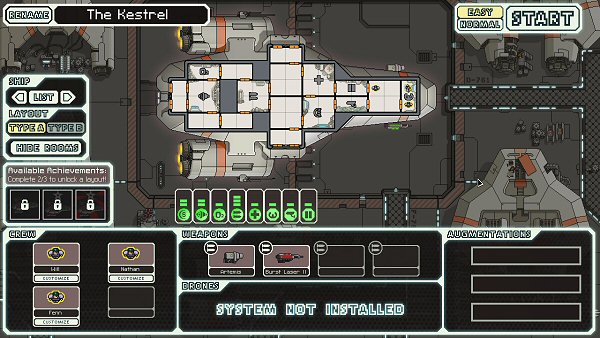 A Tutorial that is useful?
The tutorial is useful for less experiences players and veterans alike because it shows you how combat in FTL is played out. Everything about FTL is well thought out, and combat is no exception. Ships usually have shields, and certain weapons are better against shields than others. The usual sci-fi conventions apply here, where lasers or beam weapons are poor against shields and missiles outright ignore them. The tutorial will teach these basics by having you target the shields with your missile launcher, which can ignore the shield and knock it down to red.
Ships in FTL are comprised of compartment rooms sealed with doors. Most rooms contain the vital ship systems like shields, weapons, oxygen, and bridge. Some rooms are simply hallways. You simply target which component you prefer, and if you damage that component enough it will turn red.
The tutorial will also show you how to deal with boarders and damage. Some enemies will have crew transporters, and will send of hostile boarders that target a ships system and start to damage it. You have to organize a security force, and counter attack before they damage any vital systems. They will go for ships systems first!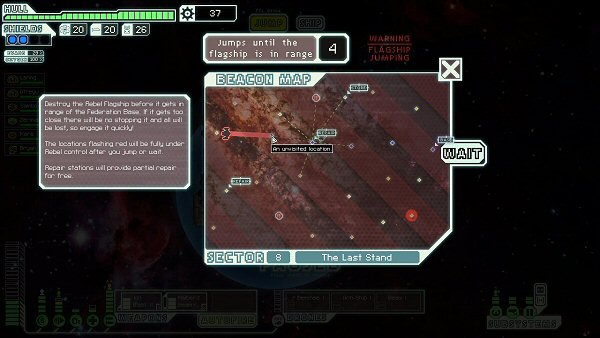 Ship Systems
A ship is comprised of a number of compartments where some contain the vital systems of running a modern FTL ship. The main systems are Shields, Engines, Oxygen, Med Bay, Weapons, and Drones (Not all ships start with Drones). The subsystems are the Bridge, Ship Surveillance, and Bulkhead control.
Your ship can be upgraded according to your strategy. Upgrading the engines will increase your FTL recharge rate, and dodge chance. Increasing your ship sensors will allow you to view the enemy ships crew activities and locations. Each upgrade also requires investment in the ship power system. This adds immense depth to the game as you should be preparing for the boss battle, and every upgrade needs to be carefully thought out.
The color state of the system gives you a quick update on its damage state, which are basically grey, orange, red, and blue. Grey is normal status, orange is half way damaged, and red is destroyed, while blue is temporarily disabled by ion damage. A system that is orange will function less than normal, and red it will not function at all. You have to then assign a crew member to head to the damaged section to repair the system. This gets tricky when you are dealing with ship combat, intruders, and managing what to repair first.
Repairing ship systems is something you will inevitable encounter, and fires will be the bane of your experience. Certain weapons cause fire damage, and when not contained will spread to all of your ship. Fire is hazardous in more than one way, besides destroying systems it also swallow oxygen. Putting out fires hurts your crew as well.
One time I forgot to close my security doors, and I had a raging fire that spread to the rest of the ship. Once I realized my mistake I was in a bad situation. Forgetting to close doors is a common mistake because sometimes you need to open doors to allow oxygen to spread to a room with a breach. This will allow your crew members to repair the room without suffocating to death. It also allows you to earn an achievement where you take out a ship by suffocating its crew. Devious indeed!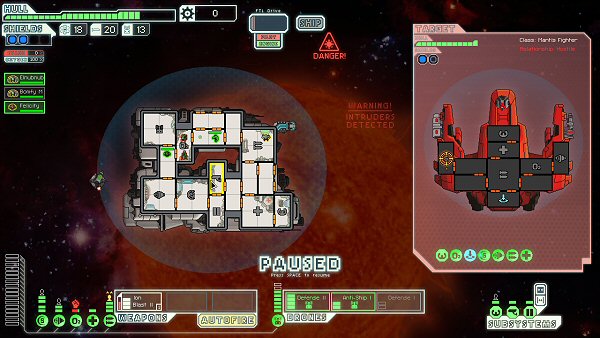 "Captain I detect hostile crew on board."
One underhanded tactic of enemies you encounter is to beam aboard their crew to disable yours and kill your crew. You must deal with this threat immediately because they will go room to room disabling all your systems.
Ship systems like the Engines, Weapons, Shields, and Bridge function more efficiently with crew members manning them. Having to deal with hostile boarders makes you lose the manned bonus. However not dealing with invasions is not an option, because they will disable your ship one room at a time. You can get lucky if you damage their ship enough, they will recall their own crew to help repair the system.
There are other ways to help you deal with an invasion. The simplest way is to upgrade your doors, which force the invaders to break through the door longer, and also contains fires longer. The other way is to simply fire bomb your own ship. This is a viable strategy if you have fully upgraded doors, and hit them when they are in a room without a system.
Fighting invaders becomes a careful balance of knowing when to retreat to the Med Bay to heal, and when to fight. You can get an augment where your Med Bay can repair your crew in any room, which also gives you a huge advantage in a fight.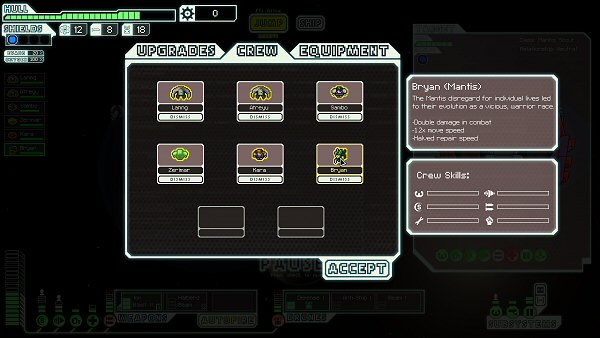 Crew: A precious resource
Your crew are perhaps your most precious resource, because there are many perils in space and replacing them is hard. You may get lucky and find a couple through encounters, but by and large my biggest challenge has been crew. They are expensive at merchants, costing between 45 to 65 scrap. This scrap needs to go towards upgrading or adding weapons and your ship.
When I first start a game, I usually leave my first crew member as the pilot, then divy them out to the shields and weapons. This will give you a manning bonus to all three, and if I get another crew member, they get assigned to the engines for that bonus as well. You can rename them and your ship at the start of any game.
The reason you want to focus one crew member on the same station is that they gain experience up to a max of level 3. Each level gives you a bonus in that system, like in the weapons room you will get a faster charge time. Shields is similar, and the pilot gives you higher dodge chance.
The universe consist of different races where each have their own bonuses and negatives. The Engi race of course are great engineers and provide faster repair rates, but have horrible combat traits. The Zoltan provide a powered system even though it has no power, which is useful in keeping systems up. The Mantis race are great fighters, and the Rock are immune to fire. The Humans of course not good or bad at anything in particular.
What is Rogue Like?
Those of you familiar with other titles like Dungeons of Dredmor or Dwarf Fortress, will know what "rogue like" means. You cannot save while playing except when you quit. Once your ship is destroyed all is lost, and you only have a scoreboard to remind you of your glorious exploits. No reloading to a point before you made that disastrous mistake.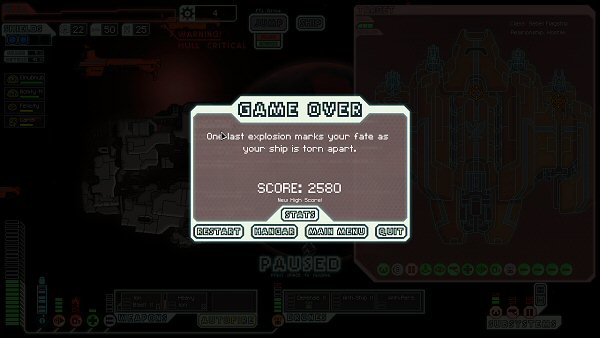 Conclusion
FTL is a simple yet engaging indie effort that makes losing exciting and suspenseful. There is only one map, and once you get to the end and defeat the game boss, your mission is complete. However, FTL has high replayability where every play through is random, and you have the opportunity to unlock many other ships of the other races. To unlock these ships you have to achieve certain quests or visit specific locations.
This is the heart of the replay factor of FTL, where encounters are random and you can run across helpful upgrades in your exploits. With scrap that you earn from either a surrendering ship, or destroyed one, you can buy additional crew, weapons, and modules. (TIP: accepting a beaten foes plea yields different rewards, like more missiles or fuels. However if you need scrap more than anything else finishing them off is the way to go.)
The key to survival in any FTL play through is how you upgrade your ship with the scrap you have in preparation for the boss battle. I am convinced the first upgrade you should strive for is that of adding a second shield level. This allows your ship to tank more hits before you start taking hull damage. Hull is of course limited, and is very expensive to repair.
FTL Dev Interview
Justin Ma, one half of the FTL duo dev team was generous enough to answer some questions during a busy post launch period. Justin Ma left Shanghai 2K Games to form Subset Games with Matt Davis.
SS: I find it interesting that you guys are based in Shanghai, China, how did you two meet? 
Justin Ma: We both worked in a larger game studio in Shanghai.
SS: What motivated you two to get into game design, and how did you go about learning how to do it?
Justin Ma: We've both loved games and I had more of an art/design background while Matt is more of a coding background. We decided to make our own project since the ones we were working on in the studio were not meshing well with us.
SS: What has been the biggest challenge of developing FTL, and how did you overcome it?
Justin Ma: I would say the biggest challenge has been learning the business side of development, since that's something neither of us have experience in.
SS: What are your future plans for FTL as far as expansions, sequels, or ports go?
Justin Ma: We would like to be able to update the game and port it to tablets but we will need to evaluate our situation and plans before we announce anything specific.
SS: Thank you Justin Ma for taking time to reply to a quick interview, we at Spacesector wish you guys the best of luck!
Space Sector score:

9.5/10

excellent
The Good:
– Great replayability
– In depth yet simple ship crew simulator
– Unique playing experience
– Up-gradable Ship Components
– Crew gains experience
– Many additional modules to find or buy
– $9.99 Price Tag
– Excellent music
The Bad:
– Only one scenario
Subscribe RSS
25 Comments
Related Articles:
Post category:
Game Reviews