Heads up people, we have a fresh new space 4X game on Kickstarter. It's called MORE (Military, Organization, Research, Economy) and it's a turn-based 4X space strategy game that proposes to pickup from Master of Orion 2 and "expand its gaming experience without complicating it". That's a good starting line no doubt.
If I'm not mistaken this is the second space 4X game that attempts crowdfunding at Kickstarter. The first was StarDrive, which turned out to be a success case as we all know. Daniel DiCicco raised a total of $17,676 from an initial pledge of  $7,500 (235% total funding) in a time Kickstarter was not yet, let's say, fashionable.
Now, an international team composed of 12 people from Poland, United States and Germany decided to take the plunge and after 4-months work they're now on Kickstarter looking for financial support for their space 4X game project.
What's different about MORE?
More is not always better but my interpretation is that IdeaLcenter wants to get back to basics and add more on-top of the classic turn-based 4X space gaming experience. Meaning expanding on the Master of Orion and Galactic Civilizations series, but especially over MoO.
For instance, regarding ship design they propose not only customization and hull modification but also a complete from scratch hull design experience. This full design feature is similar to what GalCiv2 offers (with the expansions) but it is more on top of MoO2 as MoO2 only allows customization and not hull design. Sounds complicated but doable as GalCiv2 has proved. The thing is if adding more here will improve the experience or add too much micromanagement to the ship design process. What I mean is, some players will probably like to design their ships from scratch but others will just prefer to add a few touches to preset hulls. We'll see.
Late game micromanagement is usually a pain in space 4X games, and generally in all 4X games. It's great to control many dozens of star systems and even more planetary colonies but all ends up being too much to manage by late game. Some games offer automation options which let the AI run the economy for you, but usually this is not completely satisfactory. IdeaLcenter understands this and stated "We will not rely on automatization of processes, which in time reduces gameplay to mere next-turn clicking".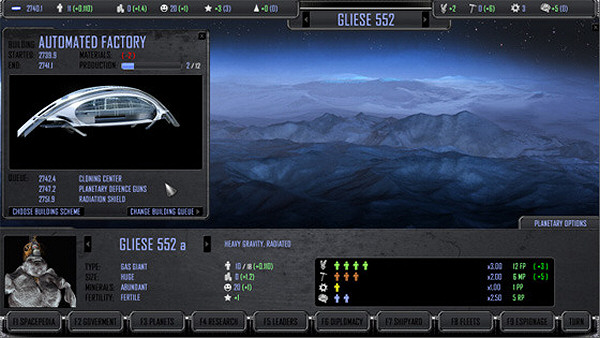 In turn they propose an interesting new concept to reduce late-game micromanagement. As your empire grows, and through technology advancement, you can merge colonies belonging to a star system into a super colony that they designate as Dysonian Sphere. At some point it will even be possible to merge super colonies into clusters that can be managed as single entities. Bravo! And they add that with such potential these clusters will be able to produce epic-size spaceships capable of destroying entire star systems. This micromanagement reduction concept sounds brilliant in theory and I'm convinced that it can be implemented reasonably well as long as the managing mechanic and the UI don't get too complicated due to this object management diversity.
Challenging AI with emphasis on diplomacy and military alliances. IdeaLcenter proposes trade treaties, research treaties, influence spheres, coordinated alliances (AI and player coordinate actions against common enemies and share information), fleet lending (you lend your fleets for the AI to control or vice versa for credits or other rewards), a reputation system, different kinds of governments and race characteristics like xenophobic, meaning not negotiating at all (reminds of MoO Silicoids).
3D maps and battles. Master of Orion or Space Empires maps and space battles are played in 2D. MORE will make the leap to 3D, with all that's great and not so great about it. 3D is nice but it's a hard nut to crack. The challenge is to make 3D systems that look good but that are usable at the same time. So far I haven't seen any game of this genre nail the 3D completely, not that many attempts have been made, one has to say. But let's give these guys a chance to prove that's possible, after all space is 3D (and beyond).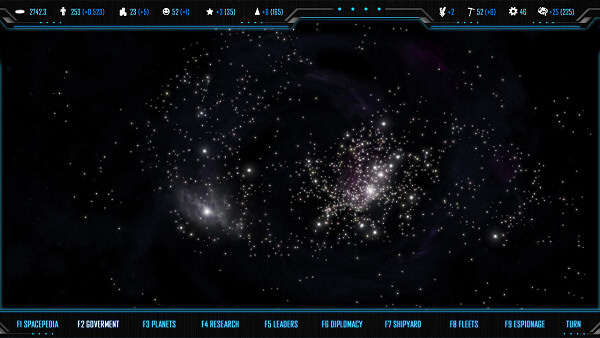 20 playable races, each with its unique UI style. From minuscule insects and organisms living in gas giants to huge creatures living in space. Plenty of variety here. There seems to be also special techs available for each race and special military tactics (e.g. psychic abilities).
Animated cutscenes. I miss these. They don't need to be elaborately exquisite videos. Just some small cutscenes embedded in the gameplay always help with immersion. This is also a nice plus in my opinion.
Other promised features include: leaders (colony governors, ship captains, spy masters), raw materials, mineral extraction, food transportation, no starlanes, multiplayer over LAN and Internet, intuitive UI (the current mockups do look simple), rich game setup customization, complex technology trees with specific techs for each race and achievements. And more.
Who are these people?
You can easily tell by watching the Kickstarter presentation video, and text, that the people behind this game are space 4X hardcore fans, and science fiction lovers in general. They surely know what they're talking about. So, I have a strong feeling that these guys mean business.
Without making direct references to other titles of the genre they say not to be satisfied with the recent gaming experiences and point out that the solution is to get back to the genre's origins and expand from there without complicating the experience but by providing more options. "We do not want to create a game with just impressive graphics. We want to go beyond the visual and special effects and create a truly amazing gaming experience, drawing on the wealth of options." ~IdeaLcenter.
They seem to have the expertise and a lot of things done already for a 4-month period working on spare time. They look motivated, driven and excited. All they need and hope for now is our support. Count me in guys!
If they succeed in Kickstarter, IdeaLcenter expects to enter Alpha in July 2013, Beta in October 2013 and release in December 2013.
To know more go head to the kickstarter page or the game's official website. A game copy for the PC is awarded with a $10 pledge. Full price is set for $20 at release time.
Some screenshots
Subscribe RSS
53 Comments
Related Articles:
Post category:
Kickstart
,
News & Announcements