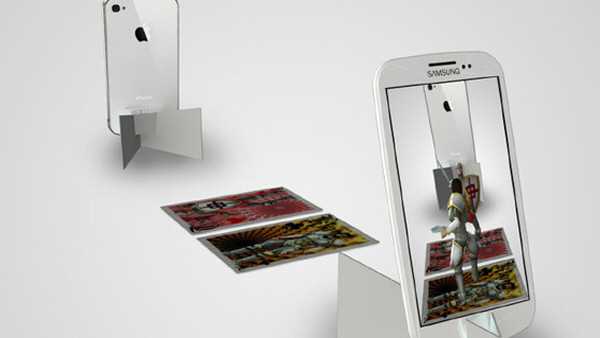 One year after his first failed attempt, Sam Lytle is back on Kickstarter for OggBoard.
OggBoard's objective is to offer a new way to play card and board games with your mobile phone or tablet using augmented reality (AR). Meaning to see artificial objects on top of reality, in this case see artificial soldiers, or any other kind of object on top of cards, or eventually other surfaces. AR is not to confuse with virtual reality where everything, all the world you see, is artificially created.
The initial plan with the first kickstarter was to manufacture a special type of board, or platform, to hold two mobile devices and some special tiles to serve as markers to project the artificial objects on to. Another objective by then was to develop example games, a turn-based strategy game and a chess game. That experiment created some buzz but was unsuccessful, probably because Sam had little to offer at the time besides the concept. Now, Sam and the rest of his team (4 people now total) are back with a refined concept and some goodies to show.
They developed a special deck of cards, which they named as OggDeck, containing 52 special cards that were designed specifically so that they could be easily picked up by a mobile device. An interesting aspect about the cards is that you can use them as normal playing cards as well. You know, jack of spades and so forth.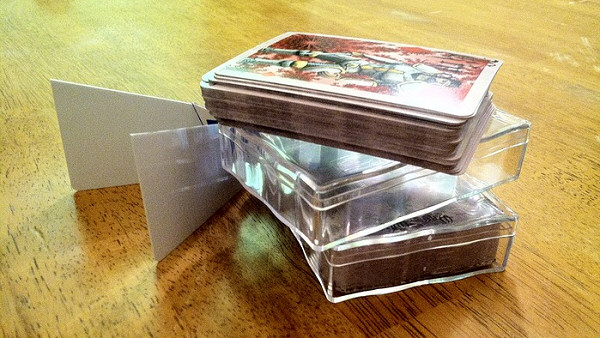 In the meantime they have also designed a new product called OggBoard Mini, which is basically a small platform to hold your mobile phone or tablet device pointing in the right direction at the game cards. OggMini's point is to free your hands.
Besides the cards, and the support, they have also developed their first OggBoard game called wAR based on the War card game. They have wAR already available for Android and plan to releasing it for the iPhone soon. They add that the iPhone version of wAR should be out before the end of the Kickstarter campaign. There 's also a first 3rd party game already developed called BrickbreakAR which is a platform arkanoid-type of game where you use a card in front of a smartphone to control a paddle.
So, Sam has finally some stuff to show off. A deck of cards – OggDeck – that functions like the tiles of the first OggBoard kickstarter attempt; a support for the mobile device – OggMini; and two games that use the system: a simple card game and a 3rd party simple platform game. Humble beginnings that Sam and his team want to expand to other games and other interested developers.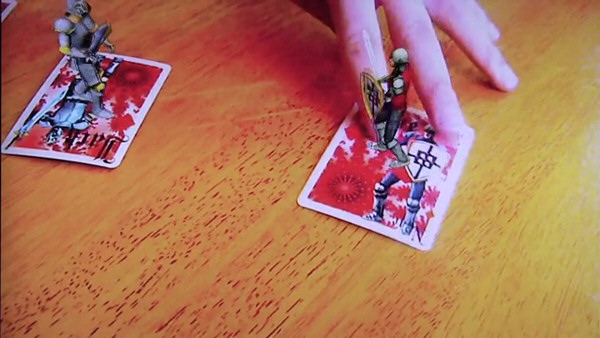 They say that they need the money ($12.500) to develop more games and attract major developers, and to polish and manufacture a OggBoard stand, an evolution to the OggBoard Mini for which they need extra funds for design, manufacture and distribution.
$20 will get you a OggDeck and a OggMini which allow you to play the two games mentioned above, for now. For $250 (developer package) you get 3 additional OggDecks with OggBoard Minis and get to be a OggBoard Partner. For more information check out the kickstarter page.
Better luck this time Sam!
Subscribe RSS
5 Comments
Related Articles:
Post category:
Ideas & Concepts
,
Kickstart
,
News & Announcements