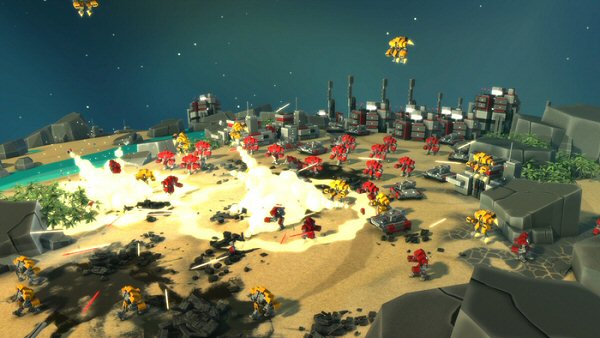 Total Annihilation inspired Planetary Annihilation succeeded on Kickstarter with more than 1.3 million dollars above the pledge goal (900K), and it got the title of the 5th most funded game project on Kickstarter so far.
The extra funding unlocked Uber Entertainment's stretch goals for the game, which includes naval units on water planets, gas giants and orbital units, metal and lava planets and a full orchestral score.
What will be the game about?  It's a sci-fi real-time strategy game about complete destruction, huge battles, massive scale, planet smashing, explosions and robots. You send your units to planets and asteroids, construct bases there and use asteroids as big kinetic bombardment weapons to smash your enemy's planets.
Planetary Annihilation will feature single-player and co-op skirmish multiplayer against AIs. It will support modding, multiple cores and will be available for PC, Mac and Linux. For more info check the Planetary Annihilation kickstarter page and the official site. We'll be following this one closely. It will be included in our Games Under Development page soon.
Subscribe RSS
25 Comments
Related Articles:
Post category:
Kickstart
,
News & Announcements