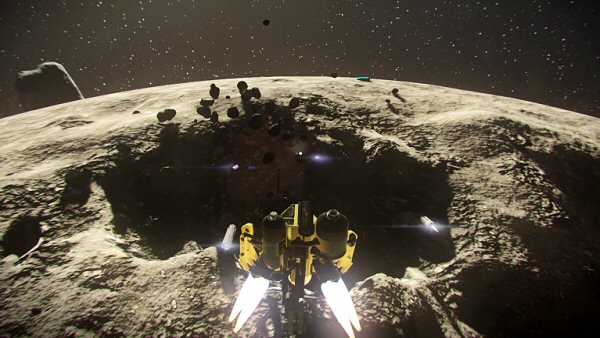 Blackspace plays in real-time and has strategy elements, but it's not your typical RTS game. It's a lot about defending your base, but it's not a tower-defense game either. Blackspace is, what their makers call it: "a defensive action / strategy game that takes place in the not too distant future, when asteroid mining has become common [and you need to] defend yourself from incoming enemies who loot and destroy." ~PixelFoundry
I have to confess that I was not terribly excited about this game at first sight. Albeit the great looking graphics, the gameplay and goals were quite unclear to me at first. But, I changed my mind after watching the video and reading through the details more carefully. It's like nothing you have ever seen before in sci-fi gaming. It proposes to combine gorgeously realistic graphics, a sense of wonder with elements of discovery and an extensive use of physics, all in a fully destructible space environment.
Gameplay consists in maneuvering a space vehicle, called a Lander, in order to establish a mining base on an Asteroid, mine the surrounding area and plant defenses against invaders. In time you'll be able to upgrade your vehicle and your base, build more defenses, whatever suits you. But while this all sounds nice I still have some trouble understanding the objective of the game. At least I don't think that was made clear. Is there a campaign? Is this a completely sand-box experience?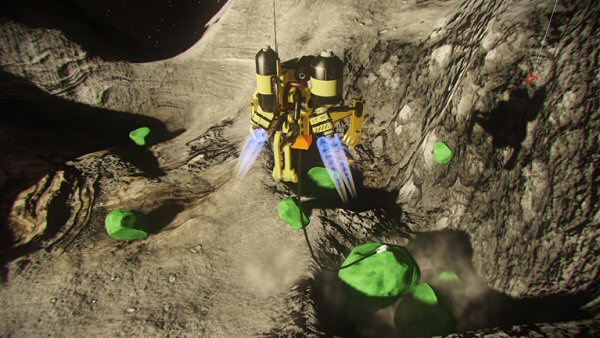 They say to have a solid base set. "This isn't just an idea or a concept. This is a project well on its way to completion. We have been working on Blackspace full-time for ~9 months."
About why the kickstarter the devs reply: "We came to a fork in our game dev path. Since we started this project, the game has changed, and new possibilities have opened up from a design perspective. We had to choose between following the game design where it would lead, or to cut it short and finish a smaller game". They are about 31% of their funding goal (350K) with 14 days to go.
The devs targeted the initial release for the PC, however they leave the door open to support Mac, Linux and consoles in the future. But they say that they first need the PC release to be a success.
You can find all the information on Blackspace on the kickstarter page and on the official website.
Subscribe RSS
8 Comments
Related Articles:
Post category:
Kickstart
,
News & Announcements