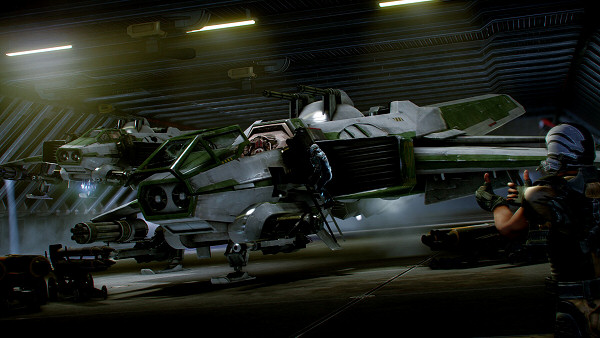 People from Roberts Space Industries announced that they reached their $2 million dollars goal required to go ahead and turn Star Citizen into a reality, with 15 days to spare – "We just crossed the $2 million level! Star Citizen is "go"! Thank you for helping us reach this point… now let's hit the stretch goals." ~Roberts Space Industries.
Star Citizen follows on the footsteps of Wing Commander and Freelancer, also produced by Chris Roberts. In this Chris' new game, expect to find a traditional single player campaign combined with a multiplayer open-world experience, ala MMO style. Chris confirmed that the game will be available for a one-time purchase.
Chris also promised to put a lot of attention into the physics and simulation aspects of flying a spaceship. State of the art graphics were also highly emphasized.
I'm sure this game has the potential to be the delight of space sim fans in a couple of years. So, we'll keep two eyes on this one. Chris expects to reach Beta in 7 to 8 months. In a year from now he hopes to have the single-player experience finished. The multiplayer part should be ready in two years. \Edit: The last word about the schedule says that people who pledged will have Alpha-access in 12 months while Beta arrives "20-22 months in".
If you still want to reserve your seat, and have access to some goodies, you can still contribute to Star Citizen on the Kickstarter page or on the Roberts Space Industries official website. For more information have a look at our small Star Citizen preview.
This highly successful croud funding campaign is another proof that game legends like Chris Roberts can rely on the gaming community to develop games for what some consider to be "niche genres". As Chris and others recently have shown, it's more than possible to come out and ask for 2 million dollars to make a game that a large group of people want to play without relying on publishers. Let's expect Steve Barcia (Master of Orion creator) is following the news and has some time on his hands :) These are surely exciting times for game development.
Subscribe RSS
6 Comments
Related Articles:
Post category:
Kickstart
,
News & Announcements