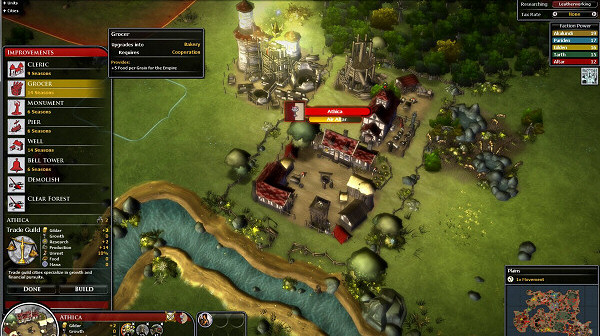 Stardock's turn-based fantasy 4X game Elemental: Fallen Enchantress has been on beta for quite a while now. Today, it was officially released, and is now available for the PC on GamersGate, Steam, Gamestop/Impulse and at Stardock's store for $39.99/€29.99 (the game is free – or for a discount – for those who purchased Elemental: War of Magic back in 2010 or 2011, see the details here).
System requirements as in Stardock's site:
Minimum requirements:
Windows XP SP2 / Windows Vista / 7 / 8
2 GB Available System Memory
512 MB DirectX 9.0c Compliant 3D Video Card (GeForce 6800 / Radeon X1600 or Better)
DirectX Compatible Sound Card
DirectX 9.0c
2.2 GHz Dual Core or better Processor
Internet connection required for activation and to play.

Recommended requirements:
64-bit version of Windows
256 MB DirectX 9.0c Compliant 3D Video Card (GeForce 7900 / Radeon X3800 or Better)
2.2 GHz Dual-Core Processor
Fallen Enchantress was built on top of the unsuccessful Elemental: War of Magic title, released by Stardock on Aug, 2010. Surely not pleased with the turn of events, the Galactic Civilizations creator and Stardock's CEO Brad Wardell hired Jon Shafer (Civilization V lead designer) to team up with Derek Paxton (lead designer of the popular mods Fall from Heaven for Civilization 4) in order to revamp the title. Fallen Enchantress is the result of such process.
Fallen Enchantress allows you to choose a sovereign and found an empire on randomly generated maps with 10 unique factions. You will train armies and fight tactical battles, use spells and embark in quests in a story-driven campaign or on an open sand-box gameplay. The game also includes substantial modding support.
In the meantime that Keith is working on the review let me recommend you his fine Fallen Enchantress hands-on beta preview, to get you warmed up :)
For an overview about the game check out the video below.
Subscribe RSS
71 Comments
Related Articles:
Post category:
News & Announcements