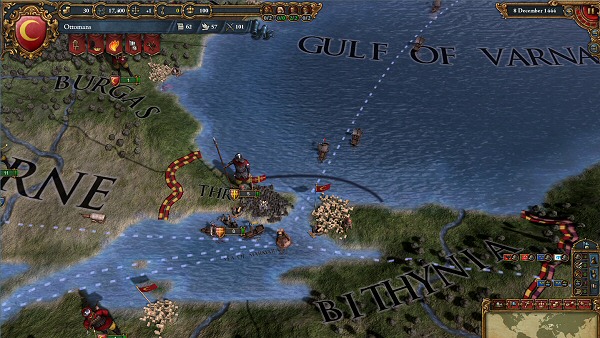 Europa Universalis IV is not a sci-fi or space-based game but is an upcoming title of one of the most iconic strategy gaming series ever made, the Europa Universalis grand strategy series. We asked the readers to help us assemble a bunch of questions which they would like to see answered by the EU4 devs about this new installment. Chris King, Europa Universalis IV Lead Designer, kindly agreed on providing the answers. Here's what he had to say about his game.
SS: Will the combat system be overhauled? Will it be more tactical with more unit variety introduced like in Hearts of Iron 3 where you can decide what brigades your division contain (e.g. a mix of infantry and panzers while in this case could be archers, pikemen, etc)?
Chris: Our plan is to retain the same basic building blocks for armies you see in Europa Universalis III. We believe it works very well and gives that blend of being able to influence your armies without too much overt micromanagement.
So in the military area, the biggest change is technological. We have removed the small incremental steps and changed them into less large steps which give your armies a clear boost. With Diplomacy we have changed the rules a bit so diplomatic actions are easier depending on relation. i.e. it is easier to declare war on a country you hate and ally with a country you like.
But the core military system will indeed be much the same, because it was one of those things that we felt worked very well in Europa Universalis III. So we applied the first rule of sequels – if it isn't broken, don't fix it :)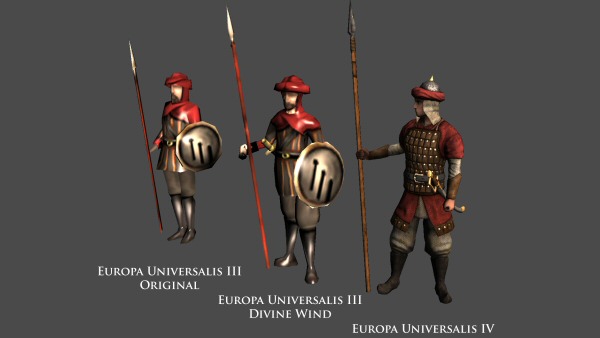 SS: Will the tech tree be overhauled as well? Like the technologies won't be generalized into categories like economic and military as in Crusader Kings 2 but more like in Hearts of Iron where you have specific techs? Will there be changes in this area?
Chris: We have done two things with technology. Firstly we have reduced the number of steps in the core technology system. The goal being to make sure that every step gives a noticeable bonus.
Secondly we have expanded the idea system to allow more tools to customize your country. The ideas are now purchased with the same currency as your technology. So for example do you want to buy the technology that gives you enhanced colonial range or the idea that gives you an extra colonist? Both are useful to you if you are on the colonial track these are interesting strategic tradeoffs.
SS: Will some elements of Crusader Kings 2 be added, namely concerning the monarch system, so that we will have more options with the ruler of the nation we choose to play? Will interactions between the ruler and the people of the court be added, so that we will have more emotional attachment to our rulers? Things like choose your spouse or even pick your successor to some extent?
Chris: We like the idea of you getting invested in your monarch and caring about him/her as you do in Crusader Kings II, but we naturally wanted to do this Europa Universalis' style. So what we have done is that we have developed a system of monarch points that are used for virtually all actions in game. These are the same three categories as you found in the previous incarnations of Europa Universalis.
For example a monarch's military ability is now used to buy land military technologies, land military ideas, build manpower enhancing and recruit time reducing buildings, buy leaders, assault fortress and other actions with your troops. If you have a monarch with a high military ability you are going to have an advantage in the military sphere as compared to neighbors and now is probably the time to wage war. In my early test games I found myself looking at my heir and despairing because although he had good abilities he didn't have the ability I wanted.
We wanted to add in that thing that is always difficult in a strategy game of the mold of Europa Universalis series, stagnation. Our new system where monarch ability places restrictions on the player according to the monarch's ability. Depending on the leader and his/hers abilities and traits, you get an ebb & flow in gameplay. That prevents the gameplay from going static, because you really need to be aware and change your tactics to gain as much as possible from the strengths and weaknesses of your ruler.
We felt the monarch system would make the game both more interesting and historical. If you look at the history of the period, the ability of the monarch and the rise of the nation were quite often one in the same. The person of the monarch was in many aspects the key to the period for Europa Universalis IV, because rulers changed the destiny of countries.
SS: Will there be a custom game where it is possible to dominate the whole world without the time limit be added into the game? And, if the custom game is added, will it be possible for one minor province to conquer the world? Example: papal state or any of the minor Italian provinces be able to unite Italy and conquer the world in a custom game?
Chris: Although these things are not difficult to mod, we like the time limit in the base game because it is part of the challenge for the player. Take command of a country and see how far you can go in the time you have at your disposal. This gives Europa Universalis IV a stepped difficulty level game. You may start with a larger country with more resources at your disposal. And then you work your way through the countries to constantly face new challenge and as you move down through the country sizes, the challenge associated with the game increases.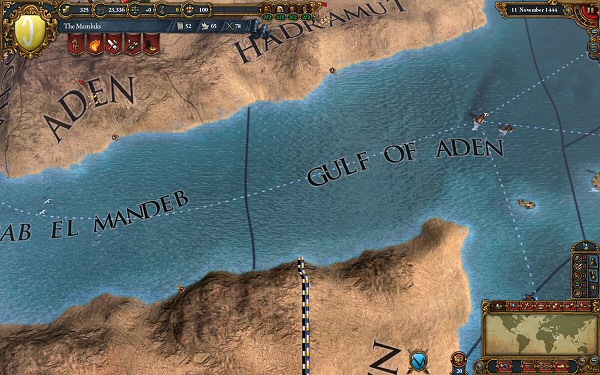 SS: What will be the changes in building regional improvements?
Chris: Yes, as I mentioned we are making building construction linked to monarch ability. So taxation buildings use administrative ability and trade buildings from diplomatic ability. Thus building up your country comes at a cost to technological progression.
SS: Will all the features of past expansions be retained like the shogun system of divine wind and the horde system?
Chris: We start with these systems as our base and then we will modify, improve or change these as much as we feel will enhance the game experience. Time will tell ;)
SS: How will the espionage system be overhauled this time? Will it be more like Crusader Kings 2? Will we be able to make more devious plots?
Chris: The espionage system is being rolled into diplomacy, as the game is country driven and not character driven. So more devious plots is not the best to go for Europa Universalis IV. Our thoughts are to make a more streamlined system and develop nice clear choices for the player.
SS: Will EU4 take any steps to provide more army variety and change the way war works over the course of the game? Will there be a greater variety in the way the player has to manage their country based on the type of government or level of technology? Examples might include calling feudal levies or commissioning a mercenary colonel to raise an army for you, or giving greater war score weight to capital provinces in centralized states in the late game?
Chris: I'm afraid not, we don't feel that is the direction to go with Europa Universalis IV. With any sequel you don't want to change the parts of the game that work and in our own experience the base military system achieves the goals we have set it. Our aim with Europa Universalis IV is looking at the features that didn't work as good as we wanted and improve them, which is why you will see the massive overhaul in trade so that it will flow through the game.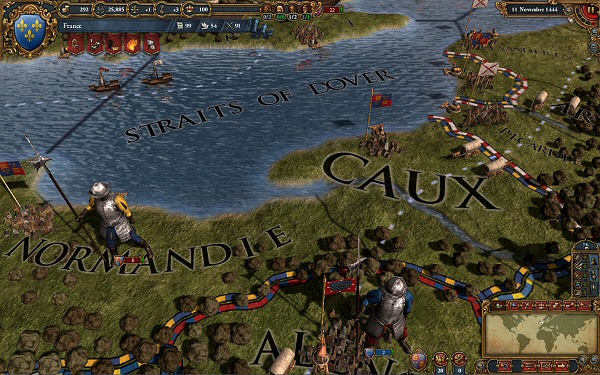 SS: Will the AI get an overhaul? Will it become even more competitive? If so in which way?
Chris: No matter how good our AI is, it cannot gain experience in the way a player can. AI overhaul is not the best way to do it and a competitive AI is beyond us. That is not to say AI is not important, it presents a unique set of challenges. Our plan is aim for iteration in AI development. Our project plan includes additional time at the end for general improvements in the game. As part of that process we will definitely include AI, look at where the AI performs poorly and improve how it performs. Every improvement in the AI will extend the life of the AI for a player and make the game more fun to play.
SS: Can we get more details on how coalitions work? What do you think they will add to the game? What can you tell us about how effectively will the AI use them?
Chris: Coalitions are specially targeted alliance versus particular country only. It gives us a powerful tool to check the growth of a countries, because as you get too big people will band together to oppose you.
SS: How did you choose the composer for this game and what sort of direction did you give him/her?
Chris: Andreas Waldetoft has been working on Paradox Development Studio games since games such as Hearts of Iron II and Europa Universalis III. He is a very creative composer that has a very good feeling for the different time eras, the feelings we are after and the atmosphere of the games. To be honest, we have worked so long together that we don´t always have to provide him with a lot of direction. He is very familiar with all our game series and he also loves challenging himself to create grand and magnificent music to enhance the player's experience of the games, so we give him a lot of freedom in his creation :)
These questions were assembled from input provided by long-time players of Europa Universalis games. The original questions can be found here.
Europa Universalis IV is developed by the Paradox Development Studio and published by Paradox Interative, and is due to release officially on Q3 2013 for Win PC and Mac. Checkout the official website for more information. Everything we have on Europa Universalis IV is here.
Subscribe RSS
20 Comments
Related Articles:
Post category:
Game Previews
,
Interviews