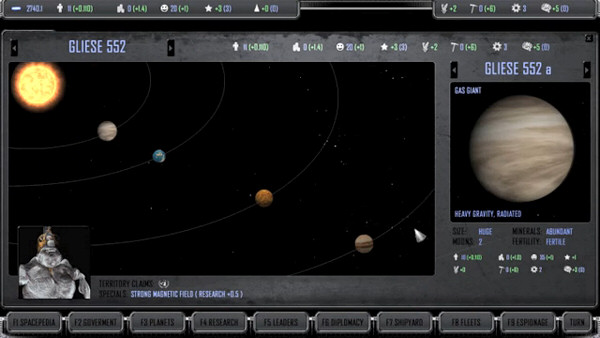 MORE, the turn-based space 4X game currently at Kickstarter, has made it! IdeaLcenter managed to reach the $50,000 mark with 16 days to spare.
Now, the devs promise to get to work hard for the next 14 months for a planned release on December 2013 for the Win PC, Linux and Mac. At campaign start they talked about reaching alpha by July 2013 and beta in October 2013. $20 grant you beta access, $150 will allow you to take part in the alpha phase.
After reaching the funding goal, required to advance with the project, the devs announced the last stretch goals: advanced space battle module for $150K; single-player campaign and campaign tutorial for $170K and advanced ground combat for $200K. The details about these last three stretch goals are on this kickstarter update page.
They don't believe that it will be possible to reach these last stretch goals in the remaining 16 days however (judging from the game's funding pace it's unlikely they will), but they revealed them anyway to show what they plan to do in the future, to "show you our direction in creating futures M.O.R.E. DLC's."
This is a game to follow closely people, and to pledge if you think IdeaLcenter has what it takes to make this happen. If you didn't know yet, MORE is a proposal for a turn-based 4X space strategy gaming experience, one that wants to pickup from Master of Orion 2's gameplay and expand it, putting emphasis on in-depth ship design, challenging AI and diplomacy, and on an innovative solution to reduce late game micromanagement.
For more information on MORE checkout our small preview, the kickstarter page or the game's official website.
\Edit Oct 14, 2012: In a recent update (#8)  IdeaLcenter released a new trailer showing off (preliminary) actual game footage of space battles. More of a taste on what to expect, but, looking good. Nice music by the way.
Subscribe RSS
30 Comments
Related Articles:
Post category:
Kickstart
,
News & Announcements