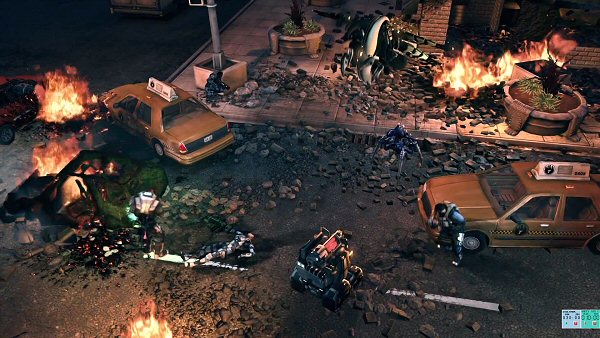 XCOM: Enemy Unknown is around the corner. The official release date is set to Oct 9th 2012 in the United States and Oct 12th worldwide. Steam unlocks the game on Oct 11th 2012. So, next week is XCOM's week, and I'm excited to get my hands on it to hopefully have a review ready a few days after, or a bit more depending on how long, and how complex, the game actually is.
Today, 2K and Firaxis have put up the XCOM:EU's launch trailer. You have all the trailers we've covered here by the way. They are really worth the watch.
Now, the question is: will the game be up to the expectations generated in the last months? The game has received extensive praise throughout the gaming media, no doubt about that. A hype I hardly remember seeing done for any other game of lately.
The thing about doing remakes and re-imagining versions of classic games series like this is that it's very hard (but not impossible of course) to please both new comers and hardcore fans, because long-time fans loved the original games the way they were. But, things have changed. The technology is different. And, let's face it, many of the people playing games now are also different. So, naturally the games are also different. For the better we all hope.
Now, will this new installment be as, or more, intense as the original games (e.g. X-COM: UFO Defense)? Will there be horror elements, a sense of fear and killing suspense as well? Will there be enough surprises along the way? And finally, but perhaps the most important aspect of all: will there be enough meaningful choices to be made along the way? That's what we are going to find out (for real) in the next couple of weeks. So, stay tuned for our review! There's a demo available on Steam if you want to get warmed up.
If you're interested on a (good I hope) XCOM weekend read, about what I think made the X-COM series so fantastic in the first place, I invite you to read this article, which also features another X-COM type game to be released on the next months.
\Edit: And in this next video the Lead Designer – Lake Solomon – tries to "sell" his game to people in a store. Hilarious stuff :) "So, you guys like aliens? No.. Yea, exactly, you like shooting aliens right?"
Subscribe RSS
70 Comments
Related Articles:
Post category:
News & Announcements
,
Videos