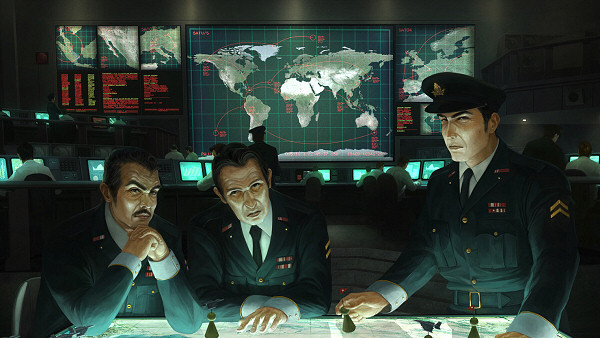 At least two X-COM remakes, perhaps a better wording would be reimagining titles, were planned for release this year. These were: Firaxis and 2K's XCOM: Enemy Unknown and indie Goldhawk Interactive's Xenonauts.
XCOM: Enemy Unknown is available since October 9th 2012, and the general consensus is that this is a somewhat faithful but great X-COM reimagining game. X-COM purists point a few shortcomings over the original games though (OG from this point forward), like having a lighter inventory management system, few soldiers available in combat, less movement freedom and less map randomization. But, overall this is, in my opinion from playing the OG for many years, a faithful reboot and a highly addictive and fun experience. Overall it's a true X-COM game, and a great success.
Xenonauts is the other X-COM reimagining attempt, previously targeted to reach Beta the same day XCOM:EU was released, which unfortunately didn't happen. Having played XCOM:EU for more than 100 hours now, and the Xenonauts alpha back in April this year, I would say that Xenonauts promises to be a much closer experience to the OG.
Graphics quality and production value may not be as good as in XCOM:EU, after all it took Firaxis and 2K about 4 years and millions of dollars to make their game. But, Xenonauts graphics are clean and crisp enough, as you can see above. And, they are surely an improvement over OG's graphics. I can tell you that the X-COM game mechanics are also intact and that the atmosphere was successfully captured.
So, Xenonauts not reaching the Oct 9 2012 beta target is old news. What's news is that after a long period of radio silence, Goldhawk Interactive announced that they've been doing good progress and that the plan is now to split the Xenonauts beta into two separate phases.
Beta phase 1 will be, in their words, "arriving eminently". However, no firm date has been set, and they stated that  "it'll be done when it is done". Goldhawk explained that Beta 1 will allow a playthrough "with placeholders". Game-breaking bugs are expected as for badly balanced gameplay as well. They say also that this is a first beta phase, where people are invited to discuss the core game mechanics and help shape the game to make it better. Examples of possible changes could include: Geoscape invasion AI adaptations, weapon fire costs updates and research tree re-structuring. In the meantime, the Xenonauts Team expects to be adding further AI and art assets to the game. Sounds more like Alpha still to me :)
Beta phase 2 comes after that. They expect to have fixed as many bugs as possible in Beta 1, to have a new UI in place, and the majority of the art assets already present in the game. They expect a "fun and stable" game at this point, and the game mechanics should be locked when this new beta phase starts. Their objectives with Beta 2 is to do fine balancing, like for example: tweak the number of aliens, fix UI problems, tweak research times or weapons damage. But, they do not expect to change the research tree at this point, or any other game mechanics. Now this sounds more like real Beta to me :)
So, if you want to participate in the Xenonauts beta, and didn't pledge in Goldhawk's successful kickstarter, you will need to pre-order the game first. Then, there are two options available to you: a) you can help shape the game and report bugs in a phase where the game is still quite incomplete, or you can join the boat only when the sea is calmer and the wind is on your back, to help the devs smooth some bumps that may still be present.
I think Goldhawk was very clever on splitting the beta stage this way. First, they gain more time and they clarify where they are now and help themselves and the fans focus better on what needs to be done to finish this complex game. This way people know what they are coming to. If you want to get your hands dirty in order to help the devs get through the roughest parts still, and help shape the game, you can join Beta phase 1 (coming soon). If, on the other hand, you only want to join when things are calmer, then you can do so as well, by joining Beta phase 2 (no date set for that yet).
You can read the full beta announcement here.
To know more about Xenonauts, have a look at my Xenonauts preview article (from April this year). I also invite you to take part on the XCOM:EU vs Xenonauts discussion here :) In this article you can find a preliminary comparison between the OG, Xenonauts and XCOM:EU, and the reasons that I think made the X-COM series so fantastic in the first place.
Subscribe RSS
15 Comments
Related Articles:
Post category:
News & Announcements