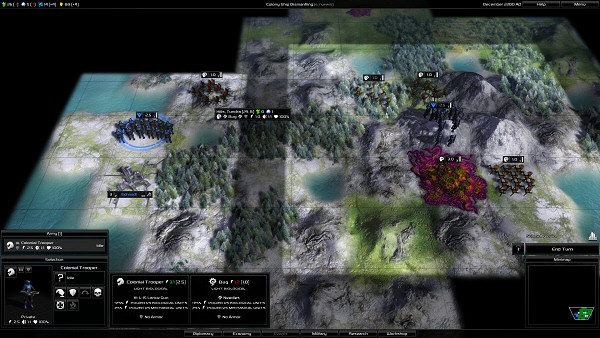 Remember Pandora: First Contact, a sci-fi 4X game announced by Matrix Games back in April this year? Well, Slitherine, Matrix Games ad Proxy Studios have sent word that they have reached beta, and are now calling for beta testers to try their turn-based 4X strategy game.
To sign up as beta tester, visit the Slitherine beta test signup page. You will need to get an account there and sign a non-disclosure agreement, typical in this sort of thing.
Little is known yet about Pandora: First Contact. We know it's a turn-based sci-fi 4X game, that takes place in a newly-discovered and colonized Earth-like planet. You're expected to encounter resistant native wild life there, an ancient civilization, and other factions that are competing for control of the planet. You will need to negotiate treaties with these other factions, forge alliances, terraform the land and build farms, mines, forts and other buildings.
Other features include, ruins and artifacts to discover, unit design (by choosing from a variety of classes, weapons and armors) and a research tree with technologies that provide buildings, units and weapons.
Sounds like a mix between Civilization and Sid Meier's Alpha Centauri, right? That's probably because it is :)
I'll make sure to try to get my hands on a copy of Pandora for an hands-on preview as soon as possible. Meanwhile, for more information on Pandora: First Contact, visit the official product page on Matrix Games.
Subscribe RSS
17 Comments
Related Articles:
Post category:
News & Announcements