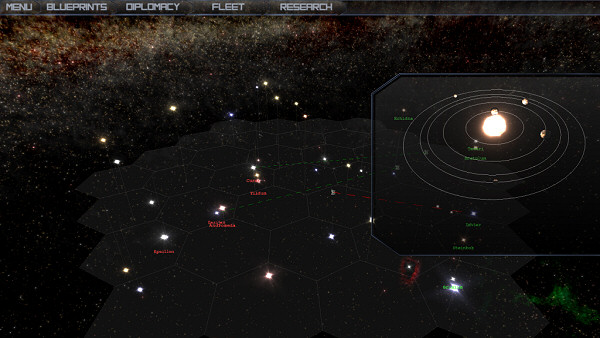 So, after StarDrive and M.O.R.E., now comes Predestination, the third attempt to succeed on Kickstarter with a space 4X game. So far, everybody made it. Daniel DiCicco made it with StarDrive in the Kickstarter pre-historic days and the MORE guys have made it with style, achieving almost double their initial goal for a total of $90,925.
Now, Brendan sends word that he's on Kickstarter for Predestination. We covered Predestination back in March of this year. At the time Predestination was still on its infancy, a stellar indie venture as I like to call space strategy games that are just taking the first steps.
The Predestination Team proposes a fully turn-based space 4X experience, with 3D galaxy maps, custom races, turn-based tactical space combat, and terraforming. Among all the usual features you expect to find in a space 4X game, like ship design, a sandbox mode or colony management. I didn't spot their idea for the diplomacy part though. Come on guys, it will not be a 4X game without diplomacy… \Edit: Brendan sent me a message clarifying that they didn't really focused on Diplomacy in the video or the Kickstarter text, but there will definitely be a diplomacy system very much like MoO2, where you can form trade treaties, exchange technologies, form alliances and such.
I've watched their presentation video and read all the Kickstarter text. So, what did I find particularly interesting about these guys? First of all, they really sound very passionate about their project. Their excitement is palpable. They are huge Civilization and Master of Orion II fans (always a good start), they seem to have the required skill and they also seem confident to have found the holy grail to reduce late game micromanagement in 4X games. And just because of that I would back these guys, just to find out what they can come up with their "optional colony blueprint system" that will supposedly solve the micromanagement conundrum in 4X games. And, they are pro DRM-free.
They ask for $25,000 to help them hire more hands and let some of their Team work full-time. It's not a lot of money. However, they have a series of stretch goals to help them implement more things like online multiplayer, a free mission designer tool, modding tools and a single player campaign.
But, as Daniel DiCicco told me this last Monday, Kickstarter for him was not only about the money he was able to raise but also a lot about getting publicity and the awareness of the public, and publishers. Like Iceberg Interactive, that discovered Dan in Kickstarter and (wisely) decided to invest on his vision. And now, look at what StarDrive has become (or will become)? So it is possible to achieve big with little on Kickstarter.
They plan to release in December 2013, with a feature-complete beta in August 2013, for the PC (Windows) with a possible tablet release in the future.
They say that even if they only achieve the minimum funding ($25,000) that will allow them to pursuit other financing possibilities in the Northern Ireland where the Team is based on, which requires an investor, or Kickstarter in this case.
Ok people, have a good look at Predestination Kickstarter. We can't let a bold space 4X game studio die before it has a chance to prove its worth. As always, and you know me, I'm a sucker for 4X games, so I'm in!
Subscribe RSS
16 Comments
Related Articles:
Post category:
Kickstart
,
News & Announcements