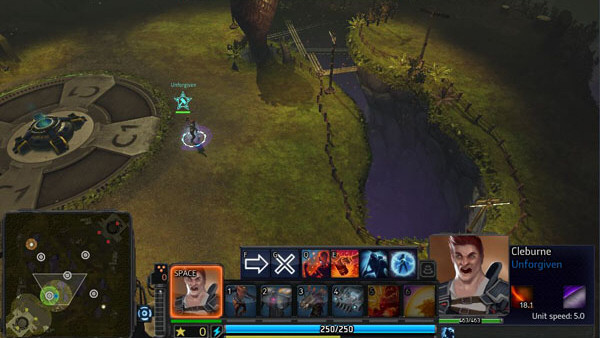 Starvoid is a multiplayer-only sci-fi RTS developed by Zeal Game Studios and published by Paradox Interactive, and it was released on August 30 2012.
I obtained a key two weeks later and downloaded and installed the game via Steam. Eager to start playing, I clicked on the Play button, and got the choice whether I wanted to play 'Battle', 'Sabotage' or 'Team Deathmatch'. I selected 'Battle'.
In 'Battle', one has to capture Extraction Points.  Simple as that. After selecting the type of game, you get to select one of four 'Commanders', each with its own features, gear and units. I decided to start with Cleburne the Destroyer. He can spawn  units which resemble the droids from Star Wars. Funny, but not original.
Once connected, disappointment. No other players in the game.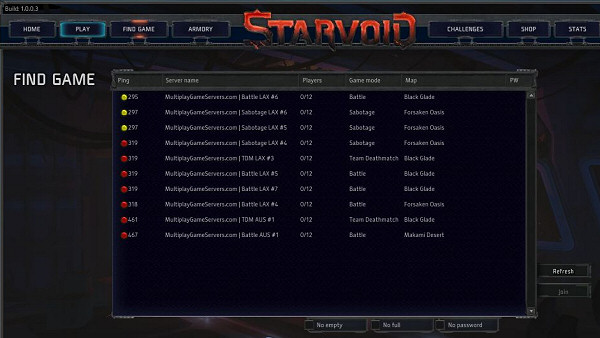 I walked through the map for a few moments, only to decide to go back to the lobby to see if I could find another game which did have actual players to compete against. Clicking on the 'find game' button, a list of available servers becomes visible, with stats like ping and amount of players.
Ping times were not very good, but that might be related to my ADSL line at home. Anyway, the disappointment continued: The list held about 12 servers, divided over the three types of games. But there were no players online. Bummer! 
I decided to walk around through the maps to get acquainted with them, but there was only three maps to choose from: Black Glade, Forsaken Oasis and Makami Desert. Black Glade resembled a dark, gloomy map, with a rather dark green color palette.
Your commander can only see a limited distance, due to the 'fog of war', which gave the map an extra creepy factor.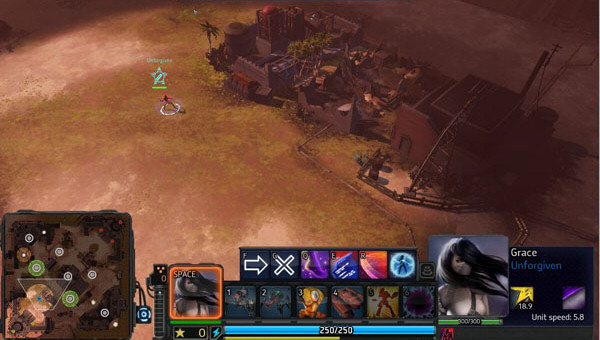 Forsaken Oasis looks like a deserted desert Oasis, with, how obvious, a yellow color palette and Makami Desert has a brownish palette, which looks pretty dark. The maps are fairly small, which, for my feeling, don't give a lot of room when 12 players would be running around, each with around 10 units on average under his command. I assume this would be very hectic, but I wasn't able to check this in-game.
All in all, it was quite disappointing that there were only a few players, divided over all the available servers, if any. Lots of times the servers were just empty.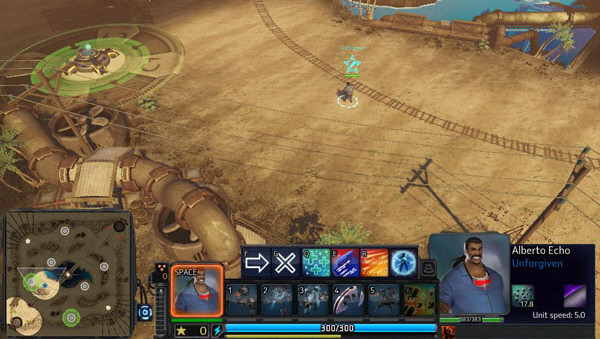 During the weeks that followed I was able to play a few games of Battle and Team Deathmatch, but with a maximum of 4 players. That was in a game of Battle, where I had one ally and two enemies. I just ordered my units to attack my opponents, but got killed quite quickly. Also, I couldn't really get a hang when I should use which unit. In the beginning, a pop up appeared when units spawned, but the info in here was not very useful. Another thing that I found strange was that I couldn't perform attacks with my Commander. It appeared as if he could only spawn units and nothing else.
Another time, I could play a Team deathmatch against one other opponent. Deathmatch follows the same rules as  Battle, kill your opponent, as fast as you can, but without conquering the extraction points. Actually, in this game I figured out the actions buttons I could use with my Commander. Duh! Several actions were selectable (move, stand ground, and special moves which differ for each Commander). However, this did not give a huge advantage over my opponent. Most moves had quite a long cooldown timer, so I could not use them often.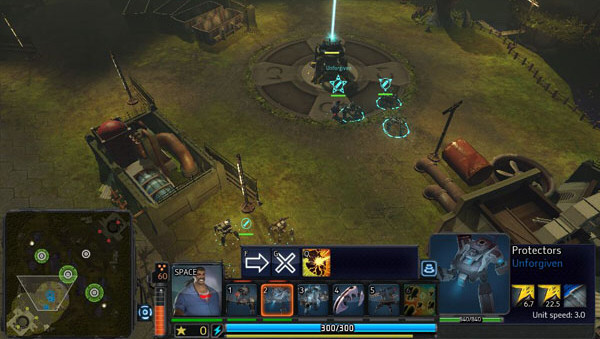 I think the game in itself has potential, but for some reason it lacks players. Quite a shame, as I think it deserves a chance as it looks nice. Graphics are quite nice, though nothing extraordinary. Same applies for the sound. On the other hand, the lack of maps and units, which are not very original, might be a disadvantage. Also, I found the units lacking creativity. I often got the feeling that I've seen them all before in other games or movies.
So, all in all I would not recommend this game. The game itself can be enjoyable, but the biggest disappointment is the lack of players. Kind of killing in a multiplayer only game isn't it?
| | |
| --- | --- |
| | fair |
The Good:
– Low learning curve
– Easy to use interface
– Custom contracts to build your own Commander
The Bad:
– Lack of players
– Lack of gametypes
– Lack of creativity in units
– Lack of maps
– Maps are quite small
Unforgiven, in real life known as Andy Kannberg, is a long time gamer. Having played lots of genres through the years on many different media, his heart still beats faster when he plays spacesims or 4x games on a PC, though he also like (MMO)RPG's a lot. Though the little spare time he has he hopes to contribute in a positive way to the SpaceSector community with interesting articles, reviews and previews. See all Andy's posts here.
Subscribe RSS
7 Comments
Related Articles:
Post category:
Game Reviews