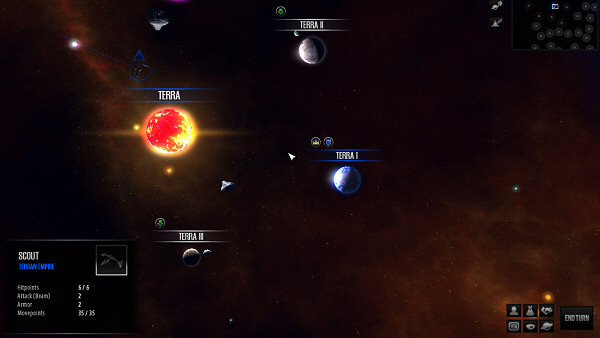 Star Lords is a new turn-based space 4X game for the PC that is currently in the works by Neogen2 Creations. It's part of the SpaceSector's "Sci-Fi/Space Games You Can't Miss in 2013" list, and its release date is set for Q2 2013.
Star Lords was announced in August 2012 with an initial release ETA for Q4 2012. By then, the devs made their game available for pre-orders. Star Lords looked promising at the time, and it was in fact quite playable, but it was clear that there was definitely still a lot of work to be done. We have a preview of that initial pre-order Alpha (v1.2).
However, after the game's announcement, there was little to no feedback for a long time. This was in part due to logistical problems including lack of internet access by one of the main developers, and also due to website hosting problems.
But, today, Neogen2 released their new Star Lords Alpha build (v2.1). Among many fixes and further polishing, it includes the following major changes:
Alpha 2.0
New sound effects and music tracks
New technologies and planet types
Improved AI decision making
Changing domestic policies now causes internal turmoil
Added tutorial
Added minor race interaction
Added Intel/Missions info in-game
Several UI improvements
See here for full release note.
Alpha 2.1
Now possible to zoom more
Added more tutorial topics
Added new technologies
Added "Allied" and "Research" victory conditions
Added several new random events
Added new icons, panels and buttons
Here for full release note.
And now, some screenshots of the new build.
We'll be doing another hands-on preview in the near future, most probably when they reach Beta.
But, if you want to jump in now, you can already pre-order the game. The devs state that if you do, you'll "get the game 20% to 35% cheaper". But, remember that this is still work in progress. I suggest that you at least read our alpha preview before deciding to buy.
Subscribe RSS
14 Comments
Related Articles:
Post category:
News & Announcements