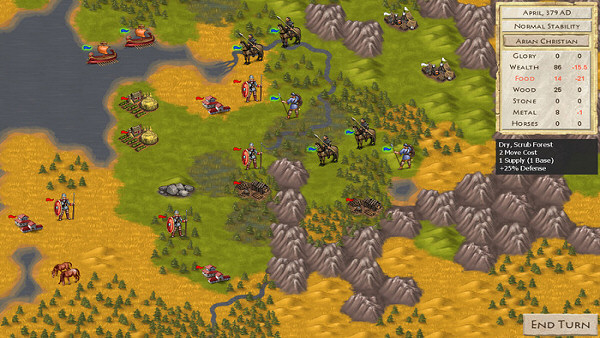 You may know Jon Shafer, he's the designer of Sid Meier's Civilization 5 and he also helped design Stardock's fantasy 4X title Fallen Enchantress. A few months ago, Shafer has apparently gone indie, founded his own development studio (Conifer Games) and announced his first game project, which he's on Kickstarter for at the moment, called At the Gates, a historical turn-based 4X strategy game for the PC.
At the Gates takes place during the fall of the Roman Empire. The idea is that you lead a small Barbarian tribe, fight the decaying Romans and establish a new order. This is an Empire Building game, and a 4X game. So, expect to explore the surroundings, develop your economy, manage resources, progress, negotiate with your opponents or beat them in battle.
Jon says that he and his "very small team" have been working on the game for a while now, and that they have a playable prototype ready. You can watch 15 minutes of gameplay in the video below.
Jon asks for $40,000 to help kickstart his vision for what he calls "a new chapter on the 4X genre". He says that the game (he hopes) will be entirely funded through Kickstarter, however no stretch goals have been set yet, but most probably will in the next few days.
We'll be keeping an eye on At the Gates, as while it's not a sci-fi themed game, but a historic game, it seems to be quite promising. I already spotted some things that I really liked, like the need to adapt to seasons, a very clean interface, a somewhat complex resource management system, some interesting ideas on diplomacy also. Interesting stuff. Jon set At The Gate's release date to June 2014. You can pre-order a copy for $25 ($5 off final price).
Jon Shafer's At the Gates – First 15 minutes of gameplay
Subscribe RSS
37 Comments
Related Articles:
Post category:
Kickstart
,
News & Announcements