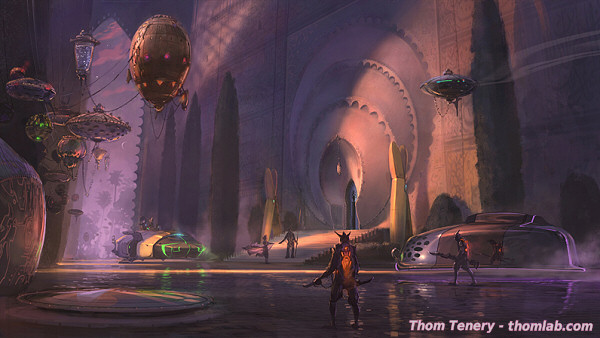 For my third article of my Making a 4X Game series, I'm going to write about how I design empires/races for games. As I've said before, I've made several MUDs (text based RPGs, popular in the 90s and early 2000's), which generally contain a large amount of races for players to select from.
So, I have quite a bit of experience navigating that area of design. With 4X games, it usually is more of an Empire or Civilization. Sometimes, the people of these Empires are non-human and vary. This poses some interesting opportunities because of the wider scope; so more can be put into these Empires and Races. As a small note, from this point on, I use Race and Empire interchangeability since they both represent a collective of beings of an organization.
I have a few important points that I feel work best, which I like to consider high impact. Essentially, I want a Race/Empire to be Relatable, and ensure it fits in Lore.
Relatable
This is a common quality mentioned, and is easy to explain and understand. It's presence is outside of games, especially in movies. Essentially, an empire must be able to relate to the player or viewer. It is important to build emotional attachments to these races.
If us, as Humans, find it hard to connect with someone, we will not become emotionally vested, and in essence, the situation (game, movie, book, etc), won't matter as much. Entertainment is a means for us to engage mentally and emotionally – hard to do if we are playing a game that forces us to be a race of spiders (at least many people find spiders repulsive).
Some of the simplest ways of making Empires relatable is to make the actual races mostly Human-like and have traits that are common to a player. Star Wars is a great example of this – they have many Human-like races such as the Twi'lek, Chiss, and Sith races. They are all very Human-like but have enough differences that make them different.
Another tool to use is familiarity. Familiarity is a powerful tool – Master of Orion did this fantastically. They selected a subset of animals for their races that any one could relate to, and weren't generally too repulsive. Anyone knows what a Bird, Cat, and Ant is. It helped the designers made their characteristics translate well into the game.
Having a culture that is similar to a well known one in our past or present is also a very good thing to do. For example, I modeled one of the nations in my MUD game after Rome. In my 4X game, I have Humans (which is quite common).
I think it is absolutely vital to have some form of Human component as an Empire or Race. There are some players who are OK with playing weird Empires, while others not so much. Having Humans present, immediately gives a player the comfort level they need. I mentioned I have Humans in my 4X above, in fact, I have three sets of Human civilizations out of the 8 that will be present in the initial release. This will provide a large amount of comfortability. It will also not introduce too many different races too quickly.
Now, this doesn't mean there shouldn't be any wild and crazy races! They should be included (if it fits the design and lore) – don't be shy. Just make make good decisions and ensure there is some sort of relatability present.
Lore
The second major attribute I want to mention deals with Lore. Lore forms the foundation of the game. It is here, where the game takes shape and provides a rigid structure for all that is to come: design (within reason), races and empires, technologies, and so on and so forth. Lore is also the glue that holds the game together. Lore makes it possible for a new universe to be created and for players to get lost into it. Each empire has to fit within the lore – it must have a reason to exist. If there is none – the race serves no purpose and should be removed.
Some other good aspects for Lore is creating unique aspects of the Empire. This can be done by the use of backstory, or in-game through the story, or through the behavior of the AI. Game design elements can be used as well. This is also a good time to make them unique and distinct. Focusing on one or two aspects is an easy way to get the point across: maybe a race is good with technology, maybe they look a certain way that is different. Perhaps, they have contradicting belief systems.
Another point that I'd like to talk about here is the naming of these empires. Make sure they are distinctly unique and easy to remember. A new player has never seen your races before. They have no idea what is going on (unless using a pre-existing IP). You should make it simple on them – and the best way to do that is to ensure that each Empire starts with a unique letter. For example, don't have two Empires that begin with R (I'm looking at you Endless Space. They have two races that begin with the same letters: H and S). As designers, we should try to make it as easy as possible for players to get into the game. The sound and pronunciation can be used as well, to create distinctly different sounding Empires.
Lore is especially important while adding to the game later on. The initial lore must be well thought out so the first empires make sense in the game universe. Then, later on, any new additions have to fit in and abide by the established rules. I think we all know how fans feel about lore being broken which I can sum up with one word: midi-chlorians.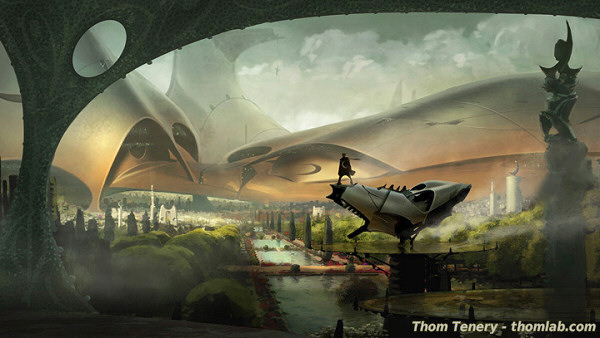 My Races and Empires
As mentioned above, I have 8 Empires planned. Unfortunately, I cannot provide any names at this time, but that will come after the public reveal in the future. I spent a large amount of time preparing vast amounts of lore – roughly 40 pages worth.
The reason for 8 Empires is because it offers enough room to have unique sides but not be overwhelming to the player and development. The game type plays into a big role for the number of Empires/Factions/etc. For example, in a typical RTS, a large amount of art assets need to be made for each side. Also, lots and lots of balancing must be done. Each side usually has a set of units that are designed by the developers (as opposed to the more common people defined ships in 4X games) – and each unit has to fulfill a specific role without being too weak or over powering. That's why there are only typically 2 or 3 sides in RTS games (for example, StarCraft2). A 4X game is much easier to handle more sides – smaller art assets need to be made, and the balancing is easier (it's usually simple modifiers, like +25% ship attack).
Now, I want to talk about how I used the above guidelines on my Empires!
Human Empires
First, I made 3 of the 8 Empires Humans. These will appeal to those who enjoy playing Humans and have a need to feel comfortable. In order to create three different factions that diverged from Earth, I came up with some lore that focuses on this. I created a single story that is told from three different view points. This single story is the main lore point for the Humans.
This creates some good past conflict and sets up future conflict during the game.
By having a story with multiple side creates a sense of mystery for the player. What really happened? Will they ever know? This can be a powerful driving force for the player. It can also be used as a role play mechanism. Finally it leaves plenty of room for additional content that won't easily break the lore – since I have more than one story to choose from. As a designer for future content, it gives me the freedom to be creative yet still abide by the lore and history.
For the 5 non-Human races, I wanted to make sure I had unique and interesting ones. Since I have met my requirement of offering relatability and familiarity, I wanted to touch on a few concepts that haven't been done before (in my experiences anyways) and aspects I always thought would be interesting to explore. I shall briefly go over four of the five, though all are backed by lots of lore. Many of the races have subtle interactions with others, and it creates a complex web of relationships.
Ancient Race
One of them was to offer an opportunity to play as the Ancient Race. I've always wanted to be able to play as the Ancients. How cool would it be to have a shot at playing as the Orions (from the Master of Orion universe)? It is likely any of the Ancient race would be quite over powering and break balance. In order to balance this, I made them locked at the start and the player will have to complete some in-game goals over the span of some games in order to unlock them. I've also made this race a mere Remnant, so while powerful, they aren't at their full strength.
Violent Race
I wanted to offer a Violent Race as players have come to expect that in 4X games. Lore wise, this set of beings is driven by something called The Directive. It is a genetic code built into their DNA that sets out specific goals. Their appearance is Humanoid, though they are fleshless and faceless – sort of like mindless drones.
They also have several new types of gameplay elements: they begin the game at around turn 20 with a small fleet and no colonized planet. They are going to have to find a suitable planet to colonize and quickly build up. During the early game, their empire continually sends them warships to use as an invasion force. Finally, The Directive will outline a series of goals for the player to achieve during the course of the game, rewarding them if successful.
Resource Exploiters
The universe can be filled with untold resources which is meant to be exploited to the maximum amount! This Empire fulfills that need by continually finding new planets to harvest and mine. The abilities for this Empire involve being able to quickly build up a vast amount of resources (they are generally limited in the game). They can do this by building special improvements that generate resources. As one could imagine, this is a large advantage. In order to balance it, their fleet size is smaller and they suffer from combat penalties in combat and research. This race focuses on the familiarity of resource exploitation and one of the Xs.
Religious Technologists
What would a race of intensely spiritual beings coupled with superior intellect deal with over the course of their civilization? I found this to be a thought provoking question and this race came into being. They have the power to enter into a deep mediation that allows their mind to transcend into a higher plane of reality. This gives them massive research and technological bonuses.
Lore wise, they discovered the Violent Race would be invading the galaxy, and made plans to stave off the attack. In order to do this, they genetically engineered another race. This other race is the last playable Race. And while this is going on, their society was continually up-heaved with schisms on their core beliefs. Here, I use the contradiction of beliefs (science vs religion).
Bonuses
Another part I spent a lot of time on was on the Empires' bonuses. I am a strong believer that the Empire you play as should have a lot of fun and unique characteristics. Each race is riddled with lots and lots of bonuses and negatives, some of which are very unique and should offer great gameplay experiences. By doing this, it makes the races distinct and more fun. Also, the varied bonuses offers increased re-playability.
Naming
In my previous section, I made a mention about naming empires. I've spent a lot of time ensuring that each look and sound distinctly different. Each starts with their own unique letter (C, D, E, H, N, S, T and V). They also have different tendencies in letter usage to further make them easier to spot.
Conclusion
So, these are some of the guidelines I follow when making up Empires. Over time, I found they have treated me well and the players seem to have favorable experiences and memories with them.
I believe the choices I've made for the 8 Empires will be interesting, different, and offer some fun gameplay elements. All the while being easy to extend in the future, which includes keeping the lore intact. As you can see, I've tied the lore to the majority of the races – 7 of the 8 are somehow tied to each other. This will offer a rich experience for the player and make the potential for future content that much more fun! Overtime, I hope the players will get emotionally vested in the Empires and their history. If this happens, then I have designed my Empires well.
I know I haven't covered every single possibility out there, and there are plenty of developers following this site. So I was wondering: what are your guidelines for developing races? What have you found worked well? Or not so well?
And for the players: what do you like in an Empire? What was the most fun for you to play as?
dayrinni has been a Space Sector contributor since October 2011. This is his first foray into writing articles for any review site. He is an avid gamer in the genres of 4X, Strategy, MMO's and RPGs. Finally, he has been the implementor of several MUDs and is currently working on a space 4X game that offers large scope and complexity. See all dayrinni's posts here. In particular, check his "what makes a good game" and "making a space 4X game" series.
Subscribe RSS
52 Comments
Related Articles:
Post category:
Game Design
,
Ideas & Concepts