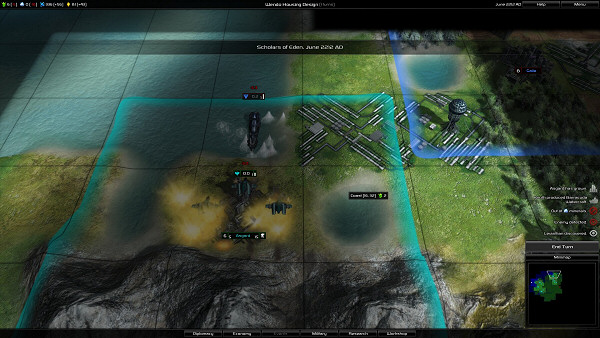 Slitherine and Matrix Games have set the release date for their latest science fiction 4X turn-based strategy game for the PC, Mac and Linux, Pandora: First Contact. "The game is set to release towards the end of spring.". ~Slitherine Ltd (January newsletter). In the game's product page at Slitherine one can even see a more precise date: Jun 15th, 2013.
Pandora: First Contact is being developed by Proxy Studios, and is part of SpaceSector's "Sci-Fi/Space Games You Can't Miss in 2013" list. Pandora is not your usual star empire strategy game but a sci-fi 4X game where all the gameplay takes place on a single planet. Influences from games like Sid Meier's Alpha Centauri and Civilization are evident, and the publishers even recognized it officially. In their January 2013 newsletter they say: "The game follows in the footsteps of classics like Alpha Centauri and Galactic Civilizations", and they add "[but] it's something really novel in the genre of civilization-style games.".
We announced the start of Pandora's open beta registrations back in November of last year, but it's still going and you can jump in by registering at the Pandora Beta sign up page. For more information check the game's webpage at Matrix Games.
Subscribe RSS
17 Comments
Related Articles:
Post category:
News & Announcements