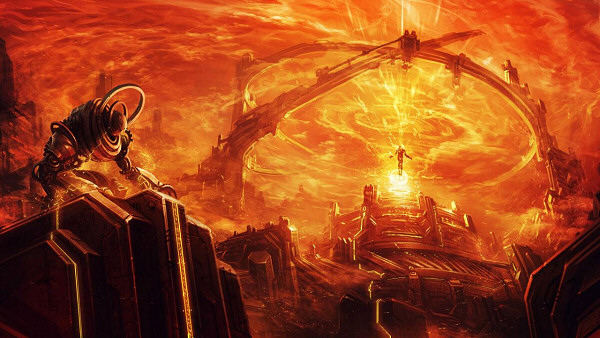 Amplitude Studios released Virtual Awakening, their fourth free add-on for Endless Space. The add-on is already available on Steam since yesterday, and you just need to fire the game and Steam will auto-update.
The first add-on, Rise of the Automatons, brought a new custom faction, a new trade route UI panel, updated AI and diplomacy. The second add-on, Echos of the Endless, injected some "ambience" and "life" content. The third add-on, Lights of Polaris, brought a new wonder, hero, Steam achievements and "battle actions in auto".
Only three free add-ons were originally planned, but later on Amplitude announced a fourth which would contain all the rewards unlocked during a Steam free weekend.
Virtual Awakening, the fourth add-on, adds the following:
1 new Technology

2 new Buildings

Deep Space Facility
High Energy Array

3 new Planet Anomalies

Hostile Dust
Endless Trouble
Humeris Insidentes

4 new Random Events

Mad Scientist
New Religion
Sleeping War Machines
Endless Facility

4 new Heroes

Pirate
Deuyivan
Automaton
Virtual Endless

6 new Exploration Rewards

Pool of heroes is refreshed
Unveil surrounding systems
4 boost (industry or approval)
See the full release note here.
Well, this seems to be it concerning free add-ons for Endless Space, at least for the time being because Amplitude seems to be focusing their full attention on the Endless Space expansion now. We covered Amplitude's expansion announcement back in August of last year. More on that when we have details on content and expected release date, but, the main focus of the expansion seems to be a major overhaul of the combat system.
50% Sale until March 18th
In addition to the new free add-on release, and to commemorate 300,000 copies sold, Endless Space will be on sale until March 18th on Steam.
For more information on Endless Space checkout our review (made before all four free add-ons) and the AAR "Playing the Amoeba". Information on where to buy can be found on our game's list page.
Subscribe RSS
20 Comments
Related Articles:
Post category:
Game Patches
,
News & Announcements